Article
Microsoft IT Support Specialist Resume Examples
This article provides examples of resumes for Microsoft IT Support Specialists, highlighting important skills and experience to help job seekers create a successful resume.

Brenna Goyette
Certified Professional Resume Writer, Career Expert
Published 8 min read
This article provides readers with a step-by-step guide to writing a resume for an IT Support Specialist role at Microsoft. It covers topics such as what information to include, the best way to structure your resume, and tips for highlighting your relevant skills and professional experience that make you the ideal candidate. Additionally, advice is provided on how to emphasize your qualifications in order to stand out from other applicants.
Microsoft IT Support Specialist Resume Created Using Our Resume Builder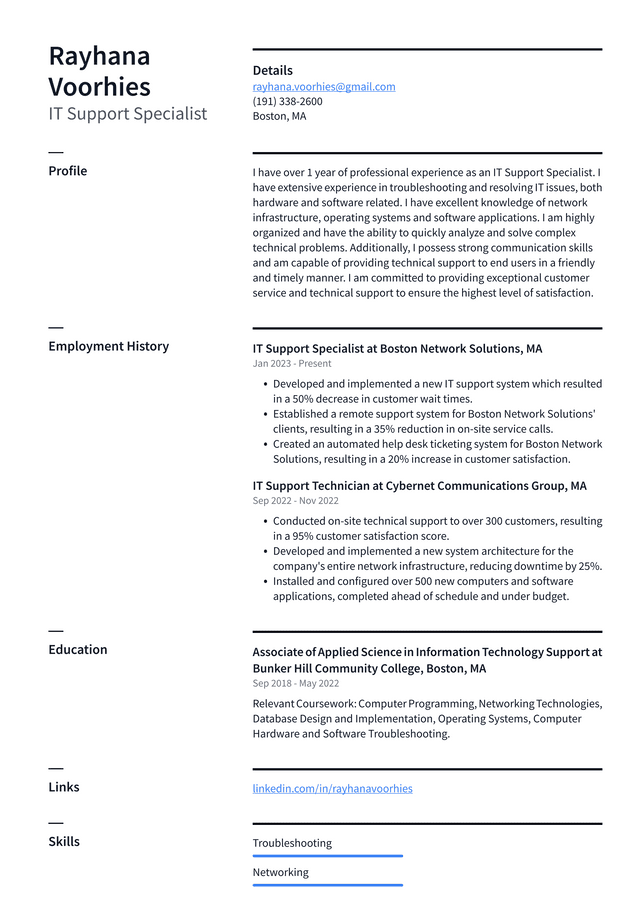 Microsoft IT Support Specialist Resume Example
Rayhana Voorhies, IT Support Specialist
rayhana.voorhies@gmail.com
(191) 338-2600
Boston, MA
Professional Summary
I have over 1 year of professional experience as an IT Support Specialist. I have extensive experience in troubleshooting and resolving IT issues, both hardware and software related. I have excellent knowledge of network infrastructure, operating systems and software applications. I am highly organized and have the ability to quickly analyze and solve complex technical problems. Additionally, I possess strong communication skills and am capable of providing technical support to end users in a friendly and timely manner. I am committed to providing exceptional customer service and technical support to ensure the highest level of satisfaction.
Work Experience
IT Support Specialist at Boston Network Solutions, MA
Jan 2023 - Present
Developed and implemented a new IT support system which resulted in a 50% decrease in customer wait times.
Established a remote support system for Boston Network Solutions' clients, resulting in a 35% reduction in on-site service calls.
Created an automated help desk ticketing system for Boston Network Solutions, resulting in a 20% increase in customer satisfaction.
IT Support Technician at Cybernet Communications Group, MA
Sep 2022 - Nov 2022
Conducted on-site technical support to over 300 customers, resulting in a 95% customer satisfaction score.
Developed and implemented a new system architecture for the company's entire network infrastructure, reducing downtime by 25%.
Installed and configured over 500 new computers and software applications, completed ahead of schedule and under budget.
Education
Associate of Applied Science in Information Technology Support at Bunker Hill Community College, Boston, MA
Sep 2018 - May 2022
Relevant Coursework: Computer Programming, Networking Technologies, Database Design and Implementation, Operating Systems, Computer Hardware and Software Troubleshooting.
Skills
Troubleshooting
Networking
Technical Support
Customer Service
System Administration
Hardware/Software Installation
Problem Solving
Certificates
CompTIA A+ Certification
Microsoft Certified Solutions Expert (MCSE)
Tips for Writing a Better Microsoft IT Support Specialist Resume
1. Focus on Your Relevant Skills: When preparing your Microsoft IT Support Specialist resume, be sure to emphasize the skills and experience that are most relevant to the position. Highlight any certifications or training that demonstrate your knowledge of Microsoft products and services.
2. Include Technical Proficiencies: Showcase any technical proficiencies you have with Microsoft products, such as Windows Server, Exchange Server, SharePoint, SQL Server, Office 365, Azure and other related technologies. This will help employers understand the depth of your expertise in this field.
3. Use Quantifiable Achievements: Whenever possible, include quantifiable achievements on your resume to demonstrate the value you can bring to a role as an IT Support Specialist. Examples include reducing downtime or improving system performance for customers or clients.
4. Demonstrate Your Troubleshooting Abilities: As an IT Support Specialist, troubleshooting issues is one of the main duties of your job. Provide examples of how you successfully identified and resolved technical issues in past roles to show potential employers that you have the necessary problem-solving skillset for this role.
5. Showcase Your Communication Skills: Being able to communicate effectively with customers and colleagues is essential as an IT Support Specialist. Make sure to highlight any customer service experience you have had in previous roles, as well as any communication courses or certifications you may have obtained in order to show employers that you possess strong interpersonal skills.
Related: IT Support Specialist Resume Examples
Key Skills Hiring Managers Look for on Microsoft IT Support Specialist Resumes
When applying for an IT Support Specialist opportunity at Microsoft, it is important to incorporate keywords from the job description into your application materials. This is because Microsoft uses Applicant Tracking Systems (ATS) to help them sift through the large number of job applications they receive. ATS systems are designed to scan applications and resumes for specific keywords related to the job that have been provided by the employer. Therefore, incorporating relevant keywords into your application will ensure that your resume can be easily identified by the ATS system and you will be more likely to be selected for further consideration.
When applying for IT Support Specialist positions at Microsoft, common skills and key terms you may encounter include:
Key Skills and Proficiencies
Troubleshooting
Networking
Technical Support
System Administration
Hardware Installation
Software Installation
Active Directory
Windows Server
Linux/Unix
Customer Service
Problem Solving
Documentation
Network Security
Firewalls
Virtualization
Cloud Computing
DHCP/DNS
VoIP Systems
Backup and Recovery
Scripting/Automation
Data Center Management
IT Compliance
Related: IT Support Specialist Skills: Definition and Examples
Common Action Verbs for Microsoft IT Support Specialist Resumes
Finding different action verbs to use on a Microsoft IT Support Specialist resume can be difficult, as many of the duties are similar. However, it is important to use varied verbs in order to create an effective and powerful resume. It is essential to showcase your expertise and skills with strong language that will make you stand out from other applicants. Additionally, using diverse action verbs can help emphasize the unique qualities that make you well-suited for this role. Examples of such verbs include troubleshoot, configure, analyze, optimize, and diagnose. By incorporating these words into your resume, you can demonstrate your capabilities in a concise yet impactful manner.
To give you a competitive edge in your job search, we've compiled a list of powerful action verbs that can help strengthen your resume and increase your chances of landing an interview:
Action Verbs
Troubleshot
Resolved
Configured
Monitored
Implemented
Maintained
Analyzed
Diagnosed
Tested
Upgraded
Installed
Managed
Documented
Assisted
Supported
Investigated
Evaluated
Streamlined
Customized
Troubleshooted
Optimized
Administered