Article
Meta Data Warehouse Engineer Resume Examples

Brenna Goyette
Certified Professional Resume Writer, Career Expert
Updated 8 min read
This article will provide guidance on how to write a resume for Meta as a Data Warehouse Engineer. It will cover topics such as what skills and experiences to include, the different sections of the resume, and other tips to make your resume stand out among other applicants. Additionally, it will explain which keywords and phrases should be used in order to make sure your resume is scanned and picked up by automated applicant tracking systems. Finally, it will provide advice on how to tailor your resume to the specific job you are applying for.
Meta Data Warehouse Engineer Resume Created Using Our Resume Builder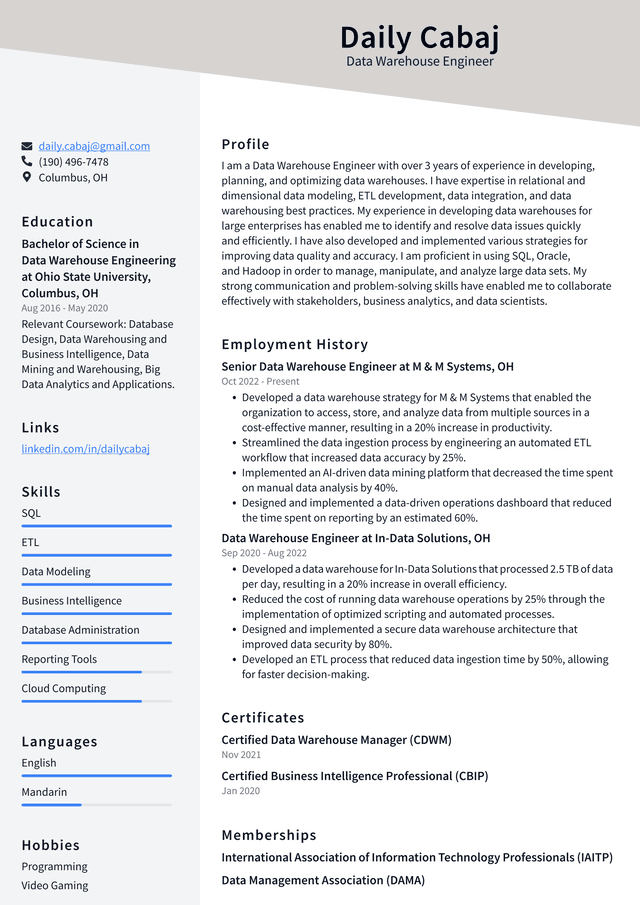 Meta Data Warehouse Engineer Resume Example
Daily Cabaj, Data Warehouse Engineer
daily.cabaj@gmail.com
(190) 496-7478
Columbus, OH
Professional Summary
I am a Data Warehouse Engineer with over 3 years of experience in developing, planning, and optimizing data warehouses. I have expertise in relational and dimensional data modeling, ETL development, data integration, and data warehousing best practices. My experience in developing data warehouses for large enterprises has enabled me to identify and resolve data issues quickly and efficiently. I have also developed and implemented various strategies for improving data quality and accuracy. I am proficient in using SQL, Oracle, and Hadoop in order to manage, manipulate, and analyze large data sets. My strong communication and problem-solving skills have enabled me to collaborate effectively with stakeholders, business analytics, and data scientists.
Work Experience
Senior Data Warehouse Engineer at M & M Systems, OH
Oct 2022 - Present
Developed a data warehouse strategy for M & M Systems that enabled the organization to access, store, and analyze data from multiple sources in a cost-effective manner, resulting in a 20% increase in productivity.
Streamlined the data ingestion process by engineering an automated ETL workflow that increased data accuracy by 25%.
Implemented an AI-driven data mining platform that decreased the time spent on manual data analysis by 40%.
Designed and implemented a data-driven operations dashboard that reduced the time spent on reporting by an estimated 60%.
Data Warehouse Engineer at In-Data Solutions, OH
Sep 2020 - Aug 2022
Developed a data warehouse for In-Data Solutions that processed 2.5 TB of data per day, resulting in a 20% increase in overall efficiency.
Reduced the cost of running data warehouse operations by 25% through the implementation of optimized scripting and automated processes.
Designed and implemented a secure data warehouse architecture that improved data security by 80%.
Developed an ETL process that reduced data ingestion time by 50%, allowing for faster decision-making.
Education
Bachelor of Science in Data Warehouse Engineering at Ohio State University, Columbus, OH
Aug 2016 - May 2020
Relevant Coursework: Database Design, Data Warehousing and Business Intelligence, Data Mining and Warehousing, Big Data Analytics and Applications.
Skills
SQL
ETL
Data Modeling
Business Intelligence
Database Administration
Reporting Tools
Cloud Computing
Certificates
Certified Data Warehouse Manager (CDWM)
Certified Business Intelligence Professional (CBIP)
Tips for Writing a Better Meta Data Warehouse Engineer Resume
1. Customize your resume to the job you're applying for: Be sure to tailor your resume to the job posting and include relevant keywords from the job description. This will ensure that you are highlighting the skills and qualifications that are most important for the role.
2. Include technical skills: Emphasize your technical skills related to data warehousing, such as database architectures, ETL tools, analytics platforms, and scripting languages.
3. Highlight accomplishments: Showcase any successful projects or initiatives you have led in order to demonstrate your experience and value as a potential employee.
4. Include quantifiable results: Whenever possible, use metrics to back up statements about your work in order to give employers an idea of how effective you were in previous roles.
5. Use strong action verbs: Use powerful words like "developed" or "implemented" when describing past experiences in order to make them stand out on your resume.
Related: Data Engineer Resume Examples
Key Skills Hiring Managers Look for on Meta Data Warehouse Engineer Resumes
Incorporating keywords from the job description when applying for a Data Warehouse Engineer opportunity at Meta is important because it helps Meta's Applicant Tracking System (ATS) recognize your application. The ATS scans resumes and applications for keywords that match those included in the job description, so including relevant keywords can help ensure that your application is recognized and gets through the first stage of the recruitment process. Additionally, using relevant keywords can also demonstrate to recruiters that you have read and understood the job description, which can help to make your application stand out.
When applying for a Data Warehouse Engineer position at Meta, you may come across common skills and key terms such as those listed below.
Key Skills and Proficiencies
Data Modeling
ETL
SQL
Data Warehousing
Data Mining
Business Intelligence
OLAP/OLTP
Reporting Tools
Data Visualization
Database Administration
Big Data Technologies
Cloud Computing
System Architecture Design
Data Quality Management
Metadata Management
Data Security and Governance
Performance Tuning and Optimization
Programming Languages (Python, Java, etc.)
Hadoop Ecosystems (Hive, Pig, Spark)
NoSQL Databases (MongoDB, Cassandra)
Automation Scripting (Shell, PowerShell)
Agile Methodologies
Related: Data Engineer Skills: Definition and Examples
Common Action Verbs for Meta Data Warehouse Engineer Resumes
Using the same action verbs on a resume can make it difficult to stand out in a competitive job market. It is important to use varied and descriptive language when creating a Meta Data Warehouse Engineer Resume. This will help employers distinguish your qualifications and experience from others in the field, while also highlighting your unique skillset. Additionally, using specific action verbs will draw attention to your accomplishments and demonstrate the value you could bring to the company.
To give you an advantage over other job applicants, we've compiled a list of powerful action verbs that can be used to strengthen your resume and increase your chances of landing an interview:
Action Verbs
Developed
Implemented
Designed
Configured
Administered
Monitored
Maintained
Optimized
Upgraded
Automated
Troubleshot
Resolved
Analyzed
Extracted
Transformed
Loaded
Tested
Documented
Managed
Secured
Backed up
Restored
Related: What does a Data Engineer do?