Article
Costco Produce Clerk Resume Examples
Discover the top Costco Produce Clerk resume examples to help you create a winning resume and land your dream job at this popular wholesale warehouse retailer.

Brenna Goyette
Certified Professional Resume Writer, Career Expert
Published 10 min read
The article will provide a comprehensive guide on crafting an effective resume for a Produce Clerk position at Costco, focusing on crucial elements such as emphasizing relevant skills, experience, and accomplishments in the produce industry. It will cover the importance of tailoring your resume to match the specific requirements and responsibilities outlined in Costco's job postings, showcasing your ability to maintain product quality, adhere to safety procedures, and provide exceptional customer service. Additionally, it will discuss how to highlight any relevant certifications or training you may have in food safety or handling while demonstrating your ability to work efficiently in fast-paced environments. By following these key strategies, you can create a standout resume that increases your chances of landing an interview with Costco and taking the first step toward securing a rewarding career as a Produce Clerk.
Costco Produce Clerk Resume Created Using Our Resume Builder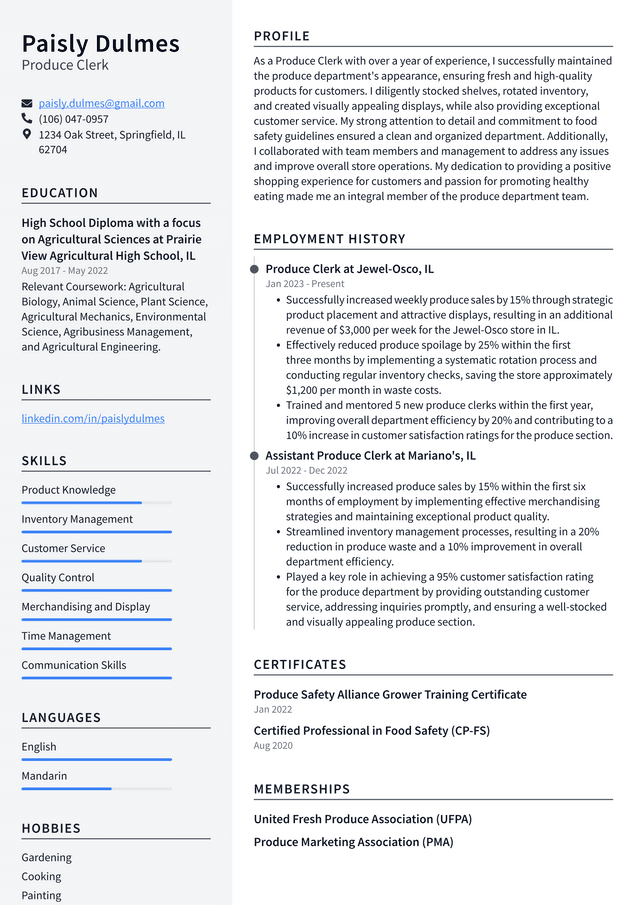 Costco Produce Clerk Resume Example
Paisly Dulmes, Produce Clerk
paisly.dulmes@gmail.com
(106) 047-0957
1234 Oak Street, Springfield, IL 62704
Professional Summary
As a Produce Clerk with over a year of experience, I successfully maintained the produce department's appearance, ensuring fresh and high-quality products for customers. I diligently stocked shelves, rotated inventory, and created visually appealing displays, while also providing exceptional customer service. My strong attention to detail and commitment to food safety guidelines ensured a clean and organized department. Additionally, I collaborated with team members and management to address any issues and improve overall store operations. My dedication to providing a positive shopping experience for customers and passion for promoting healthy eating made me an integral member of the produce department team.
Work Experience
Produce Clerk at Jewel-Osco, IL
Jan 2023 - Present
Successfully increased weekly produce sales by 15% through strategic product placement and attractive displays, resulting in an additional revenue of $3,000 per week for the Jewel-Osco store in IL.
Effectively reduced produce spoilage by 25% within the first three months by implementing a systematic rotation process and conducting regular inventory checks, saving the store approximately $1,200 per month in waste costs.
Trained and mentored 5 new produce clerks within the first year, improving overall department efficiency by 20% and contributing to a 10% increase in customer satisfaction ratings for the produce section.
Assistant Produce Clerk at Mariano's, IL
Jul 2022 - Dec 2022
Successfully increased produce sales by 15% within the first six months of employment by implementing effective merchandising strategies and maintaining exceptional product quality.
Streamlined inventory management processes, resulting in a 20% reduction in produce waste and a 10% improvement in overall department efficiency.
Played a key role in achieving a 95% customer satisfaction rating for the produce department by providing outstanding customer service, addressing inquiries promptly, and ensuring a well-stocked and visually appealing produce section.
Education
High School Diploma with a focus on Agricultural Sciences at Prairie View Agricultural High School, IL
Aug 2017 - May 2022
Relevant Coursework: Agricultural Biology, Animal Science, Plant Science, Agricultural Mechanics, Environmental Science, Agribusiness Management, and Agricultural Engineering.
Skills
Product Knowledge
Inventory Management
Customer Service
Quality Control
Merchandising and Display
Time Management
Communication Skills
Certificates
Produce Safety Alliance Grower Training Certificate
Certified Professional in Food Safety (CP-FS)
Tips for Writing a Better Costco Produce Clerk Resume
1. Use a clear and concise format: A well-organized resume with clearly defined sections and bullet points will make it easier for potential employers to skim through your information. Use bold headings, bullet points, and ample white space to create an easy-to-read layout.
2. Customize your resume for the position: Take the time to research the specific role you are applying for at Costco and tailor your resume to highlight the skills, experiences, and qualifications that make you a good fit for the position.
3. Highlight relevant experience: Focus on your work experience in retail or customer service roles, as these are directly applicable to a produce clerk position. Be sure to include any specific accomplishments or achievements that demonstrate your ability to excel in this role.
4. Emphasize transferable skills: While previous experience in produce is beneficial, don't forget to emphasize other transferable skills such as strong communication abilities, organization, attention to detail, teamwork, and multitasking.
5. Showcase certifications or training: If you have any relevant certifications or training related to food handling safety or produce quality control, be sure to include these in your resume.
6. Include keywords from the job posting: Many companies use applicant tracking systems (ATS) to screen resumes before they reach human eyes. To increase your chances of passing this initial screening process, incorporate keywords from the job posting into your resume where appropriate.
7. Proofread carefully: Errors can leave a negative impression on potential employers – proofread your resume multiple times for spelling mistakes and grammatical errors before submitting it.
8. Keep it brief: Ideally, your resume should not exceed one page in length – be concise when describing your qualifications and experiences without sacrificing essential information.
9. Provide quantifiable examples: Whenever possible, use numbers or statistics to demonstrate how you made a positive impact in past roles – e.g., "Increased sales of organic produce by 15% within six months."
10. Include a strong objective or summary statement: Start your resume with a brief statement that highlights your career goals and why you are a good fit for the Costco produce clerk position. This can help to capture the attention of potential employers and encourage them to read further.
Related: Produce Clerk Resume Examples
Key Skills Hiring Managers Look for on Costco Produce Clerk Resumes
Incorporating keywords from the job description when applying for a Produce Clerk opportunity at Costco is essential, as it increases your chances of passing through the company's Applicant Tracking System (ATS). An ATS is a software application that automates the hiring process by filtering out resumes to find the best matches for a particular job opening. By including relevant keywords and phrases from the job description in your resume and cover letter, you improve your chances of being noticed by the ATS and shortlisted for an interview. This strategy helps ensure that your application stands out amongst other candidates, showcasing your suitability for the role and highlighting your experience in handling produce, maintaining inventory, and providing excellent customer service.
When applying for a produce clerk position at Costco, you may encounter common skills and key terms such as inventory management, customer service, merchandising, product rotation, freshness monitoring, and safety protocols.
Key Skills and Proficiencies
Customer service
Product knowledge
Inventory management
Merchandising
Food safety
Quality control
Time management
Organization
Communication skills
Attention to detail
Problem-solving skills
Teamwork and collaboration
Sales techniques
Basic math skills
Stocking and replenishment
Visual display creation
Product rotation and freshness checks
Handling perishable goods
Pricing and labeling accuracy
Knowledge of produce varieties
Order processing
Physical stamina and lifting abilities
Related: Produce Clerk Skills: Definition and Examples
Common Action Verbs for Costco Produce Clerk Resumes
Crafting a compelling resume for the position of Costco Produce Clerk can be quite challenging, particularly when it comes to finding diverse action verbs that accurately describe your skills and experiences. Using varied and powerful verbs is essential in order to make your resume stand out from the crowd and showcase your abilities in an engaging manner. This is especially important for a Costco Produce Clerk Resume, as this role requires a wide range of skills such as customer service, product knowledge, organization, and attention to detail. By utilizing a diverse range of action verbs, you can effectively highlight your expertise in these areas and increase your chances of landing an interview for this coveted position.
To provide you with a competitive advantage, we have assembled a collection of impactful action verbs to enhance your resume and secure your next interview:
Action Verbs
Stocked
Rotated
Prepared
Displayed
Organized
Assisted
Maintained
Weighed
Priced
Inspected
Cleaned
Monitored
Replenished
Ordered
Unloaded
Wrapped
Labeled
Managed inventory
Ensured freshness
Handled customer inquiries
Followed safety guidelines
Provided product recommendations
Related: What does a Produce Clerk do?