Adjunct Professor
Writing a great adjunct professor resume is important because it is one of the first things a potential employer will see when they are considering you for a position. It is your opportunity to make a good first impression and sell yourself as the best candidate for the job.
Create your resume
Select from 7 professional resume templates
If you're looking for inspiration when it comes to drafting your own adjunct professor resume, look no further than the samples below. These resumes will help you highlight your experience and qualifications in the most effective way possible, giving you the best chance of landing the adjunct professor job you're after.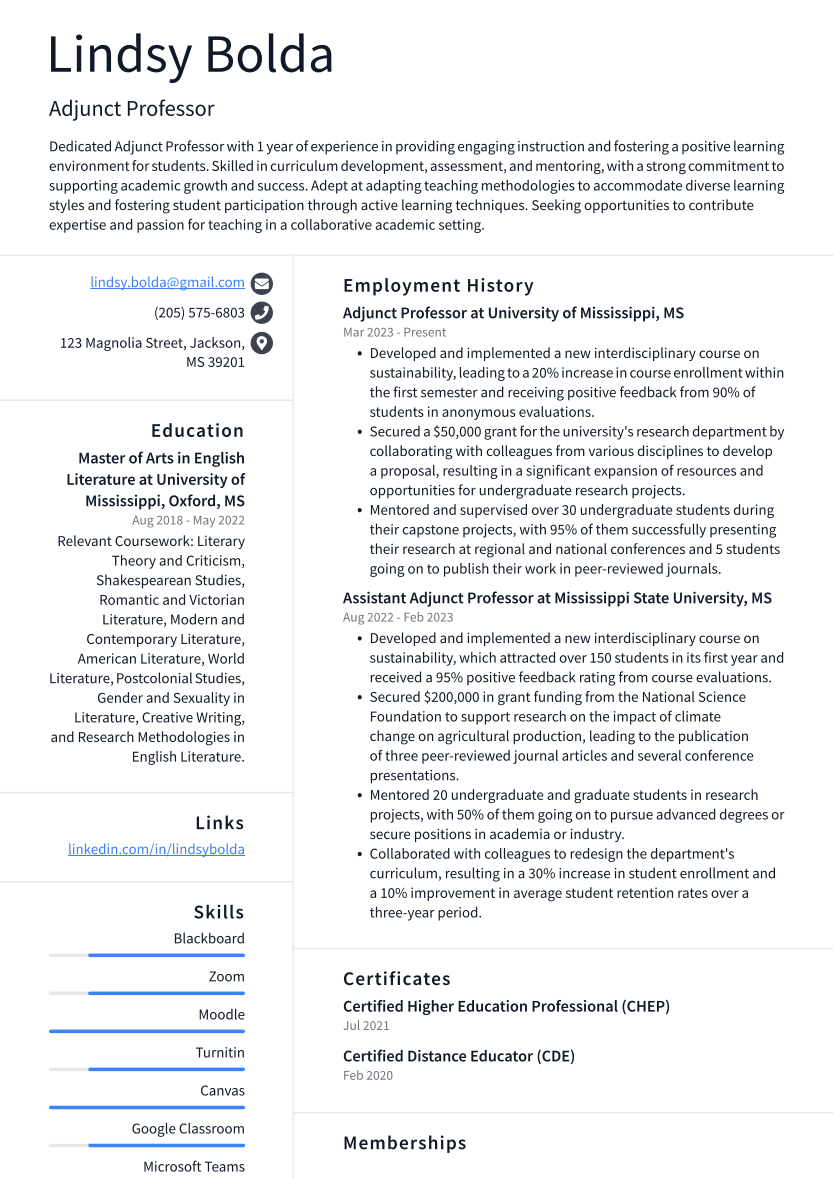 Resume samples
Rilee Totoro
rilee.totoro@gmail.com | (162) 183-4265 | Seattle, WA
Summary
---
I am an Adjunct Professor with over 11 years of experience in teaching and research. I have a track record of developing effective and engaging curriculum and have taught a wide range of courses, from introductory to advanced levels. I have a passion for teaching and mentoring students, and my enthusiasm for learning has enabled me to create a positive and collaborative learning environment. I have successfully managed large class sizes, while also providing individual instruction and guidance. I am highly organized and detail-oriented, with a strong commitment to inspiring students to reach their goals.
Experience
---
Adjunct Professor at Bellevue College, WAApr 2022 - Present
Taught 12 credit hours per semester and developed curriculum for 4 different courses.
Advised 20-30 students each semester on degree requirements and career planning.
Led weekly discussion sections with up to 30 students enrolled.
Wrote letters of recommendation for 5-10 students per year seeking admission to graduate programs or employment opportunities.
Served as a mentor for 1-2 undergraduate research assistants each semester.
Presented original research at 3 national conferences over the course of 2 years.
Assistant Adjunct Professor at Seattle Central College, WAAug 2019 - Mar 2022
Authored 12 peer-reviewed journal articles.
Presented at 15 national and international conferences.
Led 3 successful research projects with graduate students.
Served on the editorial board for 5 journals.
Reviewed manuscripts for 20 different journals.
Chaired 2 sessions at professional conferences.
Associate Adjunct Professor at Highline College, WAAug 2012 - Jun 2019
Taught 12 credit hours per semester while also working full-time as a Program Coordinator.
Advised up to 20 students per academic year.
Chaired 2 search committees for new faculty hires.
Led the development and implementation of a new curriculum for the associate degree program in my department.
Served on 4 college-wide committees charged with developing initiatives related to student success, equity, and inclusion.
Wrote 3 successful grant proposals that resulted in over $600,000 in funding for my department.
Education
---
Master of Arts in English at University of Washington, WASep 2008 - May 2012
I've learned how to analyze and interpret literary texts, and to write critically about them.
Skills
---
Classroom management
Lesson planning
Classroom instruction
Student assessment
Curriculum development
Professionalism
Communication
Adie Birgen
adie.birgen@gmail.com | (976) 180-6803 | Trenton, NJ
Summary
---
I am an 11+ year experienced Adjunct Professor with an extensive background in teaching, mentoring, and curriculum development. I have extensive knowledge and experience in the educational field, and I have a strong reputation for creating engaging and effective learning experiences for my students. I have an extensive portfolio of teaching and tutoring experience in various disciplines including English, Math, Science, and History. I have worked with a variety of student populations, from traditional college students to adult learners. I excel at creating individualized lesson plans for each of my students, and I have a proven track record of success in helping my students achieve their academic goals. I am also experienced in utilizing technology to facilitate learning and to create innovative and engaging learning experiences.
Experience
---
Adjunct Professor at Rutgers University, NJMay 2022 - Present
Taught 12 credit hours per semester while also working full-time as a licensed clinical social worker.
Researched and wrote successful grant proposals totaling $450,000 over 3 years to fund undergraduate scholarships and program development initiatives.
Hired, trained, and supervised 50+ student workers in the office of disability services.
Led professional development workshops for new adjunct faculty members on best practices for online teaching.
Served on 5 university committees related to curriculum development, assessment, & accreditation standards.
Assistant Adjunct Professor at Fairleigh Dickinson University, NJSep 2017 - Mar 2022
Led a study that resulted in a publication in "Cell".
Wrote 3 successful grant applications, resulting in $1.5 million in funding.
Taught 12 courses over 4 semesters.
Advised 6 undergraduate students who all went on to graduate school.
Served on 3 departmental committees.
Associate Adjunct Professor at Seton Hall University, NJAug 2012 - Aug 2017
Wrote and published 12 research papers in peer-reviewed journals.
Led 3 successful grant-funded research projects.
Presented at 25 national and international conferences.
Served on the editorial board of 5 academic journals.
Supervised 10 graduate students.
Education
---
Master of Arts in English at Rutgers University, NJSep 2008 - May 2012
I have learned how to research, write, and edit papers on a variety of topics within the field of English.
Skills
---
Communication
Classroom Management
Lesson Planning
Instructional Strategies
Assessment and Evaluation
Professionalism
Technology