Commercial Diver Cover Letter Examples
A great commercial diver cover letter can help you stand out from the competition when applying for a job. Be sure to tailor your letter to the specific requirements listed in the job description, and highlight your most relevant or exceptional qualifications. The following commercial diver cover letter example can give you some ideas on how to write your own letter.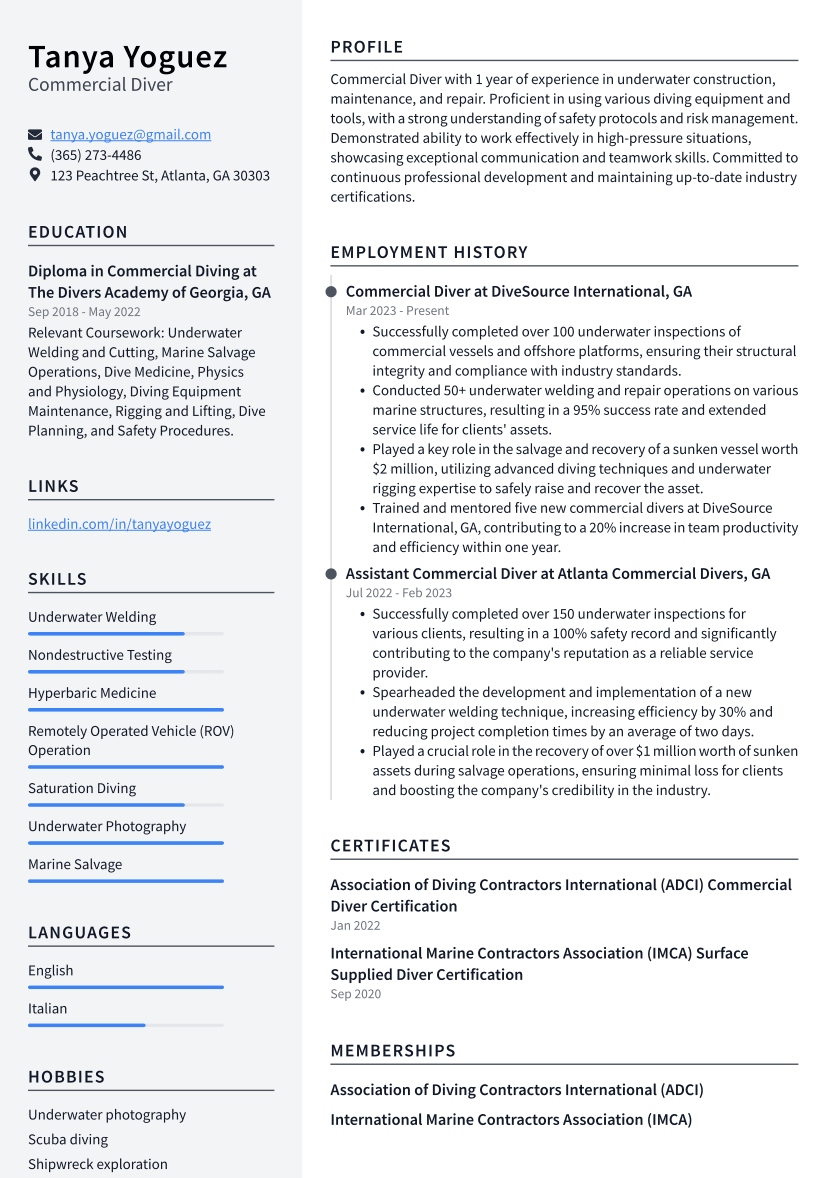 Cover Letter Sample
Myeisha Carrabine
(728) 426-0420
myeisha.carrabine@gmail.com
August 17, 2022
Dear Hiring Manager,
I am a highly skilled and experienced commercial diver, and I am interested in applying for a position at Oceaneering. I have over 10 years of experience working in a variety of underwater environments, and I have the necessary training and certification to work safely and effectively in this field. I am confident that I can be a valuable asset to your team, and I look forward to contributing to your company's success.
I have been working as a commercial diver for Deep Ocean Engineering since I graduated from the Commercial Diving Academy in 2013. In that time, I have worked on a number of projects, including the installation of an oil pipeline and the repair of a damaged offshore wind turbine. I am also certified to operate ROVs (Remotely Operated Vehicles), which are used to inspect and repair underwater equipment.
I am a professional commercial diver. I have worked in the offshore oil and gas industry for many years. I have experience in all aspects of commercial diving, including deep sea diving, welding, and construction work. I am also a certified first aid instructor and rescue Diver.
Thank you for considering me as a Commercial Diver at Oceaneering. I am excited to have the opportunity to work with such a respected company and contribute my skills to your team. I look forward to meeting you soon and discussing how I can be of service. Thank you again for your time and consideration.
Sincerely,
Myeisha Carrabine