Article
Zoom SEO Specialist Resume Examples
This article provides detailed examples and guidelines on how to craft an effective resume for a Zoom SEO Specialist position.

Brenna Goyette
Certified Professional Resume Writer, Career Expert
Published 9 min read
This insightful article provides a comprehensive guide on how to craft an impactful resume for the position of SEO Specialist, specifically designed for Zoom interviews. It delves into details about what key skills, qualifications, and experiences to highlight that demonstrate your proficiency in SEO. The piece offers tips on showcasing technical acumen such as keyword research, SEO tools mastery, and data analysis while emphasizing soft skills like communication and teamwork which are vital in remote work environments like Zoom. Moreover, it provides advice on how to effectively present your achievements and contributions in previous roles to make a compelling case for your candidacy.
Zoom SEO Specialist Resume Created Using Our Resume Builder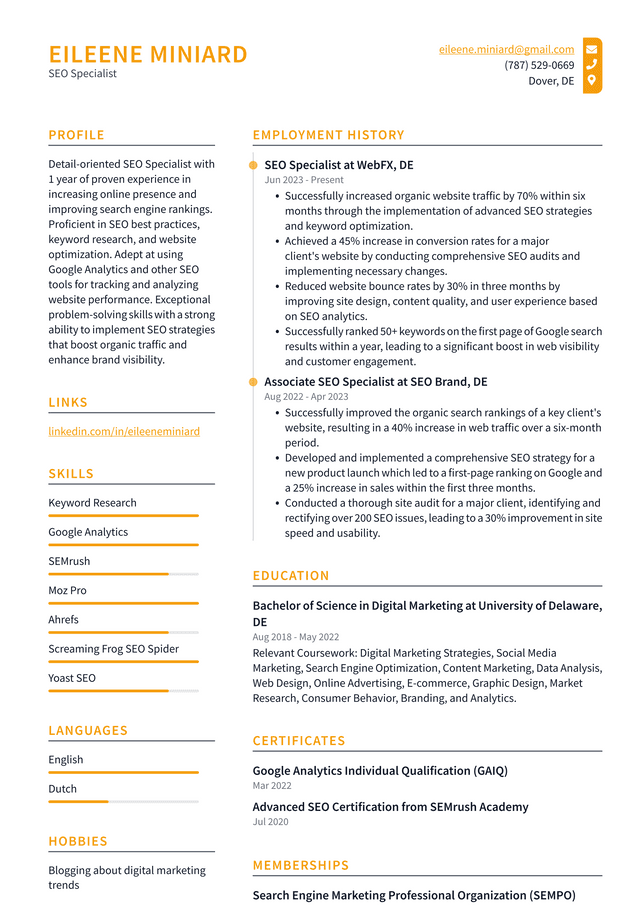 Zoom SEO Specialist Resume Example
Eileene Miniard, SEO Specialist
eileene.miniard@gmail.com
(787) 529-0669
Dover, DE
Professional Summary
Detail-oriented SEO Specialist with 1 year of proven experience in increasing online presence and improving search engine rankings. Proficient in SEO best practices, keyword research, and website optimization. Adept at using Google Analytics and other SEO tools for tracking and analyzing website performance. Exceptional problem-solving skills with a strong ability to implement SEO strategies that boost organic traffic and enhance brand visibility.
Work Experience
SEO Specialist at WebFX, DE
Jun 2023 - Present
Successfully increased organic website traffic by 70% within six months through the implementation of advanced SEO strategies and keyword optimization.
Achieved a 45% increase in conversion rates for a major client's website by conducting comprehensive SEO audits and implementing necessary changes.
Reduced website bounce rates by 30% in three months by improving site design, content quality, and user experience based on SEO analytics.
Successfully ranked 50+ keywords on the first page of Google search results within a year, leading to a significant boost in web visibility and customer engagement.
Associate SEO Specialist at SEO Brand, DE
Aug 2022 - Apr 2023
Successfully improved the organic search rankings of a key client's website, resulting in a 40% increase in web traffic over a six-month period.
Developed and implemented a comprehensive SEO strategy for a new product launch which led to a first-page ranking on Google and a 25% increase in sales within the first three months.
Conducted a thorough site audit for a major client, identifying and rectifying over 200 SEO issues, leading to a 30% improvement in site speed and usability.
Education
Bachelor of Science in Digital Marketing at University of Delaware, DE
Aug 2018 - May 2022
Relevant Coursework: Digital Marketing Strategies, Social Media Marketing, Search Engine Optimization, Content Marketing, Data Analysis, Web Design, Online Advertising, E-commerce, Graphic Design, Market Research, Consumer Behavior, Branding, and Analytics.
Skills
Keyword Research
Google Analytics
SEMrush
Moz Pro
Ahrefs
Screaming Frog SEO Spider
Yoast SEO
Certificates
Google Analytics Individual Qualification (GAIQ)
Advanced SEO Certification from SEMrush Academy
Tips for Writing a Better Zoom SEO Specialist Resume
1. Use Relevant Keywords: Make sure to include relevant keywords throughout your resume. These could be specific skills, such as "SEO", "Google Analytics", "keyword research", or "content optimization". This can help your resume get noticed by hiring managers who use software to scan resumes for keywords.
2. Highlight Specific Achievements: Instead of just listing the tasks you performed at previous jobs, highlight the achievements you made. For example, you could say something like, "Increased website traffic by 50% through SEO strategies".
3. Be Specific About Your Skills: Don't just say that you have experience with SEO - explain what exactly that entails. Have you developed and implemented SEO strategies? Do you have experience with on-page and off-page SEO? Are you familiar with different SEO tools?
4. Show Your Knowledge of Zoom: If applying for a position specifically involving Zoom, demonstrate your knowledge about this platform in your resume - whether it is about hosting webinars, managing large meetings or troubleshooting common issues.
5. Tailor Your Resume to the Job Description: Read the job description carefully and make sure your resume reflects that you have the skills and experiences they're looking for.
6. Keep It Concise: Hiring managers often skim resumes quickly, so make sure yours is easy to read and doesn't include unnecessary information.
7. Include Certifications: If you have any certifications related to SEO or digital marketing, be sure to include them in your resume.
8. Show Your Results: Employers want to see how your work translates into success for the company. Provide measurable results when possible.
9. Proofread Carefully: Ensure there are no typos or grammatical errors in your resume as these mistakes can give a poor impression to potential employers.
10. Use Action Verbs: Start each bullet point under your job experience with an action verb such as 'developed', 'achieved', 'implemented' etc., this gives more impact to what tasks were performed.
11. Professional Summary: Write a strong professional summary at the start of your resume that highlights your key skills and experiences related to being an SEO specialist.
12. Use Bullet Points: To make it easier for recruiters to read through your responsibilities and achievements, consider using bullet points rather than long paragraphs of text.
Related: SEO Specialist Resume Examples
Key Skills Hiring Managers Look for on Zoom SEO Specialist Resumes
Applicant Tracking Systems (ATS) are widely used by companies like Zoom to manage and streamline their recruitment process. This system scans and sorts resumes based on the presence of specific keywords related to the job description. Therefore, as an applicant for an SEO Specialist position at Zoom, it's crucial to incorporate relevant keywords from the job description into your resume. These could include terms such as "SEO strategies", "keyword research", "link building", or any other skills or qualifications specified in the job posting. Doing so can significantly increase your chances of passing through the ATS filters and getting noticed by the hiring team at Zoom.
When applying for SEO specialist positions at Zoom, you may encounter a list of common skills and key terms.
Key Skills and Proficiencies
Keyword Research
SEO Audits
Link Building
On-Page Optimization
Off-Page Optimization
Content Creation and Optimization
Google Analytics
Google Search Console
Technical SEO
Local SEO
Mobile SEO
Video SEO
Social Media Management
HTML/CSS Knowledge
XML Sitemaps Creation
Understanding of Ranking Factors
Conversion Rate Optimization (CRO)
User Experience (UX) Design Skills
Competitor Analysis
E-commerce SEO
Project Management Skills
Communication and Reporting Skills
Related: SEO Specialist Skills: Definition and Examples
Common Action Verbs for Zoom SEO Specialist Resumes
When crafting a Zoom SEO Specialist Resume, one of the most challenging tasks can be finding a variety of action verbs to describe your skills and experiences. Using the same verb repeatedly can make your resume monotonous and fail to fully capture the breadth of your abilities. Moreover, it may give the impression that you lack creativity or initiative, qualities highly valued in this field. Therefore, it's crucial to use diverse verbs when describing your responsibilities and achievements. This not only showcases your extensive skills set but also helps to grab the attention of hiring managers or recruiters who are looking for unique talents. Furthermore, using varied action verbs can boost your resume's visibility in applicant tracking systems (ATS), as these systems often screen resumes for specific keywords related to the job description. Thus, diversifying your verb usage is an essential step in creating an effective Zoom SEO Specialist Resume.
To provide you with an advantage over other candidates, we have assembled a list of impactful action verbs that can enhance your resume and secure your next interview:
Action Verbs
Optimized
Analyzed
Implemented
Developed
Managed
Conducted
Coordinated
Enhanced
Monitored
Evaluated
Streamlined
Increased
Tracked
Reviewed
Researched
Designed
Executed
Reported
Collaborated
Tested
Updated
Audited
Related: What does an SEO Specialist do?