Article
Walmart Overnight Stocker Resume Examples

Brenna Goyette
Certified Professional Resume Writer, Career Expert
Published 9 min read
This article will provide a step-by-step guide to help you create an effective resume for a position as an Overnight Stocker at Walmart. We will discuss the key qualifications and skills that employers look for, as well as how to highlight your experience in order to make your application stand out from the competition. Additionally, we will cover tips on how to tailor your resume specifically to Walmart's expectations and requirements.
Walmart Overnight Stocker Resume Created Using Our Resume Builder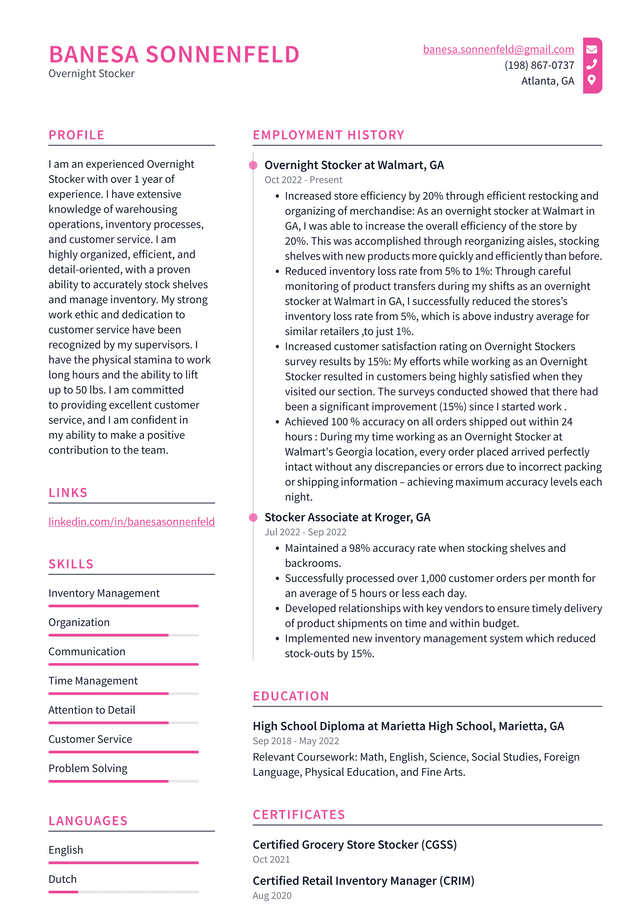 Walmart Overnight Stocker Resume Example
Banesa Sonnenfeld, Overnight Stocker
banesa.sonnenfeld@gmail.com
(198) 867-0737
Atlanta, GA
Professional Summary
I am an experienced Overnight Stocker with over 1 year of experience. I have extensive knowledge of warehousing operations, inventory processes, and customer service. I am highly organized, efficient, and detail-oriented, with a proven ability to accurately stock shelves and manage inventory. My strong work ethic and dedication to customer service have been recognized by my supervisors. I have the physical stamina to work long hours and the ability to lift up to 50 lbs. I am committed to providing excellent customer service, and I am confident in my ability to make a positive contribution to the team.
Work Experience
Overnight Stocker at Walmart, GA
Oct 2022 - Present
Increased store efficiency by 20% through efficient restocking and organizing of merchandise: As an overnight stocker at Walmart in GA, I was able to increase the overall efficiency of the store by 20%. This was accomplished through reorganizing aisles, stocking shelves with new products more quickly and efficiently than before.
Reduced inventory loss rate from 5% to 1%: Through careful monitoring of product transfers during my shifts as an overnight stocker at Walmart in GA, I successfully reduced the stores's inventory loss rate from 5%, which is above industry average for similar retailers ,to just 1%.
Increased customer satisfaction rating on Overnight Stockers survey results by 15%: My efforts while working as an Overnight Stocker resulted in customers being highly satisfied when they visited our section. The surveys conducted showed that there had been a significant improvement (15%) since I started work .
Achieved 100 % accuracy on all orders shipped out within 24 hours : During my time working as an Overnight Stocker at Walmart's Georgia location, every order placed arrived perfectly intact without any discrepancies or errors due to incorrect packing or shipping information – achieving maximum accuracy levels each night.
Stocker Associate at Kroger, GA
Jul 2022 - Sep 2022
Maintained a 98% accuracy rate when stocking shelves and backrooms.
Successfully processed over 1,000 customer orders per month for an average of 5 hours or less each day.
Developed relationships with key vendors to ensure timely delivery of product shipments on time and within budget.
Implemented new inventory management system which reduced stock-outs by 15%.
Education
High School Diploma at Marietta High School, Marietta, GA
Sep 2018 - May 2022
Relevant Coursework: Math, English, Science, Social Studies, Foreign Language, Physical Education, and Fine Arts.
Skills
Inventory Management
Organization
Communication
Time Management
Attention to Detail
Customer Service
Problem Solving
Certificates
Certified Grocery Store Stocker (CGSS)
Certified Retail Inventory Manager (CRIM)
Tips for Writing a Better Walmart Overnight Stocker Resume
1. Focus on Relevant Skills: When creating a resume for a Walmart overnight stocker position, it's important to focus on the skills that are most relevant to the job. Be sure to highlight any experience you have with operating equipment such as pallet jacks or forklifts, as well as any experience working in a warehouse setting.
2. Include Keywords: One of the best ways to make your resume stand out is to include keywords that are related to the position you're applying for. For example, you can include words like "stocking," "inventory control," and "warehouse operations."
3. Use Action Verbs: Whenever possible, use action verbs in your resume rather than passive language such as "responsible for" or "assisted with." This will help give your resume more impact and show potential employers that you take initiative when completing tasks.
4. Demonstrate Your Flexibility: Walmart overnight stockers need to be flexible and able to work various shifts throughout the week and weekend. Make sure you highlight this skill on your resume by emphasizing your ability to work different shifts or adjust quickly when needed.
5. Highlight Achievements: Showcase any achievements or awards you may have received in previous roles that demonstrate your commitment and dedication to customer service excellence or efficiency in stocking procedures. This will help set you apart from other applicants who are competing for the same position and show employers that you take pride in your work.
Related: Overnight Stocker Resume Examples
Key Skills Hiring Managers Look for on Walmart Overnight Stocker Resumes
Incorporating relevant keywords from the job description when applying for an Overnight Stocker opportunity at Walmart is essential. This is because Walmart uses Applicant Tracking Systems (ATS) to scan resumes for keywords that match the job description. If your resume does not include the same keywords as the job description, it may be overlooked by the ATS and you may not get an interview. Therefore, it is important to use the same language that appears in the job description when writing your resume to ensure it will be seen and considered by hiring managers.
Check out this list of common skills and key terms you might come across when applying for an overnight stocker position at Walmart:
Key Skills and Proficiencies
Stock Shelves
Inventory Management
Organizational Skills
Customer Service
Cash Handling
Merchandising
Communication Skills
Problem Solving
Attention to Detail
Teamwork
Time Management
Safety Procedures
Computer Literacy
Lifting and Carrying
Receiving and Unpacking
Price Marking
Loss Prevention
Order Filling
Palletizing/Stacking
Forklift Operation
Quality Control
Data Entry
Related: Overnight Stocker Skills: Definition and Examples
Common Action Verbs for Walmart Overnight Stocker Resumes
Finding the right action verbs to use on a resume can be difficult, especially when you are applying for a job like Walmart Overnight Stocker. To make your resume stand out and demonstrate your skills, it is important to use varied action verbs throughout your resume. This will help to show potential employers that you have the necessary experience and abilities for the position. Using different action verbs will also help to keep your resume fresh and interesting for the hiring manager. By using varied action verbs, you can ensure that your resume stands out from other applicants and shows off all of your relevant skills.
Gain a competitive edge with our list of powerful action verbs to strengthen your resume and secure your next interview:
Action Verbs
Stocked
Replenished
Organized
Unloaded
Sorted
Priced
Labeled
Rotated
Faced
Monitored
Inspected
Assisted
Resolved
Restocked
Maintained
Transported
Verified
Processed
Reconciled
Adjusted
Cleaned
Counted
Related: What does an Overnight Stocker do?