Article
Twitter Talent Acquisition Specialist Resume Examples

Brenna Goyette
Certified Professional Resume Writer, Career Expert
Published 10 min read
This article provides a comprehensive guide on how to write an effective resume for the position of Talent Acquisition Specialist at Twitter. It delves into the critical components that should be included such as highlighting relevant work experience, demonstrating knowledge in social media platforms especially Twitter, showcasing skills in sourcing and recruiting top talent, and outlining your understanding of analytics. The article also emphasizes the importance of clearly stating your ability to foster employer branding and maintain strong relationships with hiring managers. Packed with tips and insights, this guide will help you craft a compelling resume that catches the attention of recruiters at Twitter.
Twitter Talent Acquisition Specialist Resume Created Using Our Resume Builder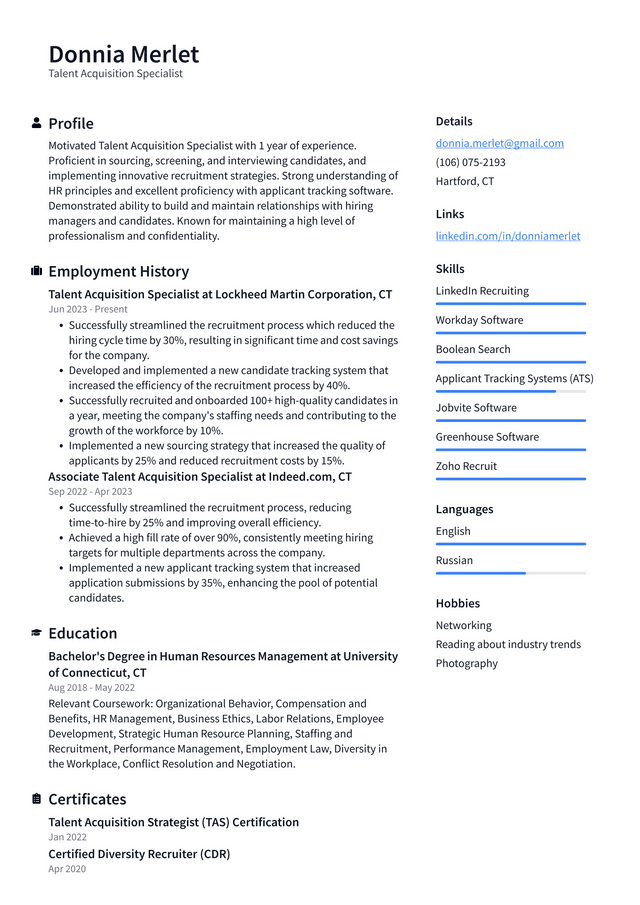 Twitter Talent Acquisition Specialist Resume Example
Donnia Merlet, Talent Acquisition Specialist
donnia.merlet@gmail.com
(106) 075-2193
Hartford, CT
Professional Summary
Motivated Talent Acquisition Specialist with 1 year of experience. Proficient in sourcing, screening, and interviewing candidates, and implementing innovative recruitment strategies. Strong understanding of HR principles and excellent proficiency with applicant tracking software. Demonstrated ability to build and maintain relationships with hiring managers and candidates. Known for maintaining a high level of professionalism and confidentiality.
Work Experience
Talent Acquisition Specialist at Lockheed Martin Corporation, CT
Jun 2023 - Present
Successfully streamlined the recruitment process which reduced the hiring cycle time by 30%, resulting in significant time and cost savings for the company.
Developed and implemented a new candidate tracking system that increased the efficiency of the recruitment process by 40%.
Successfully recruited and onboarded 100+ high-quality candidates in a year, meeting the company's staffing needs and contributing to the growth of the workforce by 10%.
Implemented a new sourcing strategy that increased the quality of applicants by 25% and reduced recruitment costs by 15%.
Associate Talent Acquisition Specialist at Indeed.com, CT
Sep 2022 - Apr 2023
Successfully streamlined the recruitment process, reducing time-to-hire by 25% and improving overall efficiency.
Achieved a high fill rate of over 90%, consistently meeting hiring targets for multiple departments across the company.
Implemented a new applicant tracking system that increased application submissions by 35%, enhancing the pool of potential candidates.
Education
Bachelor's Degree in Human Resources Management at University of Connecticut, CT
Aug 2018 - May 2022
Relevant Coursework: Organizational Behavior, Compensation and Benefits, HR Management, Business Ethics, Labor Relations, Employee Development, Strategic Human Resource Planning, Staffing and Recruitment, Performance Management, Employment Law, Diversity in the Workplace, Conflict Resolution and Negotiation.
Skills
LinkedIn Recruiting
Workday Software
Boolean Search
Applicant Tracking Systems (ATS)
Jobvite Software
Greenhouse Software
Zoho Recruit
Certificates
Talent Acquisition Strategist (TAS) Certification
Certified Diversity Recruiter (CDR)
Tips for Writing a Better Twitter Talent Acquisition Specialist Resume
1. Highlight relevant experience: Make sure to include all your previous experiences related to talent acquisition. This can include anything from recruitment, human resources, or even customer service.
2. Use keywords: Many companies use software to scan resumes for specific keywords before they ever reach a human. Use words from the job description in your resume to increase its chances of getting through.
3. Include numbers and metrics: Numbers stand out on a resume. If you've increased efficiency in a process by 20%, or reduced time spent on tasks by 30%, make sure to include this.
4. Tailor your resume: Just like you would with any other job application, tailor your resume for the position of Twitter Talent Acquisition Specialist. Highlight the skills and experiences that are most relevant to this role.
5. Show off your social media skills: As a Talent Acquisition Specialist at Twitter, you'll likely be using social media regularly as part of your job. Show off any past successes you've had in this area on your resume.
6. Keep it concise: Twitter is all about brevity, so keep your resume short and sweet.
7. Proofread carefully: A single typo can be enough to get your resume tossed in the trash, so proofread carefully before sending it off.
8. Include professional development activities: Whether it's courses taken, certifications earned or conferences attended, including these details shows that you're committed to staying up-to-date in your field.
9. Highlight soft skills: Don't just focus on technical abilities - soft skills like communication, teamwork and problem-solving are also important in talent acquisition roles.
10. Use action verbs: Start each bullet point under your experiences with an action verb like 'led', 'managed', 'developed' etc., as it helps portray a proactive stance and leadership qualities.
11. Showcase achievements over duties: Instead of listing down all duties performed at previous jobs, focused more on what was accomplished during those roles.
12. Add LinkedIn profile link: Since hiring involves networking and LinkedIn is a platform for professionals, adding a LinkedIn profile link could add more credibility to the application.
13.Commitment towards diversity & inclusion policies : Mention about commitment towards diversity & inclusion policies if there are any such experiences because many companies give importance to these factors nowadays..
Related: Talent Acquisition Specialist Resume Examples
Key Skills Hiring Managers Look for on Twitter Talent Acquisition Specialist Resumes
Applicant Tracking Systems (ATS) are frequently used by large corporations like Twitter to streamline their hiring process. These systems help them manage a huge volume of applications and pick out the most suitable candidates based on specific keywords related to the job description. Hence, when applying for a Talent Acquisition Specialist role at Twitter, it's crucial to incorporate relevant keywords from the job description into your resume and cover letter. This could include terms like "recruitment", "onboarding", "diversity hiring", or any specific software proficiency required for the role. By doing this, you increase your chances of your application being picked up by the ATS, and thus making it to the next stage of recruitment process.
When applying for talent acquisition specialist positions at Twitter, you may encounter a list of common skills and key terms.
Key Skills and Proficiencies
Recruitment
Talent Management
Human Resources
Applicant Tracking Systems (ATS)
Interviewing Skills
Job Posting
Candidate Screening
Onboarding
Communication Skills
Negotiation Skills
Relationship Building
Sourcing Strategies
Employer Branding
Social Media Recruiting
Data Analysis
Time Management
Decision Making
Organizational Skills
Networking
Performance Metrics Evaluation
Diversity Recruitment
Employee Retention Strategies
Related: Talent Acquisition Specialist Skills: Definition and Examples
Common Action Verbs for Twitter Talent Acquisition Specialist Resumes
Crafting an effective resume can be a daunting task, especially when it comes to diversifying the action verbs used. The challenge is to find strong, evocative verbs that accurately describe your skills and experiences without sounding repetitive or generic. This becomes even more crucial for a Twitter Talent Acquisition Specialist Resume where the competition is fierce and the stakes are high. Using varied action verbs not only helps to make your resume more engaging but also provides a clearer picture of your capabilities and achievements. It demonstrates creativity, attention to detail, and a thorough understanding of the role you're applying for - all key traits of a successful Talent Acquisition Specialist at Twitter.
To provide you with a competitive advantage, we've curated a list of impactful action verbs that can enhance your resume and secure your next interview:
Action Verbs
Recruited
Sourced
Interviewed
Negotiated
Hired
Trained
Managed
Coordinated
Assessed
Implemented
Developed
Streamlined
Strategized
Identified
Communicated
Collaborated
Analyzed
Marketed
Screened
Facilitated
Onboarded
Evaluated