Article
Twitter PR Specialist Resume Examples

Brenna Goyette
Certified Professional Resume Writer, Career Expert
Published 10 min read
In this insightful article, we delve into the specifics of crafting a compelling resume for a PR Specialist role at Twitter. We'll explore how to highlight your qualifications, experiences, and skills that align with Twitter's culture and the dynamic field of public relations. From showcasing your understanding of brand management, crisis communication strategies, and digital marketing skills to demonstrating your ability to engage with online communities and influencers effectively, we provide valuable tips on conveying these facets strategically in your resume. The article will also guide you on articulating your knowledge about Twitter's platform, its user base, emerging trends in social media communication, and how you can contribute to enhancing Twitter's brand image as a PR specialist.
Twitter PR Specialist Resume Created Using Our Resume Builder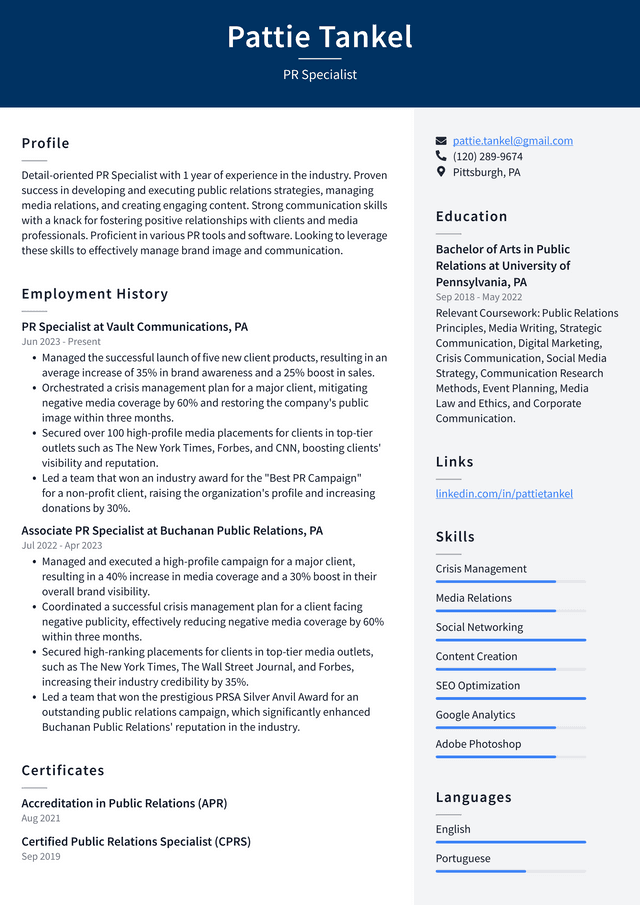 Twitter PR Specialist Resume Example
Pattie Tankel, PR Specialist
pattie.tankel@gmail.com
(120) 289-9674
Pittsburgh, PA
Professional Summary
Detail-oriented PR Specialist with 1 year of experience in the industry. Proven success in developing and executing public relations strategies, managing media relations, and creating engaging content. Strong communication skills with a knack for fostering positive relationships with clients and media professionals. Proficient in various PR tools and software. Looking to leverage these skills to effectively manage brand image and communication.
Work Experience
PR Specialist at Vault Communications, PA
Jun 2023 - Present
Managed the successful launch of five new client products, resulting in an average increase of 35% in brand awareness and a 25% boost in sales.
Orchestrated a crisis management plan for a major client, mitigating negative media coverage by 60% and restoring the company's public image within three months.
Secured over 100 high-profile media placements for clients in top-tier outlets such as The New York Times, Forbes, and CNN, boosting clients' visibility and reputation.
Led a team that won an industry award for the "Best PR Campaign" for a non-profit client, raising the organization's profile and increasing donations by 30%.
Associate PR Specialist at Buchanan Public Relations, PA
Jul 2022 - Apr 2023
Managed and executed a high-profile campaign for a major client, resulting in a 40% increase in media coverage and a 30% boost in their overall brand visibility.
Coordinated a successful crisis management plan for a client facing negative publicity, effectively reducing negative media coverage by 60% within three months.
Secured high-ranking placements for clients in top-tier media outlets, such as The New York Times, The Wall Street Journal, and Forbes, increasing their industry credibility by 35%.
Led a team that won the prestigious PRSA Silver Anvil Award for an outstanding public relations campaign, which significantly enhanced Buchanan Public Relations' reputation in the industry.
Education
Bachelor of Arts in Public Relations at University of Pennsylvania, PA
Sep 2018 - May 2022
Relevant Coursework: Public Relations Principles, Media Writing, Strategic Communication, Digital Marketing, Crisis Communication, Social Media Strategy, Communication Research Methods, Event Planning, Media Law and Ethics, and Corporate Communication.
Skills
Crisis Management
Media Relations
Social Networking
Content Creation
SEO Optimization
Google Analytics
Adobe Photoshop
Certificates
Accreditation in Public Relations (APR)
Certified Public Relations Specialist (CPRS)
Tips for Writing a Better Twitter PR Specialist Resume
1. Highlight relevant skills: These can include social media management, public relations, communication skills, and the ability to write press releases. Make sure to highlight any specific Twitter skills you have.
2. Showcase your experience: Detail your previous roles and responsibilities as a PR specialist, particularly those that involved Twitter or other social media platforms. Include any successful campaigns or strategies you were part of.
3. Use keywords: Many companies use automated systems to screen resumes before they reach a hiring manager. Make sure to include keywords from the job description in your resume to ensure it gets through this initial screening.
4. Include metrics: Whenever possible, use numbers to demonstrate your success. This could be the number of followers gained, engagement rates increased or traffic driven to a website through Twitter.
5. Show creativity: As a PR specialist, you need to be able to create engaging content and think outside the box when it comes to promoting a brand or product on Twitter. If possible, provide examples of creative campaigns you've worked on.
6. Mention software proficiency: If you're proficient with certain tools like Hootsuite, Buffer or Sprout Social that help manage Twitter accounts more efficiently, make sure to mention them in your resume.
7. Keep it concise: Remember that hiring managers often go through dozens of resumes for each position so keep yours clear and concise.
8. Professional development: Show that you keep up-to-date with latest trends by mentioning any relevant courses or certifications related to social media or public relations.
9. Tailor your resume for each job application: Although it requires extra effort, tailoring your resume for each job application can significantly increase your chances of landing an interview as it shows employers that you're truly interested in their specific role.
10. Proofread carefully: Ensure there are no spelling mistakes or grammatical errors as these can give off an unprofessional impression.
Remember, your goal is to show potential employers how your skills and experience make you the ideal candidate for their Twitter PR Specialist role!
Related: Product Marketing Specialist Resume Examples
Key Skills Hiring Managers Look for on Twitter PR Specialist Resumes
When applying for a PR Specialist opportunity at Twitter, it is crucial to incorporate keywords from the job description in your application. This is because Twitter, like many other large organizations, uses Applicant Tracking Systems (ATS) to manage their recruitment process. These systems are designed to filter applications and highlight those that best match the job criteria. By using keywords from the job description, you increase the chances of your application getting past this initial screening stage and reaching a human reviewer. The ATS might be looking for specific qualifications, skills or experiences in relation to the PR Specialist role — all of which will likely be mentioned in the job description. Therefore, not only does incorporating these keywords make your application more relevant, but it could also determine whether or not your application gets seen at all.
When applying for PR specialist positions at Twitter, you may encounter a list of common skills and key terms.
Key Skills and Proficiencies
Excellent Communication Skills
Public Speaking
Writing and Editing Skills
Social Media Management
Event Planning and Coordination
Crisis Management
Research and Analysis
Strategic Planning
Relationship Building
Press Release Creation
Media Relations
Branding Expertise
Knowledge of PR Tools & Software
Creativity and Innovation
Project Management
SEO and Content Marketing
Understanding of Media Channels
Networking Skills
Attention to Detail
Time Management
Critical Thinking
Adaptability to Changing Situations
Related: Product Marketing Specialist Skills: Definition and Examples
Common Action Verbs for Twitter PR Specialist Resumes
Crafting a Twitter PR Specialist Resume can be a challenging task, especially when it comes to selecting diverse action verbs. Using the same verbs repeatedly might make your resume monotonous and fail to capture the attention of potential employers. Action verbs are crucial as they highlight your skills and achievements in an active and engaging manner. They help to portray you as a proactive individual who takes initiative, which is a highly sought-after quality in any field, particularly in public relations. Therefore, it's important to carefully choose varied action verbs that accurately represent your experience and capabilities while also making your resume stand out from the rest.
To provide you with a competitive advantage, we have put together a list of impactful action verbs that you can utilize to enhance your resume and secure your next interview:
Action Verbs
Managed
Coordinated
Developed
Implemented
Executed
Directed
Organized
Produced
Promoted
Facilitated
Strategized
Designed
Drafted
Communicated
Represented
Established
Launched
Negotiated
Oversaw
Planned
Researched
Secured