Article
Tesla Vehicle Detailer Resume Examples
Explore top-notch Tesla Vehicle Detailer resume samples to help you craft the perfect application and land your dream job at the cutting-edge electric car company.

Brenna Goyette
Certified Professional Resume Writer, Career Expert
Published 10 min read
Discover the key ingredients to crafting a standout resume for a Vehicle Detailer position at Tesla, one of the world's most innovative and forward-thinking automotive companies. This article will guide you through incorporating your relevant skills, experiences, and achievements to showcase your expertise in vehicle detailing while emphasizing your passion for sustainable transportation and cutting-edge technology. Learn how to demonstrate your ability to maintain Tesla's high standards of cleanliness, appearance, and customer satisfaction while highlighting your adaptability, commitment to safety, and attention to detail. With these tips in hand, you'll be well on your way to landing a coveted role as a Vehicle Detailer at Tesla.
Tesla Vehicle Detailer Resume Created Using Our Resume Builder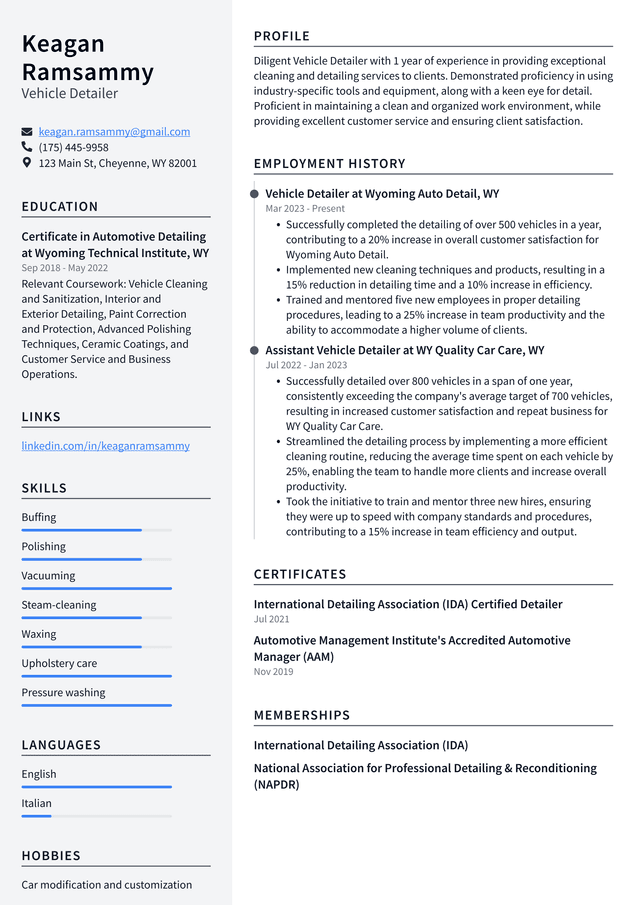 Tesla Vehicle Detailer Resume Example
Keagan Ramsammy, Vehicle Detailer
keagan.ramsammy@gmail.com
(175) 445-9958
123 Main St, Cheyenne, WY 82001
Professional Summary
Diligent Vehicle Detailer with 1 year of experience in providing exceptional cleaning and detailing services to clients. Demonstrated proficiency in using industry-specific tools and equipment, along with a keen eye for detail. Proficient in maintaining a clean and organized work environment, while providing excellent customer service and ensuring client satisfaction.
Work Experience
Vehicle Detailer at Wyoming Auto Detail, WY
Mar 2023 - Present
Successfully completed the detailing of over 500 vehicles in a year, contributing to a 20% increase in overall customer satisfaction for Wyoming Auto Detail.
Implemented new cleaning techniques and products, resulting in a 15% reduction in detailing time and a 10% increase in efficiency.
Trained and mentored five new employees in proper detailing procedures, leading to a 25% increase in team productivity and the ability to accommodate a higher volume of clients.
Assistant Vehicle Detailer at WY Quality Car Care, WY
Jul 2022 - Jan 2023
Successfully detailed over 800 vehicles in a span of one year, consistently exceeding the company's average target of 700 vehicles, resulting in increased customer satisfaction and repeat business for WY Quality Car Care.
Streamlined the detailing process by implementing a more efficient cleaning routine, reducing the average time spent on each vehicle by 25%, enabling the team to handle more clients and increase overall productivity.
Took the initiative to train and mentor three new hires, ensuring they were up to speed with company standards and procedures, contributing to a 15% increase in team efficiency and output.
Education
Certificate in Automotive Detailing at Wyoming Technical Institute, WY
Sep 2018 - May 2022
Relevant Coursework: Vehicle Cleaning and Sanitization, Interior and Exterior Detailing, Paint Correction and Protection, Advanced Polishing Techniques, Ceramic Coatings, and Customer Service and Business Operations.
Skills
Buffing
Polishing
Vacuuming
Steam-cleaning
Waxing
Upholstery care
Pressure washing
Certificates
International Detailing Association (IDA) Certified Detailer
Automotive Management Institute's Accredited Automotive Manager (AAM)
Tips for Writing a Better Tesla Vehicle Detailer Resume
1. Start with a strong objective statement: Begin your resume with a clear and concise objective statement that highlights your passion for Tesla vehicles, your experience in detailing, and your commitment to providing exceptional service. This will help set the tone for the rest of your resume and grab the attention of hiring managers.
2. Tailor your resume to the specific job posting: Make sure to read through the job description carefully and tailor your resume to match the skills and qualifications listed. For example, if the posting emphasizes attention to detail and customer service skills, make sure to include examples of these in your resume.
3. Focus on relevant experience: When listing your work experience, focus on detailing jobs that are relevant to vehicle detailing or Tesla vehicles specifically. If you have worked as a detailer for another automotive brand or at a car wash, be sure to highlight any transferable skills or experiences that could apply to working with Tesla vehicles.
4. Highlight certifications and specialized training: If you have earned any certifications or undergone specialized training related to vehicle detailing, be sure to list these prominently on your resume. This could include courses in paint correction, ceramic coatings, or interior detailing techniques.
5. Showcase your technical skills: As a Tesla vehicle detailer, you'll need a strong understanding of various cleaning products, tools, and techniques used in the industry. Be sure to list any specific knowledge or expertise you have in this area.
6. Emphasize customer service skills: A big part of being a successful vehicle detailer is ensuring customer satisfaction by providing excellent service. Highlight any past experiences where you have demonstrated strong customer service skills, such as resolving complaints or going above and beyond for clients.
7. Include numerical data when possible: Quantify your accomplishments by including specific figures when possible (e.g., "Increased monthly detailing revenue by 15%," or "Maintained a 98% customer satisfaction rating"). This can help demonstrate your effectiveness in previous roles.
8. Keep it concise and well-organized: Aim for a one-page resume that is easy to read and understand. Use bullet points, clear headings, and consistent formatting to make your resume visually appealing.
9. Proofread carefully: A well-written resume free of typos and grammatical errors will demonstrate your attention to detail – a crucial skill for a vehicle detailer. Take the time to thoroughly proofread your resume before submitting it.
10. Include references or testimonials: If you have any positive feedback from past clients or employers, consider including these as references or testimonials on your resume. This can provide further evidence of your skills and work ethic as a Tesla vehicle detailer.
Related: Detailer Resume Examples
Key Skills Hiring Managers Look for on Tesla Vehicle Detailer Resumes
When applying for a Vehicle Detailer opportunity at Tesla, it is crucial to incorporate keywords from the job description in your application materials. This is because Tesla, like many other companies, uses Applicant Tracking Systems (ATS) to filter and rank applications based on their relevance to the job requirements. By including specific keywords and phrases mentioned in the job description, you increase your chances of passing through the ATS filters and getting noticed by hiring managers. Demonstrating that you possess the required skills and qualifications for the Vehicle Detailer role through targeted keywords not only helps your application stand out but also showcases your attention to detail and understanding of Tesla's expectations for the position.
When applying for vehicle detailer positions at Tesla, you may encounter common skills and key terms such as detailing, buffing, polishing, customer service, time management, automotive maintenance, and paint protection.
Key Skills and Proficiencies
Attention to detail
Time management
Knowledge of cleaning products and chemicals
Upholstery cleaning techniques
Paint restoration and polishing skills
Interior and exterior detailing expertise
Hand-eye coordination
Basic mechanical knowledge
Pressure washing proficiency
Glass cleaning and treatment techniques
Odor removal methods
Buffing and waxing skills
Customer service orientation
Ability to work independently or in a team environment
Knowledge of car makes and models
Proper use of equipment and tools
Safety awareness
Problem-solving abilities
Stain removal techniques
Clay bar application knowledge
Headlight restoration skills
Adaptability to various weather conditions
Related: Detailer Skills: Definition and Examples
Common Action Verbs for Tesla Vehicle Detailer Resumes
Crafting a compelling Tesla Vehicle Detailer Resume can be a challenging task, mainly due to the difficulty of finding diverse action verbs that accurately represent your skills and experiences. Using varied verbs is crucial in creating an impactful resume, as it helps demonstrate your adaptability and versatility in performing various tasks. Repeating the same verb throughout your resume may cause it to appear monotonous and unimpressive, ultimately reducing your chances of landing the job. Therefore, investing time and effort into identifying a range of action verbs relevant to the role of a Tesla Vehicle Detailer will significantly enhance the quality of your resume and increase the likelihood of securing an interview.
To provide you with a competitive advantage, we have assembled a list of impactful action verbs that will enhance your resume and help secure your next interview:
Action Verbs
Cleaned
Polished
Buffed
Vacuumed
Shampooed
Deodorized
Waxed
Sanitized
Inspected
Restored
Treated
Maintained
Detailed
Degreased
Conditioned
Applied sealants
Removed stains
Disinfected
Operated equipment
Replenished supplies
Managed inventory
Provided customer service
Related: What does a Detailer do?