Article
Tesla Security Systems Technician Resume Examples
Discover expert-crafted Tesla Security Systems Technician resume examples to help you showcase your skills and land your dream job.

Brenna Goyette
Certified Professional Resume Writer, Career Expert
Published 10 min read
This article provides valuable insights and guidance on crafting a compelling resume for the position of Security Systems Technician at Tesla, one of the world's most innovative companies. It delves into the essential skills, qualifications, and experiences that will make your resume stand out from the competition, as well as highlighting key aspects to emphasize, such as knowledge of cutting-edge security technologies, problem-solving abilities, and adaptability in a fast-paced environment. Additionally, the article offers advice on tailoring your resume to align with Tesla's company culture and values to showcase how you can contribute to their mission of accelerating sustainable energy solutions while ensuring a safe and secure environment for employees and assets.
Tesla Security Systems Technician Resume Created Using Our Resume Builder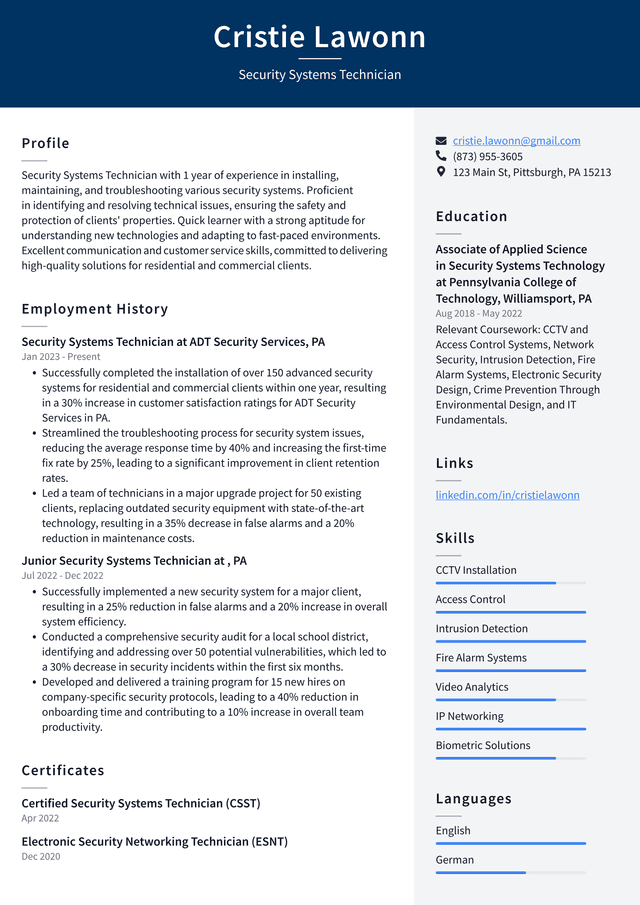 Tesla Security Systems Technician Resume Example
Cristie Lawonn, Security Systems Technician
cristie.lawonn@gmail.com
(873) 955-3605
123 Main St, Pittsburgh, PA 15213
Professional Summary
Security Systems Technician with 1 year of experience in installing, maintaining, and troubleshooting various security systems. Proficient in identifying and resolving technical issues, ensuring the safety and protection of clients' properties. Quick learner with a strong aptitude for understanding new technologies and adapting to fast-paced environments. Excellent communication and customer service skills, committed to delivering high-quality solutions for residential and commercial clients.
Work Experience
Security Systems Technician at ADT Security Services, PA
Jan 2023 - Present
Successfully completed the installation of over 150 advanced security systems for residential and commercial clients within one year, resulting in a 30% increase in customer satisfaction ratings for ADT Security Services in PA.
Streamlined the troubleshooting process for security system issues, reducing the average response time by 40% and increasing the first-time fix rate by 25%, leading to a significant improvement in client retention rates.
Led a team of technicians in a major upgrade project for 50 existing clients, replacing outdated security equipment with state-of-the-art technology, resulting in a 35% decrease in false alarms and a 20% reduction in maintenance costs.
Junior Security Systems Technician at , PA
Jul 2022 - Dec 2022
Successfully implemented a new security system for a major client, resulting in a 25% reduction in false alarms and a 20% increase in overall system efficiency.
Conducted a comprehensive security audit for a local school district, identifying and addressing over 50 potential vulnerabilities, which led to a 30% decrease in security incidents within the first six months.
Developed and delivered a training program for 15 new hires on company-specific security protocols, leading to a 40% reduction in onboarding time and contributing to a 10% increase in overall team productivity.
Education
Associate of Applied Science in Security Systems Technology at Pennsylvania College of Technology, Williamsport, PA
Aug 2018 - May 2022
Relevant Coursework: CCTV and Access Control Systems, Network Security, Intrusion Detection, Fire Alarm Systems, Electronic Security Design, Crime Prevention Through Environmental Design, and IT Fundamentals.
Skills
CCTV Installation
Access Control
Intrusion Detection
Fire Alarm Systems
Video Analytics
IP Networking
Biometric Solutions
Certificates
Certified Security Systems Technician (CSST)
Electronic Security Networking Technician (ESNT)
Tips for Writing a Better Tesla Security Systems Technician Resume
1. Use a clear and concise format: Your resume should be easy to read and understand. Use a simple font, consistent formatting, and clear headings to make your resume visually appealing.
2. Tailor your resume to the job: Make sure that your resume is tailored specifically for the Tesla Security Systems Technician position. Highlight relevant skills, experience, and qualifications that match the job description.
3. Include a strong objective statement: Start with a strong objective statement that highlights your career goals and why you are interested in working as a Tesla Security Systems Technician.
4. Emphasize technical skills: As a security systems technician, it's essential to showcase your technical expertise in installing, maintaining, and troubleshooting security systems. Be sure to list any certifications or training you have received in this field.
5. Focus on achievements: Instead of just listing your job duties, focus on accomplishments and how you have made a positive impact in previous roles. Use quantifiable metrics whenever possible to show measurable results.
6. Showcase problem-solving abilities: Employers want technicians who can troubleshoot issues effectively and efficiently. Highlight instances where you have successfully resolved complex security system problems.
7. Detail relevant work experience: List all relevant work experience related to security systems installation, maintenance, and repair. Be sure to include any internships or apprenticeships that provided hands-on experience in this field.
8. Include professional references: If possible, include professional references from past employers who can vouch for your technical skills and work ethic as a security systems technician.
9. Proofread carefully: Make sure there are no spelling or grammatical errors on your resume before submitting it to potential employers.
10. Customize for each application: Finally, remember to customize your resume for each job application by emphasizing the most relevant skills and experiences based on the specific job description provided by the employer.
Related: Security Technician Resume Examples
Key Skills Hiring Managers Look for on Tesla Security Systems Technician Resumes
Incorporating keywords from the job description when applying for a Security Systems Technician opportunity at Tesla is crucial, as the company likely uses Applicant Tracking Systems (ATS) to filter and select potential candidates. These systems scan resumes and applications for specific keywords that match the skills, experience, and qualifications outlined in the job description. By including these keywords in your resume or application, you increase your chances of being noticed by ATS and moving on to the next stage of the hiring process. Failing to do so may result in your application being overlooked, even if you possess all the necessary qualifications for the position.
When applying for security systems technician positions at Tesla, you may encounter common skills and key terms such as access control, CCTV, intrusion detection, IP networking, alarm monitoring, electronic security systems, and system integration.
Key Skills and Proficiencies
CCTV installation
Access control systems
Intrusion detection systems
Network security
System troubleshooting
Alarm system installation
Video surveillance systems
Wiring and cabling
IP camera configuration
Security system maintenance
Electronic lock installation
Fire alarm systems
Home automation integration
Customer service skills
Risk assessment
Blueprint reading
Project management
Security system design
Technical documentation
Software programming
Electrical knowledge
Building codes and regulations
Related: Security Technician Skills: Definition and Examples
Common Action Verbs for Tesla Security Systems Technician Resumes
Crafting a compelling resume for a Tesla Security Systems Technician position can be a challenging task, particularly when it comes to selecting diverse and powerful action verbs that effectively showcase your skills and experiences. It is crucial to avoid repetitive language and choose varied verbs that not only catch the attention of potential employers but also demonstrate your proficiency in the field. By employing an assortment of strong, relevant action verbs on your resume, you are more likely to stand out among other candidates and increase your chances of securing an interview for a Tesla Security Systems Technician role.
Enhance your competitive advantage with our curated list of impactful action verbs, designed to fortify your resume and secure your next interview:
Action Verbs
Installed
Configured
Monitored
Maintained
Repaired
Upgraded
Assessed
Troubleshot
Programmed
Integrated
Inspected
Tested
Analyzed
Evaluated
Designed
Implemented
Conducted
Trained
Responded
Documented
Recommended
Supervised
Related: What does a Security Technician do?