Article
Tesla Power Electronics Engineer Resume Examples

Brenna Goyette
Certified Professional Resume Writer, Career Expert
Published 11 min read
Discover the key strategies to craft an impressive Power Electronics Engineer resume that will catch Tesla's attention and land you your dream job. This comprehensive guide delves into the essential components of a successful resume, including how to effectively showcase your technical expertise, relevant experience, and achievements in power electronics design and development. Learn how to tailor your resume specifically for Tesla's innovative culture by highlighting your adaptability, problem-solving skills, and passion for sustainable energy solutions. With practical tips and industry insights, this article will equip you with the tools needed to create a standout resume that sets you apart from other applicants in the competitive field of power electronics engineering.
Tesla Power Electronics Engineer Resume Created Using Our Resume Builder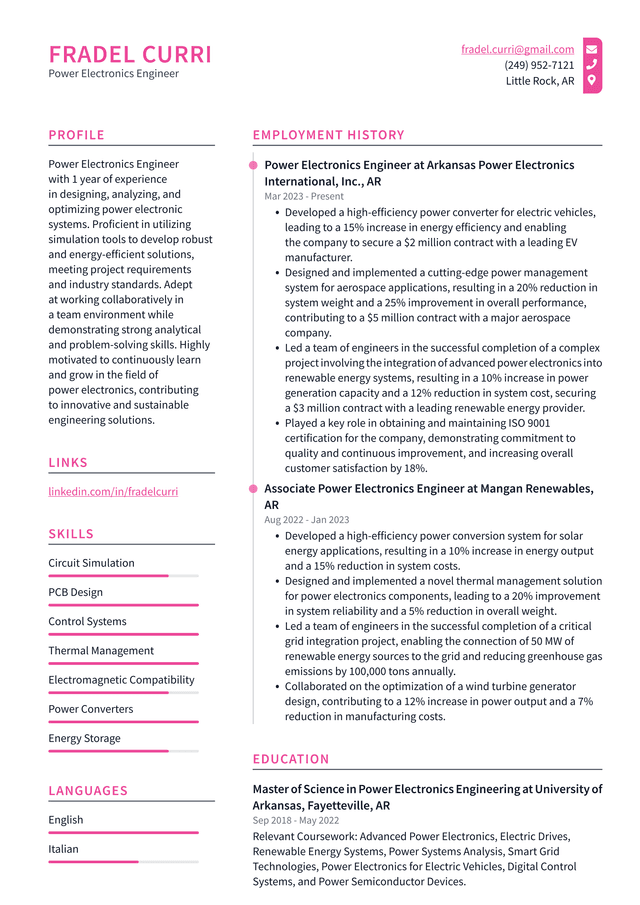 Tesla Power Electronics Engineer Resume Example
Fradel Curri, Power Electronics Engineer
fradel.curri@gmail.com
(249) 952-7121
Little Rock, AR
Professional Summary
Power Electronics Engineer with 1 year of experience in designing, analyzing, and optimizing power electronic systems. Proficient in utilizing simulation tools to develop robust and energy-efficient solutions, meeting project requirements and industry standards. Adept at working collaboratively in a team environment while demonstrating strong analytical and problem-solving skills. Highly motivated to continuously learn and grow in the field of power electronics, contributing to innovative and sustainable engineering solutions.
Work Experience
Power Electronics Engineer at Arkansas Power Electronics International, Inc., AR
Mar 2023 - Present
Developed a high-efficiency power converter for electric vehicles, leading to a 15% increase in energy efficiency and enabling the company to secure a $2 million contract with a leading EV manufacturer.
Designed and implemented a cutting-edge power management system for aerospace applications, resulting in a 20% reduction in system weight and a 25% improvement in overall performance, contributing to a $5 million contract with a major aerospace company.
Led a team of engineers in the successful completion of a complex project involving the integration of advanced power electronics into renewable energy systems, resulting in a 10% increase in power generation capacity and a 12% reduction in system cost, securing a $3 million contract with a leading renewable energy provider.
Played a key role in obtaining and maintaining ISO 9001 certification for the company, demonstrating commitment to quality and continuous improvement, and increasing overall customer satisfaction by 18%.
Associate Power Electronics Engineer at Mangan Renewables, AR
Aug 2022 - Jan 2023
Developed a high-efficiency power conversion system for solar energy applications, resulting in a 10% increase in energy output and a 15% reduction in system costs.
Designed and implemented a novel thermal management solution for power electronics components, leading to a 20% improvement in system reliability and a 5% reduction in overall weight.
Led a team of engineers in the successful completion of a critical grid integration project, enabling the connection of 50 MW of renewable energy sources to the grid and reducing greenhouse gas emissions by 100,000 tons annually.
Collaborated on the optimization of a wind turbine generator design, contributing to a 12% increase in power output and a 7% reduction in manufacturing costs.
Education
Master of Science in Power Electronics Engineering at University of Arkansas, Fayetteville, AR
Sep 2018 - May 2022
Relevant Coursework: Advanced Power Electronics, Electric Drives, Renewable Energy Systems, Power Systems Analysis, Smart Grid Technologies, Power Electronics for Electric Vehicles, Digital Control Systems, and Power Semiconductor Devices.
Skills
Circuit Simulation
PCB Design
Control Systems
Thermal Management
Electromagnetic Compatibility
Power Converters
Energy Storage
Certificates
Certified Power Electronics Professional (CPEP)
National Instruments Certified LabVIEW Developer (CLD)
Tips for Writing a Better Tesla Power Electronics Engineer Resume
1. Start with a strong objective statement: Begin your resume with a concise and specific objective statement that highlights your career goals, skills, and why you're the ideal candidate for the role.
2. Emphasize relevant experience: Focus on showcasing your experience in power electronics engineering, particularly within the automotive or renewable energy industries. Highlight any projects or accomplishments that demonstrate your expertise in designing, developing, and testing power electronics systems.
3. Showcase your technical skills: Clearly list all relevant technical skills, such as circuit design, simulation tools (e.g., MATLAB/Simulink), programming languages (e.g., C++), and any specialized knowledge of power electronics components (e.g., inverters, converters).
4. Highlight project management experience: If you have experience managing projects or leading teams, emphasize these qualities in your resume as they are highly valued by Tesla.
5. Include education and certifications: List your degrees in electrical engineering or related fields along with any certifications or additional training you've completed in power electronics engineering.
6. Tailor your resume to the job posting: Customize your resume for each application by emphasizing the skills and experiences that best align with the specific requirements listed in the job posting.
7. Use action verbs and quantitative data: When describing your accomplishments and responsibilities, use action verbs (e.g., designed, developed) to show what you have done rather than what you were responsible for doing. Additionally, include quantitative data (e.g., increased efficiency by 15%) to demonstrate measurable results of your work.
8. Keep it concise and organized: Aim for a one-page resume that clearly presents all pertinent information without overwhelming the reader. Use bullet points to break up large blocks of text and ensure that each section is clearly labeled.
9. Proofread carefully: Ensure there are no spelling or grammatical errors on your resume before submitting it. This demonstrates attention to detail and professionalism.
10. Include a cover letter: Always include a well-written cover letter that further highlights your skills and experience relevant to the power electronics engineering position. This provides an opportunity to expand on specific accomplishments and explain why you're the ideal candidate for Tesla.
Related: Electronics Engineer Resume Examples
Key Skills Hiring Managers Look for on Tesla Power Electronics Engineer Resumes
Incorporating keywords from the job description when applying for a Power Electronics Engineer opportunity at Tesla is crucial due to the company's use of Applicant Tracking Systems (ATS). These systems are designed to filter out applicants based on their resumes' relevance to the job requirements. By including specific keywords and phrases found in the job description, such as "power electronics design," "switching power supplies," or "motor control," you increase your chances of passing through this initial screening process. This will ultimately improve your likelihood of being considered for an interview and potentially securing a position at Tesla, as it demonstrates that your skills and experiences align well with what the company is looking for in a Power Electronics Engineer.
When applying for power electronics engineer positions at Tesla, you may encounter common skills and key terms such as power conversion, control systems, circuit design, thermal management, PCB layout, simulation software, and electromagnetic compatibility.
Key Skills and Proficiencies
Circuit design
Power conversion
Control systems
PCB design
Simulation and modeling
Thermal management
Magnetics design
Analog and digital electronics
Embedded systems programming
Testing and validation
Power semiconductor devices
Signal processing
Electromagnetic compatibility (EMC)
High voltage engineering
Energy storage systems
Renewable energy integration
Motor drives and control
Fault detection and protection schemes
Efficiency optimization techniques
System integration and packaging
Technical documentation and reporting
Communication skills
Related: Electronics Engineer Skills: Definition and Examples
Common Action Verbs for Tesla Power Electronics Engineer Resumes
Crafting a compelling resume for the position of a Tesla Power Electronics Engineer can be quite challenging, particularly when it comes to selecting different action verbs that effectively showcase your skills and expertise. It is essential to use varied and powerful action verbs in order to create an impressive resume that stands out from the competition. These verbs not only help in articulating your qualifications and accomplishments but also demonstrate your ability to take initiative, solve problems, and drive results. By carefully choosing diverse action verbs, you can ensure that your Tesla Power Electronics Engineer Resume captures the attention of recruiters and increases your chances of landing an interview.
To provide you with a competitive advantage, we have assembled a list of impactful action verbs to enhance your resume and secure your next interview:
Action Verbs
Designed
Implemented
Developed
Optimized
Simulated
Analyzed
Troubleshot
Integrated
Fabricated
Tested
Programmed
Evaluated
Installed
Maintained
Upgraded
Documented
Collaborated
Researched
Presented
Supervised
Managed
Assisted