Article
Tesla Metrology Technician Resume Examples
Explore our curated selection of top-notch Tesla Metrology Technician resume examples to help you craft the perfect application and land your dream job.

Brenna Goyette
Certified Professional Resume Writer, Career Expert
Published 10 min read
Discover the essential tips and tricks for crafting a winning resume that will help you land your dream job as a Metrology Technician at Tesla. In this comprehensive guide, we delve into the key skills, qualifications, and experiences that will make your resume stand out among the competition. Learn how to highlight your expertise in metrology techniques, problem-solving abilities, and understanding of industry standards while showcasing your commitment to Tesla's mission of accelerating sustainable energy solutions. With our expert advice, you'll be well on your way to securing an interview and joining the cutting-edge team at Tesla.
Tesla Metrology Technician Resume Created Using Our Resume Builder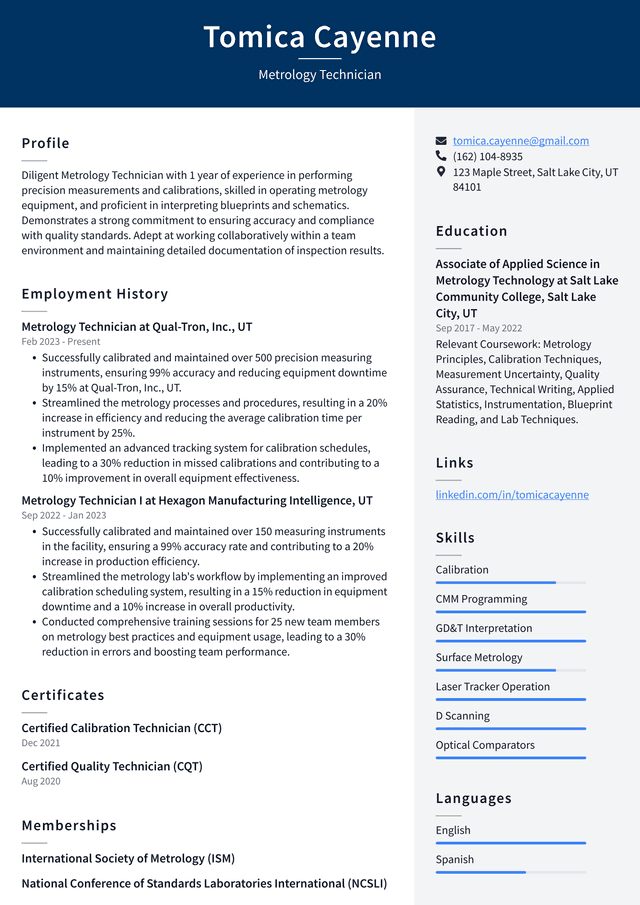 Tesla Metrology Technician Resume Example
Tomica Cayenne, Metrology Technician
tomica.cayenne@gmail.com
(162) 104-8935
123 Maple Street, Salt Lake City, UT 84101
Professional Summary
Diligent Metrology Technician with 1 year of experience in performing precision measurements and calibrations, skilled in operating metrology equipment, and proficient in interpreting blueprints and schematics. Demonstrates a strong commitment to ensuring accuracy and compliance with quality standards. Adept at working collaboratively within a team environment and maintaining detailed documentation of inspection results.
Work Experience
Metrology Technician at Qual-Tron, Inc., UT
Feb 2023 - Present
Successfully calibrated and maintained over 500 precision measuring instruments, ensuring 99% accuracy and reducing equipment downtime by 15% at Qual-Tron, Inc., UT.
Streamlined the metrology processes and procedures, resulting in a 20% increase in efficiency and reducing the average calibration time per instrument by 25%.
Implemented an advanced tracking system for calibration schedules, leading to a 30% reduction in missed calibrations and contributing to a 10% improvement in overall equipment effectiveness.
Metrology Technician I at Hexagon Manufacturing Intelligence, UT
Sep 2022 - Jan 2023
Successfully calibrated and maintained over 150 measuring instruments in the facility, ensuring a 99% accuracy rate and contributing to a 20% increase in production efficiency.
Streamlined the metrology lab's workflow by implementing an improved calibration scheduling system, resulting in a 15% reduction in equipment downtime and a 10% increase in overall productivity.
Conducted comprehensive training sessions for 25 new team members on metrology best practices and equipment usage, leading to a 30% reduction in errors and boosting team performance.
Education
Associate of Applied Science in Metrology Technology at Salt Lake Community College, Salt Lake City, UT
Sep 2017 - May 2022
Relevant Coursework: Metrology Principles, Calibration Techniques, Measurement Uncertainty, Quality Assurance, Technical Writing, Applied Statistics, Instrumentation, Blueprint Reading, and Lab Techniques.
Skills
Calibration
CMM Programming
GD&T Interpretation
Surface Metrology
Laser Tracker Operation
D Scanning
Optical Comparators
Certificates
Certified Calibration Technician (CCT)
Certified Quality Technician (CQT)
Tips for Writing a Better Tesla Metrology Technician Resume
1. Use a clear and concise format: A well-structured resume is easy to read, making it more likely that recruiters will be able to quickly identify your key skills and experiences. Choose a clean and simple font, use bullet points to break up text, and avoid large blocks of text.
2. Tailor your resume for Tesla: Research the company culture and the specific job requirements for a Metrology Technician at Tesla. Make sure you emphasize relevant skills, experiences, and values that align with Tesla's mission and goals.
3. Emphasize your technical skills: As a Metrology Technician, you'll need to have strong knowledge of metrology tools, equipment calibration, quality control processes, and data analysis. Highlight these skills in your resume by providing specific examples of how you've used them in previous roles.
4. Include relevant certifications: If you have any relevant certifications or training related to metrology or quality control (e.g., ASQ Certified Quality Technician), make sure to include these in your resume.
5. Quantify achievements: When describing your work experience, try to provide quantifiable examples of how you've made an impact in previous roles (e.g., "Improved measurement accuracy by 15% by implementing new calibration procedures").
6. Detail problem-solving abilities: Metrology Technicians are often required to troubleshoot issues with measuring equipment or processes. Provide examples of situations where you've successfully identified and resolved problems related to metrology or quality control.
7. Showcase communication skills: Metrology Technicians need strong communication skills as they often collaborate with other departments and are responsible for documenting their findings clearly and accurately. Highlight instances where you've effectively communicated complex technical information both verbally and in writing.
8. Don't forget soft skills: While technical expertise is crucial for this role, don't neglect the importance of soft skills such as teamwork, attention to detail, adaptability, time management, etc.
9. Proofread your resume: Errors in your resume can create a negative impression and may cause your application to be overlooked. Make sure you proofread your resume carefully before submitting it.
10. Keep it concise: Aim for a resume that is no longer than two pages. This will ensure that the most important information is easily accessible and won't get lost in excessive detail.
Related: Pharmacy Technician Instructor Resume Examples
Key Skills Hiring Managers Look for on Tesla Metrology Technician Resumes
When applying for a Metrology Technician opportunity at Tesla, it is crucial to incorporate keywords from the job description in your application materials. This is because Tesla, like many other companies, utilizes Applicant Tracking Systems (ATS) to screen and sort through numerous applications. These systems are designed to identify candidates who best match the requirements of the position by scanning for specific keywords related to skills, experiences, and qualifications. By including these keywords throughout your resume and cover letter, you can increase your chances of passing through this initial screening process and securing an interview with Tesla's hiring team.
When applying for metrology technician positions at Tesla, you may encounter a list of common skills and key terms such as dimensional inspection, calibration, CMM programming, GD&T, and ISO standards.
Key Skills and Proficiencies
Precision measurement
Calibration
Instrumentation
Quality control
Data analysis
Statistical process control (SPC)
Geometric dimensioning and tolerancing (GD&T)
Blueprint reading
Mechanical aptitude
Troubleshooting
Test equipment operation
Technical documentation
Inspection techniques
Coordinate measuring machine (CMM) operation
ISO standards compliance
Optical metrology tools proficiency
Surface plate inspection
First-article inspection
Process improvement
Time management
Communication skills
Teamwork
Related: Pharmacy Technician Instructor Skills: Definition and Examples
Common Action Verbs for Tesla Metrology Technician Resumes
Crafting a compelling Tesla Metrology Technician Resume can be quite challenging, particularly when it comes to finding diverse action verbs to showcase your skills and experience effectively. Using varied verbs is crucial in order to avoid repetition and create a resume that stands out from the competition. This is because recruiters tend to skim through resumes quickly, and using dynamic and engaging action verbs can help grab their attention and highlight your unique accomplishments as a Tesla Metrology Technician. Therefore, it's essential to invest time in identifying appropriate action verbs that accurately reflect your capabilities and expertise in the field of metrology, ensuring that your resume leaves a lasting impression on potential employers.
To provide you with a competitive advantage, we have assembled a collection of impactful action verbs that can enhance your resume and secure your next interview:
Action Verbs
Calibrated
Measured
Inspected
Analyzed
Maintained
Operated
Troubleshot
Adjusted
Verified
Evaluated
Documented
Assembled
Tested
Repaired
Interpreted
Programmed
Implemented
Updated
Monitored
Assisted
Trained
Reported