Article
Tesla Energy Advisor Resume Examples

Brenna Goyette
Certified Professional Resume Writer, Career Expert
Published 10 min read
Discover the secrets to crafting a standout resume for an Energy Advisor position at Tesla, one of the most innovative companies in the world. In this informative article, we delve into how you can showcase your skills and experiences in alignment with Tesla's vision and values. Learn how to effectively emphasize your relevant expertise in renewable energy, customer service, and sales, while highlighting your passion for clean energy solutions. We also provide valuable advice on tailoring your resume to demonstrate not only your technical competencies but also your commitment to driving the transition towards sustainable energy systems. Don't miss this opportunity to make a lasting impression and boost your chances of landing that dream job at Tesla!
Tesla Energy Advisor Resume Created Using Our Resume Builder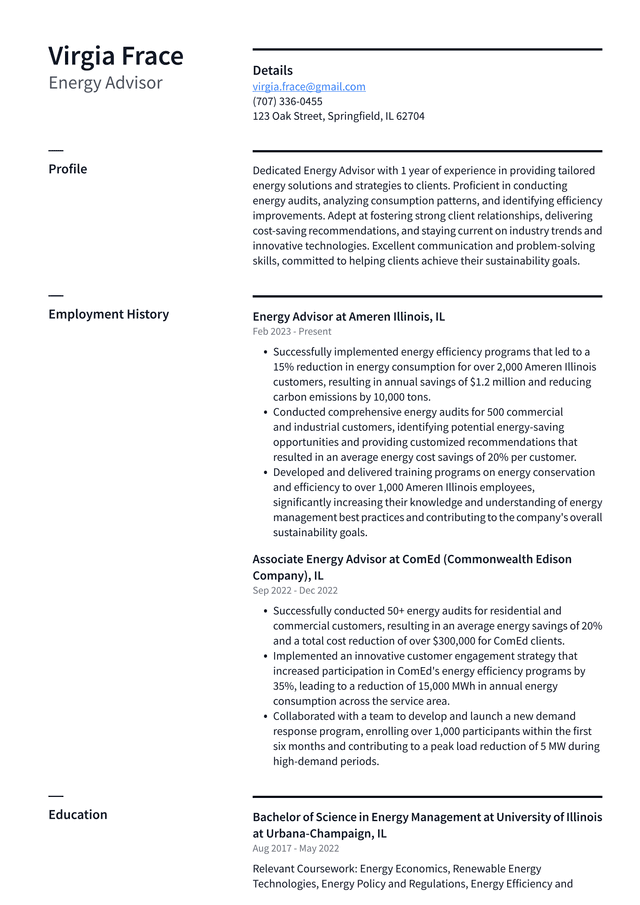 Tesla Energy Advisor Resume Example
Virgia Frace, Energy Advisor
virgia.frace@gmail.com
(707) 336-0455
123 Oak Street, Springfield, IL 62704
Professional Summary
Dedicated Energy Advisor with 1 year of experience in providing tailored energy solutions and strategies to clients. Proficient in conducting energy audits, analyzing consumption patterns, and identifying efficiency improvements. Adept at fostering strong client relationships, delivering cost-saving recommendations, and staying current on industry trends and innovative technologies. Excellent communication and problem-solving skills, committed to helping clients achieve their sustainability goals.
Work Experience
Energy Advisor at Ameren Illinois, IL
Feb 2023 - Present
Successfully implemented energy efficiency programs that led to a 15% reduction in energy consumption for over 2,000 Ameren Illinois customers, resulting in annual savings of $1.2 million and reducing carbon emissions by 10,000 tons.
Conducted comprehensive energy audits for 500 commercial and industrial customers, identifying potential energy-saving opportunities and providing customized recommendations that resulted in an average energy cost savings of 20% per customer.
Developed and delivered training programs on energy conservation and efficiency to over 1,000 Ameren Illinois employees, significantly increasing their knowledge and understanding of energy management best practices and contributing to the company's overall sustainability goals.
Associate Energy Advisor at ComEd (Commonwealth Edison Company), IL
Sep 2022 - Dec 2022
Successfully conducted 50+ energy audits for residential and commercial customers, resulting in an average energy savings of 20% and a total cost reduction of over $300,000 for ComEd clients.
Implemented an innovative customer engagement strategy that increased participation in ComEd's energy efficiency programs by 35%, leading to a reduction of 15,000 MWh in annual energy consumption across the service area.
Collaborated with a team to develop and launch a new demand response program, enrolling over 1,000 participants within the first six months and contributing to a peak load reduction of 5 MW during high-demand periods.
Education
Bachelor of Science in Energy Management at University of Illinois at Urbana-Champaign, IL
Aug 2017 - May 2022
Relevant Coursework: Energy Economics, Renewable Energy Technologies, Energy Policy and Regulations, Energy Efficiency and Conservation, Sustainable Development, Energy Auditing, Energy Management Systems, Environmental Impact Assessment, and Energy Project Management.
Skills
Thermography
Solar Photovoltaics
Geothermal Systems
Energy Modeling
Building Automation
HVAC Optimization
Lighting Retrofit
Certificates
Certified Energy Manager (CEM)
Building Performance Institute (BPI) Certification
Tips for Writing a Better Tesla Energy Advisor Resume
1. Tailor your resume to the job description: Carefully read the job description for the Tesla Energy Advisor position and make sure your resume highlights your relevant skills, experience, and qualifications that match the specific requirements of the role.
2. Use a clear and concise format: Keep your resume easy to read by using a clean layout, consistent font size and style, and bullet points to break up blocks of text. Avoid using excessive formatting or graphics that may distract from the content.
3. Start with a strong summary statement: Begin your resume with a brief summary statement that showcases your most relevant skills and achievements for the Tesla Energy Advisor role. This will help grab the attention of hiring managers and encourage them to read further.
4. Highlight your relevant work experience: Focus on showcasing your work experience related to sales, customer service, energy solutions, or other areas directly related to the Tesla Energy Advisor role. Quantify your achievements whenever possible (e.g., "Increased sales by 25% within six months").
5. Showcase technical skills: Include any technical skills you possess that are relevant to the role, such as proficiency in Microsoft Office Suite, CRM software, or knowledge of solar energy systems.
6. Emphasize soft skills: In addition to technical expertise, highlight important soft skills like communication, teamwork, problem-solving abilities, and adaptability which are critical for success in an Energy Advisor role at Tesla.
7. Include education and certifications: List any relevant degrees or certifications you have earned that pertain to energy management or sales (e.g., NABCEP Solar PV Installation Professional Certification).
8. Use action verbs and industry-specific terminology: When describing your accomplishments and responsibilities in previous roles, use action verbs like "collaborated," "analyzed," or "implemented" along with industry-specific terms (e.g., "solar panels", "energy storage", etc.) to demonstrate your expertise in this field.
9. Proofread and edit: Take the time to thoroughly proofread your resume for any grammatical errors, typos, or inconsistencies in formatting. Consider asking a friend or colleague to review your resume as well for a fresh perspective.
10. Keep it concise: Aim to keep your resume to one or two pages in length, focusing on the most relevant information and experience that showcases why you are a strong candidate for the Tesla Energy Advisor role.
Related: Energy Analyst Resume Examples
Key Skills Hiring Managers Look for on Tesla Energy Advisor Resumes
When applying for an Energy Advisor opportunity at Tesla, it is crucial to incorporate keywords from the job description into your application materials. This is because Tesla, like many other companies, uses Applicant Tracking Systems (ATS) to screen and filter applicants. These systems are designed to identify candidates that closely match the requirements of the position by scanning resumes and cover letters for specific keywords mentioned in the job description. By incorporating these keywords into your application, you increase your chances of passing through the initial screening process and being considered for an interview with Tesla.
When applying for energy advisor positions at Tesla, you may encounter common skills and key terms such as solar power, energy storage, electric vehicles, customer service, technical knowledge, communication skills, sales experience, and teamwork.
Key Skills and Proficiencies
Energy efficiency knowledge
Building science expertise
HVAC systems understanding
Renewable energy technologies
Energy management strategies
Energy auditing skills
Energy conservation techniques
Data analysis and interpretation
Project management abilities
Financial analysis and budgeting
Communication and presentation skills
Customer service orientation
Problem-solving capabilities
Regulatory compliance awareness
Environmental sustainability knowledge
Technical report writing skills
Software proficiency (energy modeling, spreadsheets)
Time management and organization skills
Teamwork and collaboration abilities
Continuous learning mindset
Adaptability to industry changes
Sales and negotiation skills
Related: Energy Analyst Skills: Definition and Examples
Common Action Verbs for Tesla Energy Advisor Resumes
Crafting a compelling Tesla Energy Advisor Resume can be a challenging task, especially when it comes to selecting the right action verbs that accurately describe your skills and experiences. It is essential to use a diverse range of verbs to effectively showcase your abilities and make your resume stand out from the competition. By carefully choosing varied action verbs, you can create a powerful and engaging resume that highlights your expertise as an Energy Advisor and demonstrates your value as a potential candidate for Tesla.
To provide you with a competitive advantage, we have assembled a collection of impactful action verbs that can enhance your resume and secure your next interview:
Action Verbs
Analyzed
Evaluated
Recommended
Implemented
Monitored
Optimized
Identified
Investigated
Assessed
Calculated
Developed
Presented
Conducted
Collaborated
Trained
Advised
Coordinated
Managed
Reviewed
Reported
Researched
Updated
Related: What does an Energy Analyst do?