Article
Starbucks Risk Management Specialist Resume Examples
This article provides examples and guidelines for crafting a compelling resume for the position of a Risk Management Specialist at Starbucks, highlighting necessary skills, experiences, and qualifications.

Brenna Goyette
Certified Professional Resume Writer, Career Expert
Published 9 min read
This article will provide a comprehensive guide on how to craft an effective resume for the position of Risk Management Specialist at Starbucks. It will delve into key areas such as highlighting relevant skills and experiences, emphasizing accomplishments in risk management, and tailoring your resume to meet Starbucks' unique corporate culture and needs. The article will also offer advice on how to demonstrate your knowledge about the company's operations and show your potential value to the team. It aims to help you stand out from other candidates by crafting a resume that portrays you as a capable specialist who can effectively manage risks in a dynamic retail environment like Starbucks.
Starbucks Risk Management Specialist Resume Created Using Our Resume Builder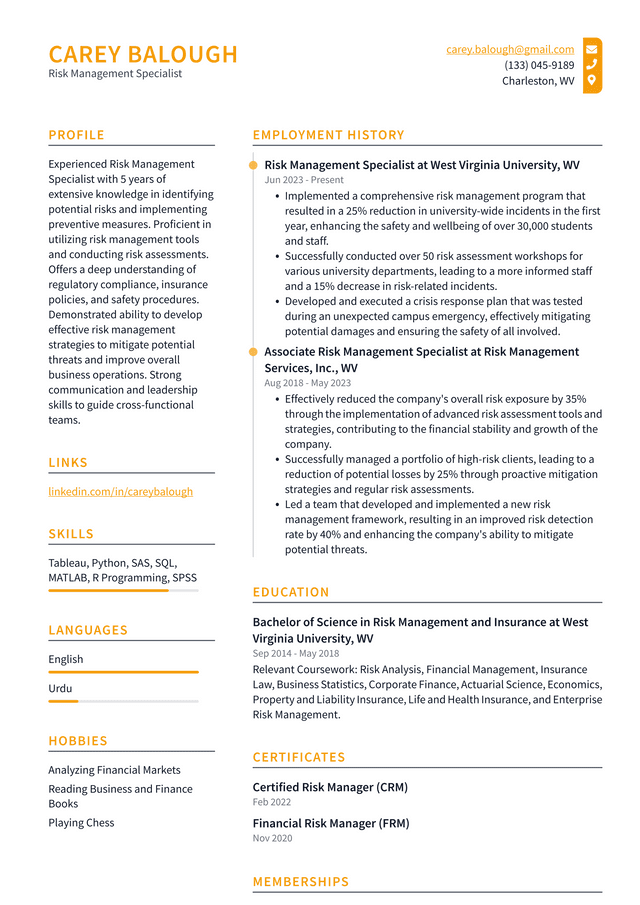 Starbucks Risk Management Specialist Resume Example
Carey Balough, Risk Management Specialist
carey.balough@gmail.com
(133) 045-9189
Charleston, WV
Professional Summary
Experienced Risk Management Specialist with 5 years of extensive knowledge in identifying potential risks and implementing preventive measures. Proficient in utilizing risk management tools and conducting risk assessments. Offers a deep understanding of regulatory compliance, insurance policies, and safety procedures. Demonstrated ability to develop effective risk management strategies to mitigate potential threats and improve overall business operations. Strong communication and leadership skills to guide cross-functional teams.
Work Experience
Risk Management Specialist at West Virginia University, WV
Jun 2023 - Present
Implemented a comprehensive risk management program that resulted in a 25% reduction in university-wide incidents in the first year, enhancing the safety and wellbeing of over 30,000 students and staff.
Successfully conducted over 50 risk assessment workshops for various university departments, leading to a more informed staff and a 15% decrease in risk-related incidents.
Developed and executed a crisis response plan that was tested during an unexpected campus emergency, effectively mitigating potential damages and ensuring the safety of all involved.
Associate Risk Management Specialist at Risk Management Services, Inc., WV
Aug 2018 - May 2023
Effectively reduced the company's overall risk exposure by 35% through the implementation of advanced risk assessment tools and strategies, contributing to the financial stability and growth of the company.
Successfully managed a portfolio of high-risk clients, leading to a reduction of potential losses by 25% through proactive mitigation strategies and regular risk assessments.
Led a team that developed and implemented a new risk management framework, resulting in an improved risk detection rate by 40% and enhancing the company's ability to mitigate potential threats.
Education
Bachelor of Science in Risk Management and Insurance at West Virginia University, WV
Sep 2014 - May 2018
Relevant Coursework: Risk Analysis, Financial Management, Insurance Law, Business Statistics, Corporate Finance, Actuarial Science, Economics, Property and Liability Insurance, Life and Health Insurance, and Enterprise Risk Management.
Skills
Tableau, Python, SAS, SQL, MATLAB, R Programming, SPSS
Certificates
Certified Risk Manager (CRM)
Financial Risk Manager (FRM)
Tips for Writing a Better Starbucks Risk Management Specialist Resume
1. Highlight relevant experience: Your resume should clearly demonstrate your past experience in risk management and how it can apply to Starbucks' operations. This could be experience in food safety, retail operations, or supply chain management.
2. Showcase your skills: A Risk Management Specialist at Starbucks would need a variety of skills such as analytical thinking, problem-solving ability, attention to detail, and knowledge of risk assessment tools. Make sure these skills are evident on your resume.
3. Include certifications and education: If you have any certifications related to risk management, ensure they are included in your resume. Similarly, list any relevant educational qualifications you hold.
4. Show achievements: Instead of just listing responsibilities from past jobs, highlight specific achievements that resulted from your work. For example, did you develop a new process that helped mitigate risks? Or maybe you identified a potential issue that saved the company money?
5. Tailor your resume: Every job is different so make sure your resume is tailored specifically for the Starbucks Risk Management Specialist position. Use keywords from the job description where appropriate.
6. Keep it concise: Hiring managers often have many resumes to look through so keep yours clear and concise while still including all necessary information.
7. Proofread: Ensure there are no spelling or grammatical errors which could detract from the professionalism of your application.
8. Use industry terminology: Show that you understand the industry by using common risk management terms and concepts in your resume.
9. Mention teamwork and leadership skills: Risk Management Specialists often need to work with various departments within the company so mention any instances where you've effectively collaborated with others or led a team.
10. Be professional: Make sure your contact details are up-to-date and use a professional email address (i.e., not something like 'partyguy@email.com').
Related: Risk Management Specialist Resume Examples
Key Skills Hiring Managers Look for on Starbucks Risk Management Specialist Resumes
Applying for a Risk Management Specialist position at Starbucks requires careful attention to the job description. This is because Starbucks, like many companies, uses Applicant Tracking Systems (ATS) to screen applications. These systems scan resumes for specific keywords that match those found in the job description. If your resume doesn't contain these keywords, it may be automatically rejected by the system before it even reaches a human recruiter. Therefore, it's crucial to incorporate as many relevant keywords from the job description into your resume and cover letter as possible. This can significantly increase your chances of passing through this initial screening process and landing an interview for the Risk Management Specialist role at Starbucks.
When applying for risk management specialist positions at Starbucks, you may encounter common skills and key terms such as...
Key Skills and Proficiencies
Risk Assessment
Risk Mitigation Strategies
Compliance Management
Financial Analysis
Data Analysis
Project Management
Decision Making Skills
Quantitative and Qualitative Analysis
Knowledge of Relevant Legislation and Regulations
Problem Solving Skills
Communication Skills
Strategic Planning
Understanding of Risk Management Tools and Software
Crisis Management
Business Acumen
Attention to Detail
Forecasting and Predictive Modeling
Audit Procedures Knowledge
Teamwork Skills
Time Management Skills
Ethical Conduct Understanding
Proficiency in Microsoft Office Suite (Excel, Word, PowerPoint).
Related: Risk Management Specialist Skills: Definition and Examples
Common Action Verbs for Starbucks Risk Management Specialist Resumes
Creating a compelling Starbucks Risk Management Specialist Resume can be challenging, especially when it comes to finding diverse action verbs to effectively convey your skills and experiences. Repetitive use of common verbs such as 'managed' or 'led' can make your resume bland and unimpressive. On the other hand, using varied action verbs can significantly enhance the quality of your resume by making it more dynamic and engaging. These verbs help in clearly articulating your responsibilities, achievements, and contributions in previous roles, thereby providing a clear picture of your capabilities to potential employers. Therefore, careful selection of action verbs is crucial to create an impactful Starbucks Risk Management Specialist Resume that stands out from the rest.
To provide you with a competitive advantage, we have curated a list of impactful action verbs that can enhance your resume and secure your next interview:
Action Verbs
Analyzed
Identified
Managed
Mitigated
Evaluated
Implemented
Developed
Coordinated
Assessed
Monitored
Documented
Reviewed
Investigated
Reported
Advised
Planned
Executed
Audited
Controlled
Facilitated
Trained
Resolved