Article
Top 16 Siebel Developer Resume Objective Examples
This article provides top siebel developer resume objective examples to help professionals create an effective and compelling resume.

Brenna Goyette
Certified Professional Resume Writer, Career Expert
Updated 10 min read
A resume objective is a brief statement that outlines the qualifications and skills you possess that make you an ideal candidate for a Siebel Developer position. Writing a resume objective gives employers a concise overview of your experience and qualifications in relation to the job they are seeking to fill. When writing your resume objective, focus on your specific skills and qualifications as they relate to Siebel development. For example, mention any experience developing software using Siebel tools, or any knowledge of programming languages such as Java, SQL, or HTML. Additionally, emphasize any certifications or trainings you have received in regards to Siebel development. By focusing on these details within your resume objective, you can give employers an understanding of how your skills match their needs.
Top 16 Siebel Developer Resume Objective Samples
To obtain a Siebel Developer role where I can utilize my technical skills and experience to develop innovative solutions.
To leverage my expertise in Siebel development to help the organization achieve its goals.
To join a progressive organization as a Siebel Developer and contribute to its success.
Seeking an opportunity to work as a Siebel Developer in a challenging environment that encourages growth and learning.
Utilize my knowledge of Siebel development to create efficient and effective solutions for the organization.
Seeking an opportunity to work as a Siebel Developer in an environment that allows me to use my creativity and technical skills.
To join an organization as a Siebel Developer and use my problem-solving skills to develop innovative solutions.
Looking for an opportunity as a Siebel Developer where I can apply my technical knowledge and experience in software development.
To join an established team of professionals as a Siebel Developer, utilizing my expertise in software engineering, database design, web development, etc.
Seeking an opportunity to work with cutting-edge technologies as a Siebel Developer, helping the organization stay ahead of competition.
To work with experienced professionals as part of the team at XYZ Company by leveraging my expertise in developing applications using the latest version of Siebel technology.
Aiming for a position of Siebel developer that would allow me to utilize my extensive knowledge of object-oriented programming languages, SQL databases, HTML/CSS/JavaScript coding principles, etc., for creating robust applications.
Looking for an opportunity where I can use my experience in developing complex applications using Oracle's Siebel technology stack while meeting customer requirements on time and within budget constraints.
Seeking employment with XYZ company as a Senior Level Siebel developer where I can apply my extensive experience in designing, coding and testing applications based on customer requirements while adhering to industry standards & practices.
Aiming for a position of Senior Level Siebel developer which will enable me to utilize my strong communication & interpersonal skills along with exceptional analytical abilities while working on complex projects involving multiple stakeholders & teams across different geographical locations.
Searching for an opportunity where I can make full use of my 8+ years' experience in designing & developing enterprise level applications using Oracle's suite of products including Oracle's CRM On Demand (Siebel) platform while ensuring high quality deliverables within tight deadlines
How to Write a Siebel Developer Resume Objective
Writing a Siebel Developer Resume Objective is an important part of creating a successful resume. A resume objective is the first sentence of your resume and should be tailored to the job you are applying for. A good objective will give potential employers a clear understanding of your skills, experience, and qualifications as it relates to the job.
When writing a Siebel Developer Resume Objective, start by mentioning your relevant technical background and experience in developing applications using the Siebel platform. If possible, include specific examples of projects that you have completed using Siebel or other similar software. Make sure to emphasize any certifications or training that you have received in this field as well. Additionally, highlight any other programming languages or development tools that you may be familiar with and how they can be applied to the role.
The next step is to explain why you are interested in this particular job opportunity. Be specific about how your skills and experience align with the job description and what value you can bring to the organization if hired. Mention any special talents or interests related to Siebel development, such as working with databases or designing user interfaces. This will demonstrate that you are invested in becoming an effective Siebel developer and understand the importance of staying up-to-date on new technologies related to the field.
Finally, conclude your resume objective by articulating what success looks like for you in this role—this could mean delivering high-quality projects on time or helping streamline processes for maximum efficiency. Demonstrating that you have a clear idea of how success can be achieved will show employers that you are motivated and capable of producing results for their organization.
By following these tips and crafting an effective Siebel Developer Resume Objective, potential employers will have a better understanding of who you are as an applicant and why they should consider hiring you for the position.
Related: What does a Siebel Developer do?
Skills to Add for Siebel Developer Resume Objectives
The role of a Siebel Developer is to develop, design and implement software applications for the Siebel platform. As such, when writing a resume for this position, it is important to highlight certain skills that will make you stand out as an ideal candidate. Below are some key skills to add when writing a Siebel Developer resume objectives:
1. Technical Expertise: A Siebel Developer should have extensive knowledge of the Siebel platform, including its architecture, configuration, scripting and development tools. Additionally, they should also be proficient in other programming languages such as Java and XML.
2. Problem-Solving Skills: A successful Siebel Developer must have excellent problem-solving skills in order to identify and resolve any issues that may arise during the development process. They should be able to think quickly and accurately in order to find solutions quickly and effectively.
3. Communication Skills: The ability to communicate clearly with both technical and non-technical stakeholders is essential for a successful Siebel Developer. They need to be able to explain complex information in an easy-to-understand manner so that all parties understand what needs to be done.
4. Teamwork Skills: Working as part of a team is essential for any software developer, especially when working on projects involving multiple stakeholders or departments within an organization. A successful developer should have strong teamwork skills so that he or she can work well with others while still being able to take responsibility for their own work.
5. Time Management Skills: Time management is essential for any software developer since they often have tight deadlines or competing priorities between projects or tasks. A successful developer should possess strong time management skills in order to ensure that all tasks are completed on time without sacrificing quality or efficiency of the final product.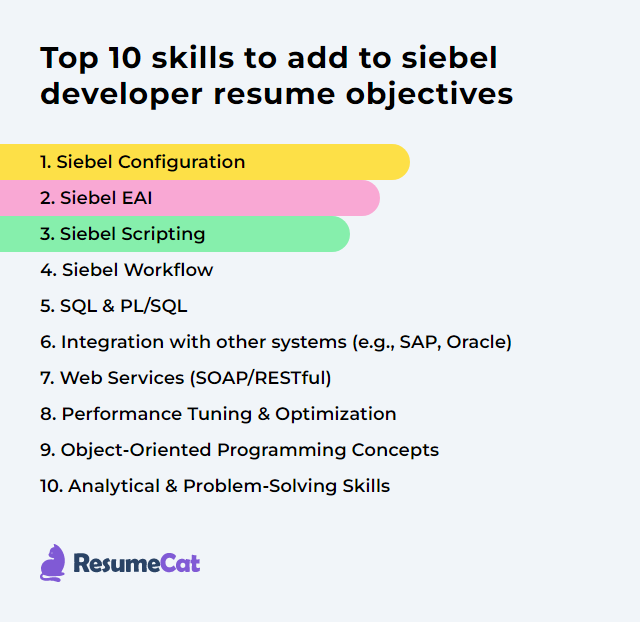 These are just some of the key skills that should be included in your resume objectives when applying for a position as a Siebel Developer. By highlighting these strengths, you will demonstrate your qualifications and experience while increasing your chances of being hired by potential employers looking for someone with the right skill set for their project or organization's needs
Related: Top Siebel Developer Skills
Common Mistakes When Writing a Siebel Developer Resume Objective
Writing a resume objective is an important part of the job application process, as it can give employers insight into your skills and experiences that make you a stand-out candidate. However, there are some common mistakes to avoid when writing a Siebel Developer resume objective.
First and foremost, many applicants tend to be too general in their objectives. While it is important to make sure your resume objective is succinct and to the point, it should also include specific examples from your experience that demonstrate how you would excel in the role. For example, instead of simply stating "seeking a position as a Siebel Developer", an effective resume objective might read "seeking a position as a Siebel Developer where I can utilize my 6+ years of experience developing and maintaining custom applications for Fortune 500 companies".
Another mistake to avoid is including too much information in the resume objective. Your career goals and objectives should be highlighted in the body of your resume rather than in the objective section. This will allow employers to clearly identify what makes you unique without having to sift through excessive detail within your objective statement.
Finally, many job seekers forget to tailor their resumes for each specific role they apply for. While it may be tempting to use an identical template for multiple positions, this can lead employers to believe that you are not truly interested in the position or that you have not taken time to research the company or its needs. Instead, take time before applying for any job to customize your resume objective so that it reflects what makes you uniquely qualified for that particular role and organization.
By avoiding these common mistakes when writing a Siebel Developer resume objective, job seekers can ensure their resumes stand out from other applicants and increase their chances of being invited for an interview with potential employers.
Related: Siebel Developer Resume Examples
A right resume objective for a Siebel Developer would be to demonstrate expertise in designing, developing, and implementing innovative solutions using the Siebel platform, while a wrong resume objective might be to become the most successful Siebel Developer in the industry.