Article
Pinterest Technical Writer Resume Examples

Brenna Goyette
Certified Professional Resume Writer, Career Expert
Published 10 min read
In this comprehensive guide, we will dive into the intricacies of crafting the perfect resume for a Technical Writer position at Pinterest, one of the world's leading social media platforms. We will discuss how to showcase your technical writing experience, highlight your expertise in creating user-friendly content, and demonstrate your ability to collaborate with cross-functional teams. Additionally, we will explore tips on emphasizing your proficiency in various tools and software commonly used by technical writers in the tech industry. By following our expert advice, you'll be able to create a compelling resume that captures the attention of hiring managers and propels you towards landing that coveted Technical Writer role at Pinterest.
Pinterest Technical Writer Resume Created Using Our Resume Builder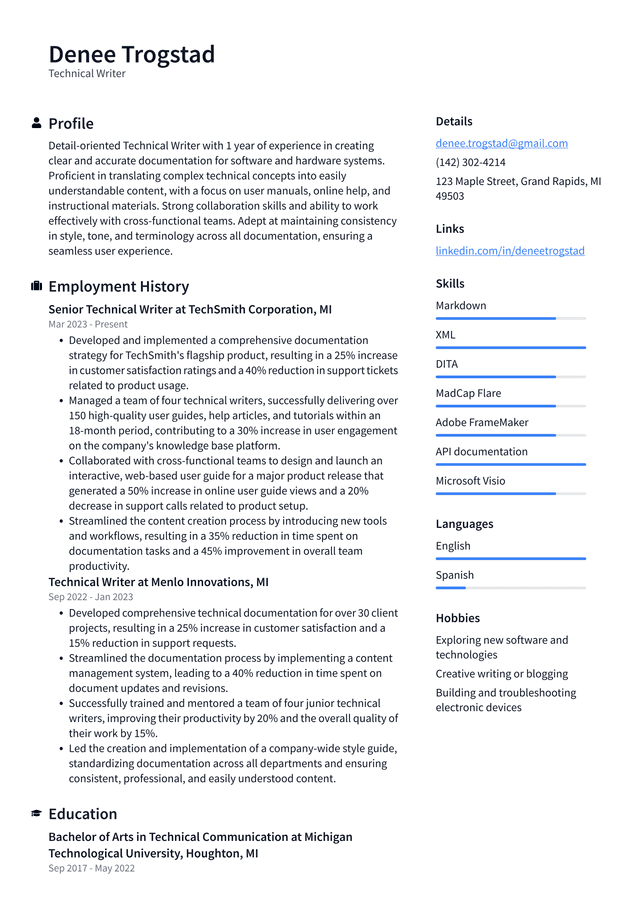 Pinterest Technical Writer Resume Example
Denee Trogstad, Technical Writer
denee.trogstad@gmail.com
(142) 302-4214
123 Maple Street, Grand Rapids, MI 49503
Professional Summary
Detail-oriented Technical Writer with 1 year of experience in creating clear and accurate documentation for software and hardware systems. Proficient in translating complex technical concepts into easily understandable content, with a focus on user manuals, online help, and instructional materials. Strong collaboration skills and ability to work effectively with cross-functional teams. Adept at maintaining consistency in style, tone, and terminology across all documentation, ensuring a seamless user experience.
Work Experience
Senior Technical Writer at TechSmith Corporation, MI
Mar 2023 - Present
Developed and implemented a comprehensive documentation strategy for TechSmith's flagship product, resulting in a 25% increase in customer satisfaction ratings and a 40% reduction in support tickets related to product usage.
Managed a team of four technical writers, successfully delivering over 150 high-quality user guides, help articles, and tutorials within an 18-month period, contributing to a 30% increase in user engagement on the company's knowledge base platform.
Collaborated with cross-functional teams to design and launch an interactive, web-based user guide for a major product release that generated a 50% increase in online user guide views and a 20% decrease in support calls related to product setup.
Streamlined the content creation process by introducing new tools and workflows, resulting in a 35% reduction in time spent on documentation tasks and a 45% improvement in overall team productivity.
Technical Writer at Menlo Innovations, MI
Sep 2022 - Jan 2023
Developed comprehensive technical documentation for over 30 client projects, resulting in a 25% increase in customer satisfaction and a 15% reduction in support requests.
Streamlined the documentation process by implementing a content management system, leading to a 40% reduction in time spent on document updates and revisions.
Successfully trained and mentored a team of four junior technical writers, improving their productivity by 20% and the overall quality of their work by 15%.
Led the creation and implementation of a company-wide style guide, standardizing documentation across all departments and ensuring consistent, professional, and easily understood content.
Education
Bachelor of Arts in Technical Communication at Michigan Technological University, Houghton, MI
Sep 2017 - May 2022
Relevant Coursework: Technical Writing, Editing & Document Design, Web Content Development, Information Design, Visual Communication, Content Management Systems, Digital Rhetoric, and User Experience (UX) Design.
Skills
Markdown
XML
DITA
MadCap Flare
Adobe FrameMaker
API documentation
Microsoft Visio
Certificates
Society for Technical Communication (STC) Certified Professional Technical Communicator (CPTC)
American Medical Writers Association (AMWA) Essential Skills Certificate
Tips for Writing a Better Pinterest Technical Writer Resume
1. Start with a strong summary: Begin your resume with a strong, concise summary that highlights your skills and experience as a technical writer. This should include your years of experience, industries you have worked in, and any relevant certifications or education.
2. Emphasize your technical writing skills: Clearly outline your expertise in technical writing, including any specific tools or software you are proficient in (e.g., Adobe FrameMaker, MadCap Flare, Microsoft Office Suite). Be sure to mention any experience you have creating user guides, online help systems, or other types of documentation.
3. Showcase your knowledge of Pinterest: Since you are applying for a position as a technical writer at Pinterest, it's important to demonstrate your understanding of the platform. Mention any personal or professional experience you have using Pinterest and discuss how that knowledge will benefit the company.
4. Highlight relevant industry experience: If you have worked as a technical writer within the tech industry or on projects related to social media platforms, be sure to include this information on your resume. This shows that you understand the unique challenges and requirements associated with these industries.
5. Include examples of past projects: Provide concrete examples of past projects where you successfully created documentation for complex systems or applications. This demonstrates your ability to break down complex concepts into easy-to-understand language for users.
6. Focus on results and accomplishments: When listing previous work experiences, focus on specific achievements and results rather than just listing job responsibilities. For example, instead of saying "Responsible for creating user manuals," say "Created user manuals that reduced customer support inquiries by 30%."
7. Keep it clear and concise: Make sure your resume is easy to read by using clear headings and bullet points to organize information. Avoid using jargon or overly technical language when describing your skills and experiences.
8. Tailor your resume for each application: Customize your resume for each job application by emphasizing the most relevant skills and experiences for the specific position. This shows that you have taken the time to research the company and understand the requirements of the role.
9. Proofread your resume: Before submitting your resume, make sure to proofread it carefully for any spelling or grammatical errors. A well-written, error-free resume demonstrates your attention to detail and professionalism.
10. Include relevant education and certifications: List any relevant degrees or certifications you have earned related to technical writing or your industry, such as a degree in English or Technical Communication, or certification from the Society for Technical Communication.
Related: Technical Writer Resume Examples
Key Skills Hiring Managers Look for on Pinterest Technical Writer Resumes
When applying for a Technical Writer position at Pinterest, it is crucial to incorporate keywords from the job description in your application materials. This is because Pinterest, like many other companies, utilizes Applicant Tracking Systems (ATS) to manage their recruitment process. These systems are designed to scan and filter applications based on specific keywords related to the job requirements. By including relevant keywords from the job description, you increase your chances of passing through the initial screening stage and being considered for an interview. Failing to do so may result in your application being overlooked by the ATS, even if you are otherwise well-qualified for the role.
When applying for technical writer positions at Pinterest, you may encounter common skills and key terms such as documentation, editing, proofreading, research, communication, software applications, project management, and subject matter expertise.
Key Skills and Proficiencies
Technical writing
Research skills
Editing and proofreading
Information design
Project management
Attention to detail
Subject matter expertise
Content management systems (CMS)
Search engine optimization (SEO)
Graphic design
Data visualization
Adobe Creative Suite proficiency
HTML/CSS knowledge
Microsoft Office proficiency
Collaboration and teamwork
Time management and organization
Communication skills (written and verbal)
Adaptability and flexibility
Problem-solving abilities
Interviewing subject matter experts (SMEs)
Usability testing and user experience (UX) design knowledge
Version control systems (e.g., Git, SVN)
Related: Technical Writer Skills: Definition and Examples
Common Action Verbs for Pinterest Technical Writer Resumes
Finding different action verbs to use on a resume can be quite challenging, especially when trying to create a compelling and engaging Pinterest Technical Writer Resume. It is important to use varied verbs in order to showcase your diverse skill set and make your resume stand out from the competition. Using repetitive or generic action verbs can make your resume appear dull and uninteresting. In contrast, incorporating a wide range of strong, descriptive action verbs can effectively highlight your experiences and achievements, making it more likely that potential employers will take notice of your application.
Enhance your competitive advantage with our curated list of impactful action verbs, designed to fortify your resume and secure your next interview:
Action Verbs
Authored
Analyzed
Designed
Developed
Edited
Evaluated
Implemented
Managed
Organized
Produced
Researched
Reviewed
Simplified
Structured
Synthesized
Tested
Translated
Updated
Validated
Verified
Collaborated
Optimized
Related: What does a Technical Writer do?