Article
Pinterest Client Services Coordinator Resume Examples

Brenna Goyette
Certified Professional Resume Writer, Career Expert
Published 10 min read
Discover the secrets to crafting the perfect resume for a Client Services Coordinator role at Pinterest, one of the world's leading social media platforms. In this insightful article, we delve into the essential skills, experience, and personal attributes that Pinterest values in their Client Services Coordinators. Learn how to effectively highlight your customer service prowess, project management capabilities, and data-driven decision-making skills to make your resume stand out from the crowd. Additionally, uncover tips on showcasing your knowledge of digital advertising and passion for creative problem-solving to demonstrate that you are the ideal candidate for this exciting role in a fast-paced and dynamic environment.
Pinterest Client Services Coordinator Resume Created Using Our Resume Builder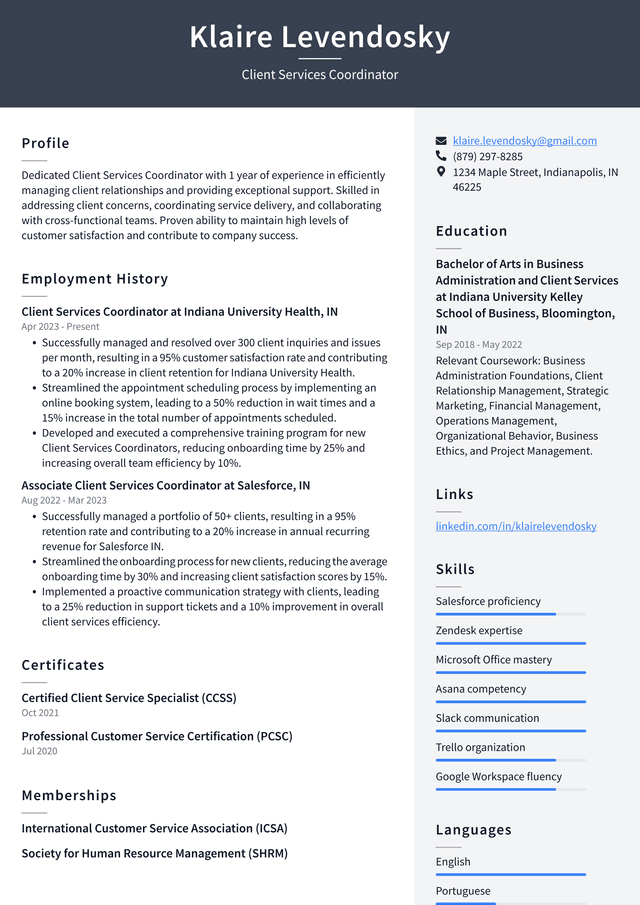 Pinterest Client Services Coordinator Resume Example
Klaire Levendosky, Client Services Coordinator
klaire.levendosky@gmail.com
(879) 297-8285
1234 Maple Street, Indianapolis, IN 46225
Professional Summary
Dedicated Client Services Coordinator with 1 year of experience in efficiently managing client relationships and providing exceptional support. Skilled in addressing client concerns, coordinating service delivery, and collaborating with cross-functional teams. Proven ability to maintain high levels of customer satisfaction and contribute to company success.
Work Experience
Client Services Coordinator at Indiana University Health, IN
Apr 2023 - Present
Successfully managed and resolved over 300 client inquiries and issues per month, resulting in a 95% customer satisfaction rate and contributing to a 20% increase in client retention for Indiana University Health.
Streamlined the appointment scheduling process by implementing an online booking system, leading to a 50% reduction in wait times and a 15% increase in the total number of appointments scheduled.
Developed and executed a comprehensive training program for new Client Services Coordinators, reducing onboarding time by 25% and increasing overall team efficiency by 10%.
Associate Client Services Coordinator at Salesforce, IN
Aug 2022 - Mar 2023
Successfully managed a portfolio of 50+ clients, resulting in a 95% retention rate and contributing to a 20% increase in annual recurring revenue for Salesforce IN.
Streamlined the onboarding process for new clients, reducing the average onboarding time by 30% and increasing client satisfaction scores by 15%.
Implemented a proactive communication strategy with clients, leading to a 25% reduction in support tickets and a 10% improvement in overall client services efficiency.
Education
Bachelor of Arts in Business Administration and Client Services at Indiana University Kelley School of Business, Bloomington, IN
Sep 2018 - May 2022
Relevant Coursework: Business Administration Foundations, Client Relationship Management, Strategic Marketing, Financial Management, Operations Management, Organizational Behavior, Business Ethics, and Project Management.
Skills
Salesforce proficiency
Zendesk expertise
Microsoft Office mastery
Asana competency
Slack communication
Trello organization
Google Workspace fluency
Certificates
Certified Client Service Specialist (CCSS)
Professional Customer Service Certification (PCSC)
Tips for Writing a Better Pinterest Client Services Coordinator Resume
1. Use a clean and professional format: Your resume should look visually appealing, organized, and easy to read. Use a simple font like Arial or Helvetica in 10-12 point size, and avoid using too many colors or graphics. Consistent formatting, such as bullet points for lists and bold headers for sections, will make your resume easier to navigate.
2. Include a strong objective statement: Your objective statement should be tailored specifically for the Pinterest Client Services Coordinator position you are applying for. It should highlight your relevant skills, experience, and career goals while demonstrating how you can contribute to Pinterest's success.
3. Highlight relevant skills: Clearly list any skills that are relevant to the job description for a Client Services Coordinator at Pinterest. This may include project management, data analysis, communication skills, customer service experience, social media management, or knowledge of Pinterest's platform.
4. Showcase your experience: Emphasize your past experiences related to client services coordination by providing specific examples of projects you have worked on or accomplishments in previous roles. Be sure to use action verbs (e.g., managed, coordinated) and quantify your achievements with numbers when possible (e.g., increased client satisfaction by 20%).
5. Demonstrate knowledge of Pinterest: Show that you understand the company's mission, values, and target audience by mentioning them in your resume where appropriate. This will help demonstrate that you are genuinely interested in working at Pinterest and have taken the time to research the company.
6. Include education and certifications: List any relevant education or certifications that align with the job requirements for a Client Services Coordinator at Pinterest. This may include a bachelor's degree in communications or marketing as well as certifications in project management or digital marketing.
7. Utilize keywords from the job description: Incorporate keywords from the job posting into your resume where applicable to increase its visibility when being reviewed by applicant tracking systems (ATS). This will also ensure that your resume is tailored to the specific job requirements.
8. Proofread your resume: Carefully proofread your resume for grammatical errors, spelling mistakes, and formatting inconsistencies. A polished and error-free resume will make a strong first impression on potential employers.
9. Keep it concise: Aim for a one-page resume that highlights your most relevant skills, experiences, and achievements. This will ensure that your resume is easy to read and quickly communicates why you are the best fit for the position.
10. Include a call to action: End your resume with a clear call to action, such as "I am excited about the opportunity to contribute my skills and experience as a Client Services Coordinator at Pinterest. Please feel free to contact me at [phone number] or [email address] to discuss further." This shows enthusiasm for the role and encourages potential employers to reach out to you.
Related: Client Services Manager Resume Examples
Key Skills Hiring Managers Look for on Pinterest Client Services Coordinator Resumes
When applying for a Client Services Coordinator opportunity at Pinterest, it is crucial to incorporate keywords from the job description in your application materials. This is because Pinterest, like many companies, utilizes Applicant Tracking Systems (ATS) to screen and filter applications based on relevant keywords. By including these specific terms and phrases in your resume and cover letter, you increase the chances of your application being seen by a hiring manager and demonstrate that you have the necessary skills and experience for the role. Successfully incorporating these keywords will not only help you pass through the initial screening process but also showcase your attention to detail and understanding of the position's requirements.
When applying for client services coordinator positions at Pinterest, you may encounter common skills and key terms such as customer service, project management, communication, problem-solving, data analysis, and time management.
Key Skills and Proficiencies
Customer service
Communication skills
Problem-solving
Time management
Organization
Interpersonal skills
Attention to detail
Multitasking
Empathy
Conflict resolution
Adaptability
Teamwork
Project management
Data analysis
CRM software proficiency
Sales support
Relationship building
Reporting and documentation
Microsoft Office Suite expertise
Active listening
Decision-making
Presentation skills
Related: Client Services Manager Skills: Definition and Examples
Common Action Verbs for Pinterest Client Services Coordinator Resumes
Crafting a compelling resume can be a challenging task, particularly when it comes to finding different action verbs to describe your accomplishments and experiences. Using varied verbs is crucial for creating a Pinterest Client Services Coordinator Resume that stands out from the competition. These action verbs not only help to convey your skills and expertise more effectively but also add variety and interest to your resume, making it more engaging for potential employers. It's important to avoid using repetitive or generic verbs, as this can make your resume appear dull and uninspired. Instead, strive to use diverse and powerful action verbs that showcase your unique capabilities and demonstrate how you have made an impact in past roles.
To provide you with a competitive advantage, we've assembled a collection of impactful action verbs to enhance your resume and secure your next interview:
Action Verbs
Coordinated
Managed
Resolved
Communicated
Assisted
Organized
Facilitated
Implemented
Monitored
Maintained
Developed
Streamlined
Analyzed
Prepared
Presented
Trained
Supported
Liaised
Collaborated
Evaluated
Handled
Documented