Article
Oracle UX Researcher Resume Examples
This article provides various examples and guidelines for crafting an effective resume for the position of a UX Researcher at Oracle.

Brenna Goyette
Certified Professional Resume Writer, Career Expert
Published 10 min read
This article provides a comprehensive guide on how to craft an effective resume for the position of a UX Researcher at Oracle. It delves into highlighting essential components such as specific skills, relevant work experiences, educational qualifications, and certifications required to stand out for this role. The piece also emphasizes tailoring content to align with Oracle's mission and culture, showcasing proficiency in user-centered design methodologies, understanding of human behavior, statistical fluency, and expertise in data analysis tools. Furthermore, it provides tips on expressing your problem-solving abilities and demonstrating your experience with various research techniques like interviews, usability testing, and surveys. This guide is a valuable resource for those seeking to make an impactful impression through their resumes in the competitive landscape of UX research at Oracle.
Oracle UX Researcher Resume Created Using Our Resume Builder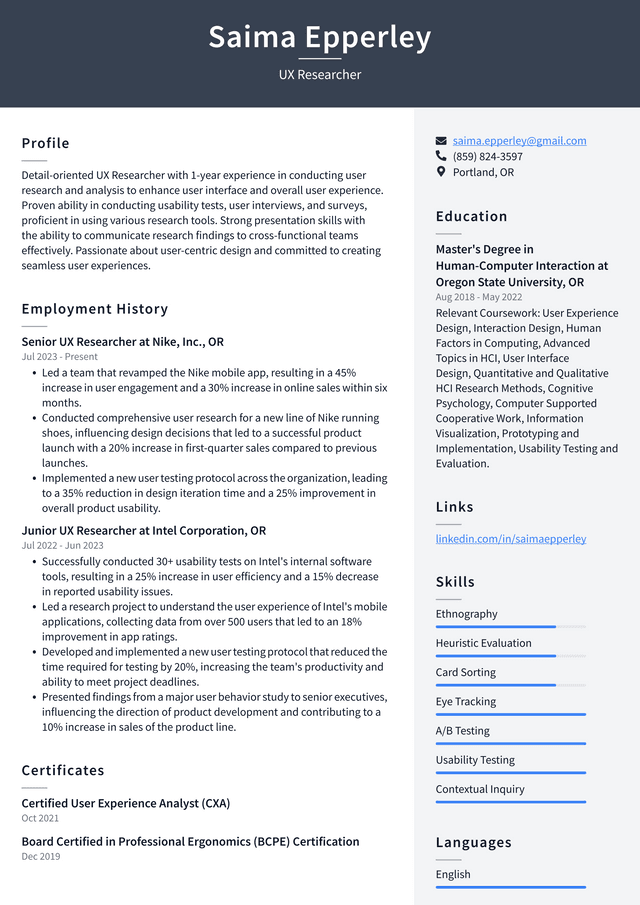 Oracle UX Researcher Resume Example
Saima Epperley, UX Researcher
saima.epperley@gmail.com
(859) 824-3597
Portland, OR
Professional Summary
Detail-oriented UX Researcher with 1-year experience in conducting user research and analysis to enhance user interface and overall user experience. Proven ability in conducting usability tests, user interviews, and surveys, proficient in using various research tools. Strong presentation skills with the ability to communicate research findings to cross-functional teams effectively. Passionate about user-centric design and committed to creating seamless user experiences.
Work Experience
Senior UX Researcher at Nike, Inc., OR
Jul 2023 - Present
Led a team that revamped the Nike mobile app, resulting in a 45% increase in user engagement and a 30% increase in online sales within six months.
Conducted comprehensive user research for a new line of Nike running shoes, influencing design decisions that led to a successful product launch with a 20% increase in first-quarter sales compared to previous launches.
Implemented a new user testing protocol across the organization, leading to a 35% reduction in design iteration time and a 25% improvement in overall product usability.
Junior UX Researcher at Intel Corporation, OR
Jul 2022 - Jun 2023
Successfully conducted 30+ usability tests on Intel's internal software tools, resulting in a 25% increase in user efficiency and a 15% decrease in reported usability issues.
Led a research project to understand the user experience of Intel's mobile applications, collecting data from over 500 users that led to an 18% improvement in app ratings.
Developed and implemented a new user testing protocol that reduced the time required for testing by 20%, increasing the team's productivity and ability to meet project deadlines.
Presented findings from a major user behavior study to senior executives, influencing the direction of product development and contributing to a 10% increase in sales of the product line.
Education
Master's Degree in Human-Computer Interaction at Oregon State University, OR
Aug 2018 - May 2022
Relevant Coursework: User Experience Design, Interaction Design, Human Factors in Computing, Advanced Topics in HCI, User Interface Design, Quantitative and Qualitative HCI Research Methods, Cognitive Psychology, Computer Supported Cooperative Work, Information Visualization, Prototyping and Implementation, Usability Testing and Evaluation.
Skills
Ethnography
Heuristic Evaluation
Card Sorting
Eye Tracking
A/B Testing
Usability Testing
Contextual Inquiry
Certificates
Certified User Experience Analyst (CXA)
Board Certified in Professional Ergonomics (BCPE) Certification
Tips for Writing a Better Oracle UX Researcher Resume
1. Highlight Relevant Experience: Your resume should focus on relevant experience related to UX research. This could include work in data analysis, survey design, user testing, and other related fields.
2. Use Action Verbs: Start each bullet point with an action verb to make your resume more impactful. Words like "conducted", "analyzed", "led", etc., can help to make your experiences sound more dynamic.
3. Be Specific: Instead of writing vague descriptions of your past work, be specific about what you did and the impact it had on the project or company.
4. Showcase Your Skills: List any technical skills that are relevant to the job such as proficiency in Oracle, SQL, UX design tools like Sketch or InVision, and any programming languages you know.
5. Include Relevant Certifications: If you have any certifications related to UX research or Oracle products, be sure to include them in your resume.
6. Show Your Problem-Solving Abilities: As a UX researcher, you'll often need to solve complex problems related to user experience. Highlight any instances where you've successfully done this in the past.
7. Use Metrics Where Possible: If possible use numbers or percentages to show how your work positively impacted a project or company's outcome.
8. Tailor Your Resume for Each Job Application: Make sure your resume is tailored for each job application by highlighting the most relevant skills and experiences based on the job description.
9. Keep It Professional: Ensure that all information is presented professionally - this means no typos or grammatical errors, consistent formatting throughout, and using a professional tone of voice.
10. Include a Strong Objective Statement: A strong objective statement at the beginning of your resume can set the tone for everything that follows. It should clearly state what position you're applying for and why you're well-suited for it.
11. Don't Forget Soft Skills: While hard skills are important in UX research roles, don't forget about soft skills such as communication abilities and teamwork – these can set you apart from other candidates.
12. Provide Links To Your Work Samples Or Portfolio: This allows potential employers to see firsthand evidence of your capabilities as a UX researcher.
Related: UX Developer Resume Examples
Key Skills Hiring Managers Look for on Oracle UX Researcher Resumes
Applicant Tracking Systems (ATS) are utilized by many corporations, including Oracle, to streamline their recruitment process. These systems scan resumes and CVs for specific keywords related to the job description before a human ever sees them. Therefore, when applying for a UX Researcher opportunity at Oracle, it is crucial to incorporate relevant keywords from the job description into your application. This might include terms such as "user experience", "research methodologies", "data analysis", or any other skills and experiences specifically mentioned in the posting. By doing this, you significantly increase your chances of your application being seen by a hiring manager or recruiter.
When applying for UX researcher positions at Oracle, you may encounter key terms and common skills such as...
Key Skills and Proficiencies
User Experience Design
User Interface Design
Usability Testing
Interaction Design
Wireframing and Prototyping
User Surveys
A/B Testing
Qualitative & Quantitative Research
Information Architecture
Persona Creation
Data Analysis
Visual Communication
Empathy for Users
Understanding of Human Behavior
Cognitive Psychology
Project Management
Collaboration and Teamwork
Critical Thinking
Creativity and Innovation
Adaptability to New Technologies
Communication Skills (Verbal and Written)
Problem-Solving Skills
Related: UX Developer Skills: Definition and Examples
Common Action Verbs for Oracle UX Researcher Resumes
Crafting an Oracle UX Researcher Resume can be challenging, particularly when it comes to finding diverse action verbs to articulate your skills and experiences. Repeating the same verbs can make your resume monotonous and fail to fully capture the breadth of your abilities. However, using a variety of action verbs can vividly illustrate your competencies and achievements. These verbs can help potential employers understand exactly what you have accomplished in previous roles and what you could bring to their company. Therefore, investing time in finding different action verbs is crucial for creating a compelling Oracle UX Researcher Resume.
To provide you with a competitive advantage, we have assembled a list of impactful action verbs that can enhance your resume and secure your next interview:
Action Verbs
Conducted
Analyzed
Implemented
Evaluated
Developed
Identified
Assessed
Collaborated
Designed
Presented
Documented
Tested
Facilitated
Interviewed
Observed
Surveyed
Synthesized
Reported
Coordinated
Managed
Researched
Optimized
Related: What does a UX Developer do?