Article
Oracle Research Scientist Resume Examples

Brenna Goyette
Certified Professional Resume Writer, Career Expert
Published 10 min read
This article will provide readers with an in-depth guide on how to craft a compelling resume for the position of Research Scientist at Oracle. It will cover key aspects such as highlighting relevant qualifications, experiences, and skills that align with the job role at Oracle. The article will explain how to effectively detail your scientific research experience, technical skills, analytical abilities, and project management experience. It will also provide tips on showcasing your accomplishments in previous roles, demonstrating your ability to contribute to Oracle's research initiatives. Furthermore, it will discuss the importance of tailoring your resume to match Oracle's corporate culture and values.
Oracle Research Scientist Resume Created Using Our Resume Builder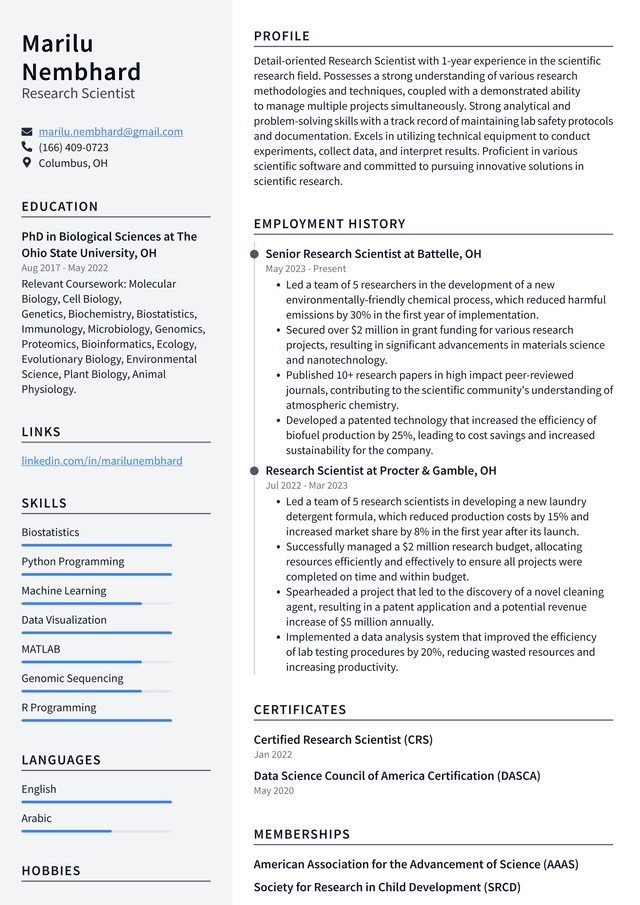 Oracle Research Scientist Resume Example
Marilu Nembhard, Research Scientist
marilu.nembhard@gmail.com
(166) 409-0723
Columbus, OH
Professional Summary
Detail-oriented Research Scientist with 1-year experience in the scientific research field. Possesses a strong understanding of various research methodologies and techniques, coupled with a demonstrated ability to manage multiple projects simultaneously. Strong analytical and problem-solving skills with a track record of maintaining lab safety protocols and documentation. Excels in utilizing technical equipment to conduct experiments, collect data, and interpret results. Proficient in various scientific software and committed to pursuing innovative solutions in scientific research.
Work Experience
Senior Research Scientist at Battelle, OH
May 2023 - Present
Led a team of 5 researchers in the development of a new environmentally-friendly chemical process, which reduced harmful emissions by 30% in the first year of implementation.
Secured over $2 million in grant funding for various research projects, resulting in significant advancements in materials science and nanotechnology.
Published 10+ research papers in high impact peer-reviewed journals, contributing to the scientific community's understanding of atmospheric chemistry.
Developed a patented technology that increased the efficiency of biofuel production by 25%, leading to cost savings and increased sustainability for the company.
Research Scientist at Procter & Gamble, OH
Jul 2022 - Mar 2023
Led a team of 5 research scientists in developing a new laundry detergent formula, which reduced production costs by 15% and increased market share by 8% in the first year after its launch.
Successfully managed a $2 million research budget, allocating resources efficiently and effectively to ensure all projects were completed on time and within budget.
Spearheaded a project that led to the discovery of a novel cleaning agent, resulting in a patent application and a potential revenue increase of $5 million annually.
Implemented a data analysis system that improved the efficiency of lab testing procedures by 20%, reducing wasted resources and increasing productivity.
Education
PhD in Biological Sciences at The Ohio State University, OH
Aug 2017 - May 2022
Relevant Coursework: Molecular Biology, Cell Biology, Genetics, Biochemistry, Biostatistics, Immunology, Microbiology, Genomics, Proteomics, Bioinformatics, Ecology, Evolutionary Biology, Environmental Science, Plant Biology, Animal Physiology.
Skills
Biostatistics
Python Programming
Machine Learning
Data Visualization
MATLAB
Genomic Sequencing
R Programming
Certificates
Certified Research Scientist (CRS)
Data Science Council of America Certification (DASCA)
Tips for Writing a Better Oracle Research Scientist Resume
1. Highlight Relevant Skills: Clearly mention the skills you possess that are relevant to the job description. These could include experience with machine learning, data analysis, programming languages like Python or Java, etc.
2. Showcase Your Experience: List your previous roles and responsibilities in a concise manner. Include any projects or initiatives you led or contributed significantly to.
3. Mention Achievements: Don't just list your responsibilities; mention what you achieved in those roles. For instance, did you develop an algorithm that increased efficiency? Or did you publish a research paper in a reputed journal?
4. Tailor Your Resume: Customize your resume for each job application instead of sending out generic ones. Make sure to highlight the skills and experiences that are most relevant to the Oracle Research Scientist role.
5. Keep It Professional: Avoid using jargon or acronyms that may not be understood by everyone reading your resume. Keep the language professional and straightforward.
6. Education & Certifications: List all relevant educational qualifications and certifications you have received. If you have a Ph.D., make sure to mention it as it's often a requirement for research scientist roles.
7. Use Action Verbs: Start each bullet point with action verbs like "developed," "led," "analyzed," etc., to make your contributions sound more impactful.
8. Include Keywords from Job Description: Many companies use applicant tracking systems (ATS) to screen resumes, so include keywords from the job description in your resume to increase its visibility.
9. Proofread Carefully: Make sure there are no grammatical errors or typos on your resume as they can create a negative impression about your attention to detail.
10. Be Concise and Clear: A good resume should ideally be one page long but can extend up to two pages if necessary, depending on your experience level.
11. Format Properly: Ensure your resume is properly formatted with consistent font size and style, appropriate spacing, bullet points for easier readability, etc.
12. Add References: If possible, include references from past employers who can vouch for your skills and work ethic.
13. Contact Information: Don't forget to include updated contact information so potential employers can easily get in touch with you if they're interested in discussing further.
14. Personal Projects & Publications: If you have personal projects or publications related to the field of study, don't forget to mention them as these add credibility and showcase initiative.
15.Cover Letter : Do not underestimate the power of a well-written cover letter accompanying your resume as it provides context and helps connect dots for recruiters regarding why you're suitable for this role specifically at Oracle based on their company culture/values/mission statement etc .
Related: Research Scientist Resume Examples
Key Skills Hiring Managers Look for on Oracle Research Scientist Resumes
An Applicant Tracking System (ATS) is a software application that enables the electronic handling of recruitment needs. Oracle, like many large companies, uses an ATS to streamline their hiring process, allowing them to sort through hundreds or even thousands of applications efficiently. This system scans resumes for specific keywords from the job description to determine if the candidate is a good match for the role. Therefore, when applying for a Research Scientist position at Oracle, it's crucial to incorporate relevant keywords from the job description into your resume and cover letter. This could increase your chances of being selected for an interview as your application would likely rank higher in the ATS due to the keyword match.
When applying for research scientist positions at Oracle, you may encounter a list of common skills and key terms.
Key Skills and Proficiencies
Research Design
Data Analysis
Statistical Software Proficiency
Critical Thinking
Problem-Solving Skills
Technical Writing
Project Management
Laboratory Skills
Scientific Presentation Skills
Knowledge of Research Methodologies
Attention to Detail
Time Management
Data Collection and Interpretation
Experimental Design
Familiarity with Scientific Literature
Teamwork and Collaboration
Ethics in Research
Computer Programming (Python, R, etc.)
Machine Learning Algorithms Understanding
Grant Writing and Fundraising Abilities
Strong Mathematical Skills
Ability to Use Specialized Equipment
Related: Research Scientist Skills: Definition and Examples
Common Action Verbs for Oracle Research Scientist Resumes
Creating an Oracle Research Scientist Resume can be a challenging task, especially when it comes to selecting the right action verbs. It's crucial to avoid repetition and choose words that accurately describe your skills, experiences, and achievements. By using varied action verbs, you can effectively highlight your abilities and make your resume stand out. However, finding different action verbs that are not overused or cliched can be difficult. While words like 'led', 'managed' or 'developed' are commonly used, they may not fully express the complexity of your role as an Oracle Research Scientist. Therefore, it's important to carefully consider each verb you use on your resume to ensure it provides a clear and concise picture of your qualifications and expertise.
To provide you with a competitive advantage, we have curated a list of potent action verbs that can enhance your resume and secure your next interview:
Action Verbs
Analyzed
Researched
Developed
Implemented
Evaluated
Conducted
Synthesized
Published
Collaborated
Presented
Formulated
Designed
Investigated
Discovered
Optimized
Tested
Validated
Documented
Interpreted
Innovated
Assessed
Engineered
Related: What does a Research Scientist do?