Article
Oracle Benefits Analyst Resume Examples

Brenna Goyette
Certified Professional Resume Writer, Career Expert
Published 10 min read
This article provides insightful tips on crafting a compelling resume for the role of a Benefits Analyst at Oracle. It delves into the specific skills, qualifications, and experiences that Oracle looks for in candidates for this position. It also emphasizes on the importance of highlighting your expertise in benefits administration, data analysis, HRIS systems, and regulatory compliance. Additionally, it offers guidance on showcasing your ability to manage complex projects and collaborate effectively with various stakeholders. The article stresses the need to present measurable achievements related to benefits strategy and management. Furthermore, it advises on how to articulate your knowledge of Oracle's culture and business objectives.
Oracle Benefits Analyst Resume Created Using Our Resume Builder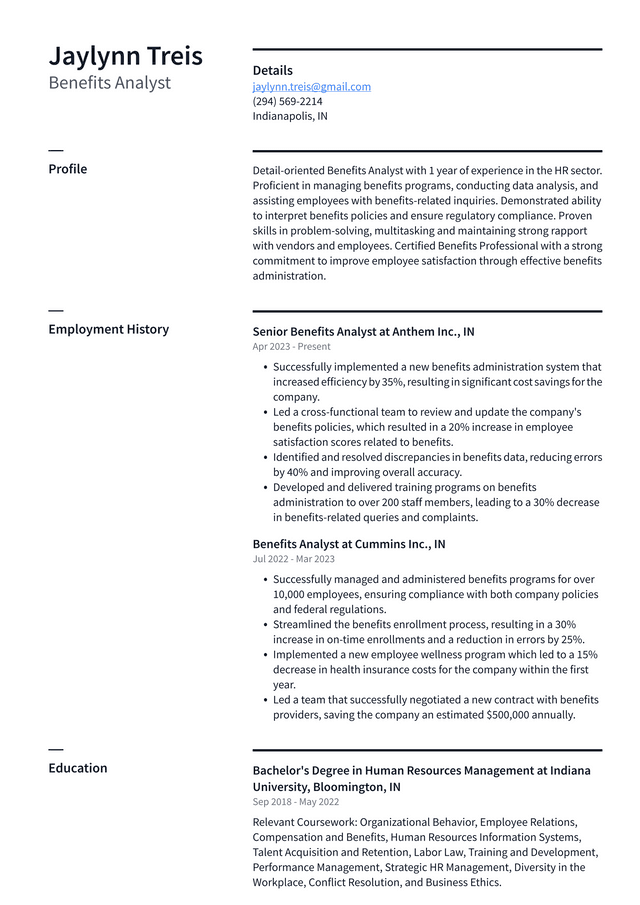 Oracle Benefits Analyst Resume Example
Jaylynn Treis, Benefits Analyst
jaylynn.treis@gmail.com
(294) 569-2214
Indianapolis, IN
Professional Summary
Detail-oriented Benefits Analyst with 1 year of experience in the HR sector. Proficient in managing benefits programs, conducting data analysis, and assisting employees with benefits-related inquiries. Demonstrated ability to interpret benefits policies and ensure regulatory compliance. Proven skills in problem-solving, multitasking and maintaining strong rapport with vendors and employees. Certified Benefits Professional with a strong commitment to improve employee satisfaction through effective benefits administration.
Work Experience
Senior Benefits Analyst at Anthem Inc., IN
Apr 2023 - Present
Successfully implemented a new benefits administration system that increased efficiency by 35%, resulting in significant cost savings for the company.
Led a cross-functional team to review and update the company's benefits policies, which resulted in a 20% increase in employee satisfaction scores related to benefits.
Identified and resolved discrepancies in benefits data, reducing errors by 40% and improving overall accuracy.
Developed and delivered training programs on benefits administration to over 200 staff members, leading to a 30% decrease in benefits-related queries and complaints.
Benefits Analyst at Cummins Inc., IN
Jul 2022 - Mar 2023
Successfully managed and administered benefits programs for over 10,000 employees, ensuring compliance with both company policies and federal regulations.
Streamlined the benefits enrollment process, resulting in a 30% increase in on-time enrollments and a reduction in errors by 25%.
Implemented a new employee wellness program which led to a 15% decrease in health insurance costs for the company within the first year.
Led a team that successfully negotiated a new contract with benefits providers, saving the company an estimated $500,000 annually.
Education
Bachelor's Degree in Human Resources Management at Indiana University, Bloomington, IN
Sep 2018 - May 2022
Relevant Coursework: Organizational Behavior, Employee Relations, Compensation and Benefits, Human Resources Information Systems, Talent Acquisition and Retention, Labor Law, Training and Development, Performance Management, Strategic HR Management, Diversity in the Workplace, Conflict Resolution, and Business Ethics.
Skills
Excel proficiency
SQL knowledge
Tableau expertise
Python programming
SAS usage
SPSS familiarity
PowerBI mastery
Certificates
Certified Employee Benefits Specialist (CEBS)
Certified Compensation Professional (CCP)
Tips for Writing a Better Oracle Benefits Analyst Resume
1. Highlight Relevant Skills: Clearly state your skills related to the job such as knowledge of Oracle benefits systems, data analysis, project management, problem-solving abilities, etc.
2. Use Job-Related Keywords: Use keywords from the job description in your resume. This will not only make it easier for hiring managers to see your qualifications but also help if the company uses an Applicant Tracking System (ATS) that scans resumes for relevant terms.
3. Quantify Achievements: Instead of simply listing duties or responsibilities, quantify your achievements where possible. For instance, instead of saying you 'managed benefit plans', say you 'managed benefit plans for over 500 employees'.
4. Include Relevant Certifications and Training: If you have any certifications or training relevant to Oracle benefits systems or similar platforms, be sure to include them on your resume.
5. Show Progression: If you've advanced in your career as a benefits analyst, show this progression on your resume. It demonstrates that you're capable of growth and taking on increased responsibility.
6. Keep it Concise and Clear: Avoid unnecessary jargon and keep sentences short and clear. The hiring manager should be able to understand your qualifications and experience at a glance.
7. Tailor Your Resume: Always tailor your resume to the specific job you're applying for. Don't send a generic resume to every job opening.
8. Proofread: Errors in spelling or grammar can give the impression that you lack attention to detail – a crucial skill for any analyst role – so proofread carefully before sending off your application.
9. Use Action Verbs: Start each bullet point with an action verb like "analyzed," "developed," or "implemented" to clearly convey what you did in each role.
10. Include Only Relevant Information: Avoid including information that isn't relevant to the position of an Oracle Benefits Analyst - keep every section focused on showcasing how well-suited you are for this particular role.
11. Format Properly: Ensure that your formatting is consistent throughout the document; use bullet points, bolding, underlining, and italics sparingly and consistently.
12. Update Regularly: Keep updating your resume regularly with new experiences, skills gained or certifications earned related to Oracle Benefits Analyst's role.
Related: Benefits Analyst Resume Examples
Key Skills Hiring Managers Look for on Oracle Benefits Analyst Resumes
When applying for a Benefits Analyst role at Oracle, it's crucial to incorporate keywords from the job description in your application. This is because Oracle, like many large companies, uses an Applicant Tracking System (ATS) to manage its recruitment process. The ATS scans each application for specific keywords related to the job role. If these keywords are not present or not prominent enough in your application, the system may automatically reject it before a human recruiter even sees it. Therefore, using the right keywords can significantly increase your chances of getting past this initial screening stage and securing an interview.
When applying for benefits analyst positions at Oracle, you may encounter common skills and key terms such as...
Key Skills and Proficiencies
Benefits Administration
Employee Benefits Programs
Data Analysis
Knowledge of HRIS
Microsoft Office Suite Proficiency
Project Management
Communication Skills
Attention to Detail
Problem-Solving Abilities
Understanding of ERISA and other benefits regulations
Financial Analysis
Negotiation Skills
Vendor Management
Research Skills
Organizational Skills
Time Management
Customer Service Orientation
Confidentiality Handling
Understanding of Health Insurance Policies
Ability to interpret legal documents
Teamwork and Collaboration
Decision-Making Abilities
Related: Benefits Analyst Skills: Definition and Examples
Common Action Verbs for Oracle Benefits Analyst Resumes
Creating an Oracle Benefits Analyst Resume can be a challenging task, especially when it comes to finding diverse action verbs to describe your skills and experiences. Using the same verbs repeatedly can make your resume monotonous and less impressive. Action verbs are crucial as they highlight your accomplishments and demonstrate how you have applied your skills in a real-world setting. A well-crafted resume with varied action verbs not only catches the attention of hiring managers but also gives them a clear picture of your capabilities. Therefore, it's essential to invest time in carefully selecting diverse and powerful action verbs that accurately represent your professional journey as an Oracle Benefits Analyst.
To provide you with a competitive advantage, we've assembled a list of potent action verbs that you can employ to bolster your resume and secure your next interview:
Action Verbs
Analyzed
Evaluated
Coordinated
Implemented
Developed
Managed
Assessed
Administered
Monitored
Reviewed
Researched
Recommended
Negotiated
Documented
Audited
Streamlined
Presented
Facilitated
Optimized
Reported
Liaised
Verified
Related: What does a Benefits Analyst do?