Article
Top 16 Nutrition Specialist Resume Objective Examples
This article provides examples of effective resume objectives from top nutrition specialists to help job seekers create their own.

Brenna Goyette
Certified Professional Resume Writer, Career Expert
Published 9 min read
A resume objective is a short statement that outlines the specific job you're applying for and what you hope to achieve in that role. As a nutrition specialist, your resume objective should emphasize your qualifications and experience in nutrition-related fields such as dietetics, public health, or food science. It should also highlight any relevant skills or certifications you possess. To make sure your resume objective stands out from the competition, use action words such as "collaborate", "analyze", and "develop" to demonstrate how you can contribute to the team. For example: "Seeking a Nutrition Specialist position at XYZ company to leverage my 5+ years of experience in public health and dietetics to develop innovative strategies for healthy eating." Or: "Motivated Nutrition Specialist with 8+ years of experience in food science and dietetics looking to collaborate on healthy eating initiatives at XYZ company."
Top 16 Nutrition Specialist Resume Objective Samples
To secure a Nutrition Specialist position in an organization where I can utilize my knowledge of nutrition and health to help people make healthier lifestyle choices.
To obtain a Nutrition Specialist role and contribute to the development of nutritional programs that improve the overall health of individuals.
Seeking a Nutrition Specialist position with an organization to provide guidance on healthy eating habits and nutritional advice.
Looking for a Nutrition Specialist role to apply my expertise in nutrition science and dietetics to promote healthy lifestyles.
To work as a Nutrition Specialist, utilizing my skills in nutrition education, program planning, and food service management.
To join an organization as a Nutrition Specialist and use my knowledge of nutrition science to develop effective strategies for improving public health.
Looking for an opportunity as a Nutrition Specialist where I can use my experience in nutrition counseling and dietary analysis to help people achieve their health goals.
Seeking an opportunity as a Nutrition Specialist to apply my knowledge of nutrition principles and dietary guidelines to develop successful meal plans.
To work as a Nutrition Specialist, leveraging my expertise in food service management, nutrition education, and program planning.
Seeking a position as a Nutrition Specialist where I can leverage my knowledge of food science and dietetics to provide nutritional advice.
To obtain the position of Nutrition Specialist with an organization that values innovation, creativity, and dedication to helping others reach their health goals.
Looking for an opportunity as a Nutrition Specialist where I can use my experience in public health promotion and nutritional counseling to help clients reach their goals.
Seeking the role of Nutritionist with an organization that values excellence in customer service while providing evidence-based nutritional advice.
Aiming for the position of Nutritional Consultant at an organization that allows me to leverage my background in clinical dietetics while providing personalized meal plans tailored towards individual needs.
Applying for the role of Registered Dietitian/Nutritionist with an organization that values commitment, integrity, and professionalism while promoting healthy lifestyles through sound dietary practices.
Desiring the post of Clinical Dietitian at an institution which encourages creativity while utilizing evidence-based practice guidelines when creating individualized meal plans tailored towards client needs
How to Write a Nutrition Specialist Resume Objective
A nutrition specialist resume objective is an important part of any resume, as it provides employers with a concise summary of your qualifications and experience. A well-crafted resume objective can help you stand out from the competition and increase your chances of landing an interview.
When writing a nutrition specialist resume objective, it's important to focus on the skills and qualifications that make you an ideal candidate for the position. Start by outlining your educational background in nutrition and any relevant certifications or training you have completed. Be sure to mention any specialized experience or knowledge you have in areas such as dietary planning, nutritional assessment, food safety, public health nutrition, and food science.
Your resume objective should also highlight any volunteer work or internships that demonstrate your commitment to health and wellness. If you have held previous positions related to nutrition, use this opportunity to explain how these experiences have prepared you for the role at hand.
Finally, end your objective with a statement about why you are uniquely qualified for the job and how your skills will benefit the company. This will give employers a clear indication of what sets you apart from other candidates and provide them with a better understanding of why they should consider hiring you.
By following these tips when crafting your nutrition specialist resume objective, you can ensure that employers get an accurate picture of who you are as a professional and increase your chances of getting hired for the job.
Related: What does a Nutrition Specialist do?
Skills to Add for Nutrition Specialist Resume Objectives
When writing a nutrition specialist resume objectives, it is important to include key skills that demonstrate your expertise in the field. Nutrition specialists are responsible for creating and implementing nutrition programs that promote healthy eating habits and optimal health. As such, employers look for resumes that show a strong understanding of nutrition science, food safety, and dietary planning. By highlighting unique skills that demonstrate your knowledge and abilities in these areas, you can ensure your resume stands out from the competition.
To begin with, employers will want to see evidence of your knowledge of nutrition science. This includes demonstrating an understanding of the basic principles of human nutrition as well as current scientific research on diet and health. Additionally, you should be able to explain how different foods contribute to overall health and how the body processes them. You should also be familiar with specific dietary guidelines for different age groups or medical conditions.
In addition to understanding the basics of nutrition science, employers also look for candidates who have experience in food safety. This involves showing an understanding of proper food handling procedures as well as being knowledgeable about food labeling regulations. Furthermore, having experience in developing menus according to nutritional needs is beneficial when applying for a position as a nutrition specialist. Finally, candidates should show proficiency in creating meal plans based on individual dietary requirements or restrictions.
Finally, employers look for candidates who possess strong communication skills when writing a nutrition specialist resume objectives. Nutrition specialists need to be able to effectively communicate their ideas clearly and concisely both orally and written form. This includes having the ability to answer questions from clients about their diets or nutritional needs as well as being able to provide detailed instructions for preparing meals or following dietary plans accurately.
By including these key skills when writing a nutrition specialist resume objectives, you can demonstrate your expertise in the field and make yourself stand out from other applicants vying for the same position. With this edge over competitors, you can increase your chances of landing an interview with potential employers and ultimately securing a job offer in this exciting field!
Related: Top Nutrition Specialist Skills
Common Mistakes When Writing a Nutrition Specialist Resume Objective
As a nutrition specialist, having a well-crafted resume objective is essential for standing out in the job market. Unfortunately, many job seekers make common mistakes when writing their resume objective that can hinder their chances of success.
One mistake that many nutrition specialists make is not customizing their resume objective to the specific role they are applying for. Having a generic resume objective such as "to secure a position as a nutrition specialist" comes across as lazy and unprofessional. Instead, take the time to tailor your objective to the job you are applying for by mentioning any relevant skills or qualifications that would be beneficial for the role. This will show employers that you have taken the time to really understand what they are looking for and demonstrate your commitment to finding the right fit.
Another mistake commonly made is focusing too much on yourself in the resume objective instead of what you can offer the employer. Your resume should showcase how you can help an organization meet its goals rather than simply listing off your own accomplishments and experience. If possible, try to emphasize any unique skills or experiences that will give you an edge over other applicants and demonstrate why you would be an ideal candidate for the position.
Finally, it's important to avoid making claims in your resume objective that cannot be backed up with evidence from your work history or education background. Making grandiose statements without any substance behind them won't do anything to further your candidacy and may even hurt it if employers find out later on that they were untrue. Stick with honest claims about your abilities and experiences and provide evidence wherever possible so employers can trust what you say.
By avoiding these common mistakes when writing a nutrition specialist resume objective, job seekers can ensure they present themselves in the best light possible and increase their chances of success in securing their desired role.
Related: Nutrition Specialist Resume Examples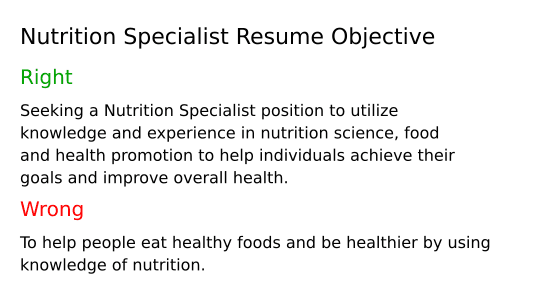 A right resume objective for a nutrition specialist should focus on the job position and the skills to be used, while a wrong resume objective should focus on the person's own goals and interests.