Article
Netflix Platform Engineer Resume Examples
This article provides examples of resumes for Netflix Platform Engineers, highlighting their relevant qualifications and experience in the field.

Brenna Goyette
Certified Professional Resume Writer, Career Expert
Published 8 min read
This article will provide an overview of how to create a resume for the position of Platform Engineer at Netflix. It will cover what type of skills and experiences are highly valued by Netflix, tips for crafting a compelling summary statement and actionable advice on how to highlight your qualifications in order to stand out from other applicants. Additionally, it will discuss how best to showcase your experience with developing software and systems that support streaming platforms like Netflix.
Netflix Platform Engineer Resume Created Using Our Resume Builder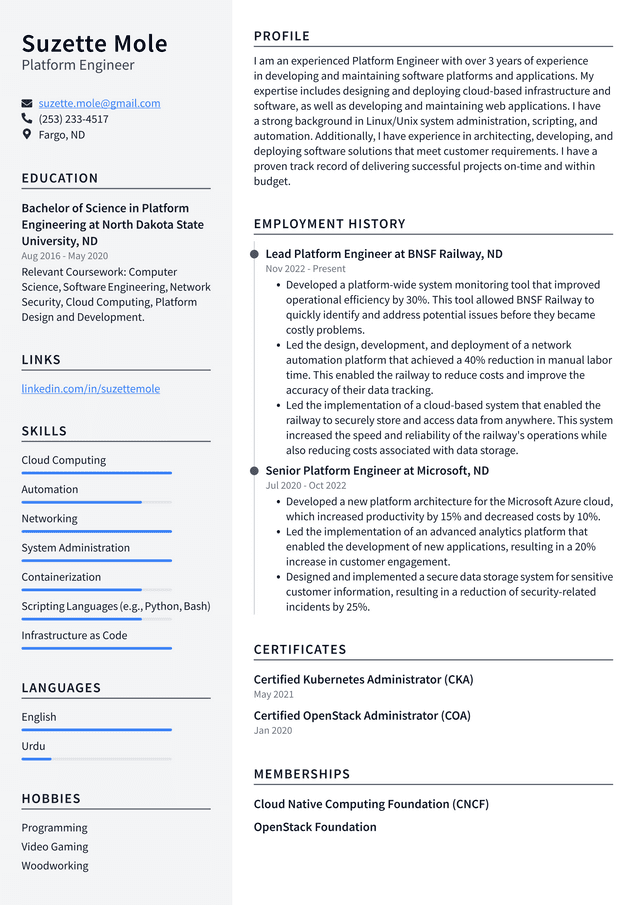 Netflix Platform Engineer Resume Example
Suzette Mole, Platform Engineer
suzette.mole@gmail.com
(253) 233-4517
Fargo, ND
Professional Summary
I am an experienced Platform Engineer with over 3 years of experience in developing and maintaining software platforms and applications. My expertise includes designing and deploying cloud-based infrastructure and software, as well as developing and maintaining web applications. I have a strong background in Linux/Unix system administration, scripting, and automation. Additionally, I have experience in architecting, developing, and deploying software solutions that meet customer requirements. I have a proven track record of delivering successful projects on-time and within budget.
Work Experience
Lead Platform Engineer at BNSF Railway, ND
Nov 2022 - Present
Developed a platform-wide system monitoring tool that improved operational efficiency by 30%. This tool allowed BNSF Railway to quickly identify and address potential issues before they became costly problems.
Led the design, development, and deployment of a network automation platform that achieved a 40% reduction in manual labor time. This enabled the railway to reduce costs and improve the accuracy of their data tracking.
Led the implementation of a cloud-based system that enabled the railway to securely store and access data from anywhere. This system increased the speed and reliability of the railway's operations while also reducing costs associated with data storage.
Senior Platform Engineer at Microsoft, ND
Jul 2020 - Oct 2022
Developed a new platform architecture for the Microsoft Azure cloud, which increased productivity by 15% and decreased costs by 10%.
Led the implementation of an advanced analytics platform that enabled the development of new applications, resulting in a 20% increase in customer engagement.
Designed and implemented a secure data storage system for sensitive customer information, resulting in a reduction of security-related incidents by 25%.
Education
Bachelor of Science in Platform Engineering at North Dakota State University, ND
Aug 2016 - May 2020
Relevant Coursework: Computer Science, Software Engineering, Network Security, Cloud Computing, Platform Design and Development.
Skills
Cloud Computing
Automation
Networking
System Administration
Containerization
Scripting Languages (e.g., Python, Bash)
Infrastructure as Code
Certificates
Certified Kubernetes Administrator (CKA)
Certified OpenStack Administrator (COA)
Tips for Writing a Better Netflix Platform Engineer Resume
1. Highlight Your Relevant Skills: Make sure to highlight any technical skills or programming languages you have experience with, such as Java, C++, and HTML. This will give potential employers an insight into your knowledge and ability to work on the Netflix platform.
2. Showcase Your Experience: Include any experience you have working with large-scale distributed systems, streaming services, and other related technologies. This will demonstrate your technical understanding of the Netflix platform and show that you are qualified for the job.
3. Include Education: If you have a degree in computer science or a related field, include this information on your resume to showcase your qualifications for the role.
4. List Projects You Have Worked On: Include any projects you have worked on related to the Netflix platform in order to demonstrate your understanding of the technology and how it works.
5. Showcase Your Leadership Qualities: Demonstrate any leadership qualities you possess by including information about leading teams or taking initiative when necessary on projects or tasks related to the Netflix platform engineer position.
6. Use Keywords: Use keywords relevant to the position within your resume in order to ensure that it is picked up by search engines when potential employers are searching for candidates with specific skillsets or qualifications.
Related: Platform Engineer Resume Examples
Key Skills Hiring Managers Look for on Netflix Platform Engineer Resumes
When applying for a Platform Engineer opportunity at Netflix, it is important to incorporate keywords from the job description into your application. This is because Netflix uses Applicant Tracking Systems (ATS) which scan applications for relevant keywords. If your application lacks the necessary keywords, it may not be seen by the hiring manager and you could miss out on an opportunity. Therefore, incorporating keywords from the job description when applying for a Platform Engineer opportunity at Netflix can help ensure that your application is seen and considered by the right people.
When applying for a platform engineer position at Netflix, you may encounter the following common skills and key terms.
Key Skills and Proficiencies
Cloud Platforms
DevOps
Automation
Scripting
Containerization
Infrastructure as Code (IaC)
Kubernetes
Monitoring & Alerting
Security & Compliance
Networking & Firewalls
CI/CD Pipelines
Virtualization
Database Administration
Troubleshooting & Debugging
System Administration
Build Tools & Automation Frameworks
Cloud Orchestration
Source Control Management (SCM)
Configuration Management (CM)
Containers and Microservices
Continuous Integration & Delivery (CI/CD)
Software Development Lifecycle (SDLC)
Related: Platform Engineer Skills: Definition and Examples
Common Action Verbs for Netflix Platform Engineer Resumes
Finding the right action verbs to use on a resume can be a difficult task, especially when trying to create an effective Netflix Platform Engineer Resume. Varying your choice of words is key in order to have a successful resume. Action verbs such as 'developed', 'implemented' and 'configured' may all be relevant for this type of role, however using different words such as 'built', 'initiated' and 'facilitated' will make your resume stand out from the crowd and demonstrate your knowledge of the industry. Additionally, it is important that you do not repeat the same action verb multiple times throughout your resume.
To give you a competitive edge, we've compiled a list of powerful action verbs to help strengthen your resume and increase your chances of landing an interview:
Action Verbs
Developed
Configured
Deployed
Automated
Monitored
Optimized
Managed
Maintained
Tested
Troubleshot
Implemented
Resolved
Scripted
Investigated
Upgraded
Administered
Analyzed
Debugged
Refactored
Documented
Secured
Streamlined
Related: What does a Platform Engineer do?