Article
Google Cloud Platform Engineer Resume Examples
This article provides resume examples and tips for creating an effective resume for a Google Cloud Platform Engineer position.

Brenna Goyette
Certified Professional Resume Writer, Career Expert
Updated 9 min read
This article will provide guidance on how to write an effective resume for a Cloud Platform Engineer role at Google. It will cover the key elements of a successful resume, such as the skills and experience needed to be successful in this role, as well as providing tips on how to best highlight those qualifications in order to stand out from other applicants. Additionally, the article will provide advice on showcasing any relevant projects or experiences that demonstrate your expertise with cloud platform engineering.
Google Cloud Platform Engineer Resume Created Using Our Resume Builder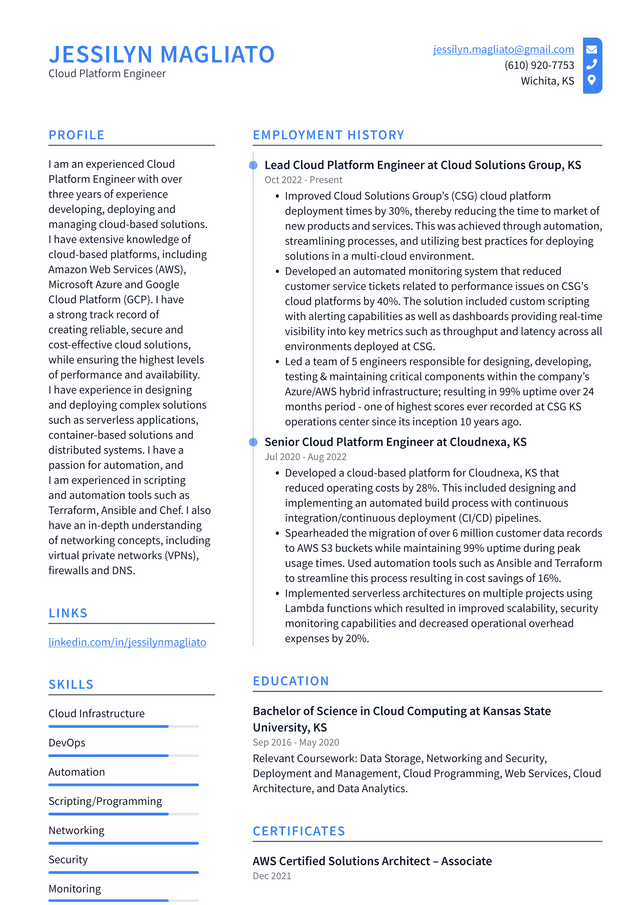 Google Cloud Platform Engineer Resume Example
Jessilyn Magliato, Cloud Platform Engineer
jessilyn.magliato@gmail.com
(610) 920-7753
Wichita, KS
Professional Summary
I am an experienced Cloud Platform Engineer with over three years of experience developing, deploying and managing cloud-based solutions. I have extensive knowledge of cloud-based platforms, including Amazon Web Services (AWS), Microsoft Azure and Google Cloud Platform (GCP). I have a strong track record of creating reliable, secure and cost-effective cloud solutions, while ensuring the highest levels of performance and availability. I have experience in designing and deploying complex solutions such as serverless applications, container-based solutions and distributed systems. I have a passion for automation, and I am experienced in scripting and automation tools such as Terraform, Ansible and Chef. I also have an in-depth understanding of networking concepts, including virtual private networks (VPNs), firewalls and DNS.
Work Experience
Lead Cloud Platform Engineer at Cloud Solutions Group, KS
Oct 2022 - Present
Improved Cloud Solutions Group's (CSG) cloud platform deployment times by 30%, thereby reducing the time to market of new products and services. This was achieved through automation, streamlining processes, and utilizing best practices for deploying solutions in a multi-cloud environment.
Developed an automated monitoring system that reduced customer service tickets related to performance issues on CSG's cloud platforms by 40%. The solution included custom scripting with alerting capabilities as well as dashboards providing real-time visibility into key metrics such as throughput and latency across all environments deployed at CSG.
Led a team of 5 engineers responsible for designing, developing, testing & maintaining critical components within the company's Azure/AWS hybrid infrastructure; resulting in 99% uptime over 24 months period - one of highest scores ever recorded at CSG KS operations center since its inception 10 years ago.
Senior Cloud Platform Engineer at Cloudnexa, KS
Jul 2020 - Aug 2022
Developed a cloud-based platform for Cloudnexa, KS that reduced operating costs by 28%. This included designing and implementing an automated build process with continuous integration/continuous deployment (CI/CD) pipelines.
Spearheaded the migration of over 6 million customer data records to AWS S3 buckets while maintaining 99% uptime during peak usage times. Used automation tools such as Ansible and Terraform to streamline this process resulting in cost savings of 16%.
Implemented serverless architectures on multiple projects using Lambda functions which resulted in improved scalability, security monitoring capabilities and decreased operational overhead expenses by 20%.
Education
Bachelor of Science in Cloud Computing at Kansas State University, KS
Sep 2016 - May 2020
Relevant Coursework: Data Storage, Networking and Security, Deployment and Management, Cloud Programming, Web Services, Cloud Architecture, and Data Analytics.
Skills
Cloud Infrastructure
DevOps
Automation
Scripting/Programming
Networking
Security
Monitoring
Certificates
AWS Certified Solutions Architect – Associate
Google Cloud Platform Professional Cloud Architect
Tips for Writing a Better Google Cloud Platform Engineer Resume
1. Focus on Your Technical Skills: As a Google Cloud Platform engineer, you need to showcase your technical skills and accomplishments that highlight your ability to design, deploy, and maintain cloud-based applications. Include specific details about the projects you have worked on, the technologies you have used, and any certifications you hold.
2. Include Relevant Work Experience: Showcase any prior experience that is relevant to being a Google Cloud Platform engineer. This includes past positions in cloud engineering, software development, systems engineering, or other related fields. Be sure to include the technologies you used in each role as well as any successes or accomplishments.
3. Highlight Your Soft Skills: In addition to your technical skills and accomplishments, be sure to showcase any soft skills that make you an effective Google Cloud Platform engineer. This could include communication skills, problem-solving abilities, customer service experience, or collaboration skills.
4. Use Keywords: As with all resumes, it's important to use keywords throughout your resume so that recruiters can easily find it in their search results. Use words like "Google Cloud Platform" or "GCP" in your description of roles and experiences as well as other industry buzzwords like "cloud computing" or "DevOps" when applicable.
Related: Cloud Engineer Resume Examples
Key Skills Hiring Managers Look for on Google Cloud Platform Engineer Resumes
Incorporating keywords from the job description when applying for a Cloud Platform Engineer opportunity at Google is essential because of the company's use of Applicant Tracking Systems (ATS). ATS are automated systems that scan resumes and applications for specific keywords related to the job being applied for. If your resume or application does not include these keywords, it may be overlooked by the system and you may not be considered for the position. Therefore, it is important to carefully review the job description and incorporate relevant keywords into your resume or application in order to increase your chances of being selected for an interview.
When applying for a Cloud Platform Engineer position at Google, you may encounter common skills and key terms such as those listed below.
Key Skills and Proficiencies
Cloud Computing
Cloud Platforms
Infrastructure as a Service (IaaS)
Platform as a Service (PaaS)
Software as a Service (SaaS)
Virtualization
Networking
Security
Automation
Scripting (Python, Bash, etc.)
Monitoring and Logging
Containers (Docker, Kubernetes, etc.)
Serverless Computing
Database Administration (MySQL, MongoDB, etc.)
DevOps Practices and Tools
Cloud Storage Solutions (AWS S3, Azure Blob Storage, etc.)
Cloud Migration Strategies
Cost Optimization Strategies
High Availability and Disaster Recovery Planning
Troubleshooting
Application Performance Tuning
Technical Documentation
Related: Cloud Engineer Skills: Definition and Examples
Common Action Verbs for Google Cloud Platform Engineer Resumes
Finding the right action verbs to use on a resume can be difficult, especially when it comes to creating a Google Cloud Platform Engineer Resume. It is important to use varied and specific action verbs that accurately describe the duties and responsibilities of the position you are applying for. Examples of words that could be used include: analyzed, configured, developed, implemented, managed, monitored, optimized, and tested. Using these words will help your resume stand out from the rest and demonstrate your knowledge of the Google Cloud Platform.
To give you a competitive edge, we've compiled a list of powerful action verbs that can strengthen your resume and help you land your next interview:
Action Verbs
Developed
Implemented
Configured
Monitored
Administered
Automated
Optimized
Troubleshot
Designed
Deployed
Migrated
Secured
Managed
Upgraded
Tested
Resolved
Analyzed
Investigated
Documented
Streamlined
Consolidated
Integrated
Related: What does a Cloud Engineer do?