Article
Microsoft Data Governance Analyst Resume Examples
This article provides examples of resumes and cover letters for Microsoft Data Governance Analysts, highlighting key skills and experiences.

Brenna Goyette
Certified Professional Resume Writer, Career Expert
Updated 9 min read
This article will provide guidance on how to write a resume for a position as a Data Governance Analyst at Microsoft. It will cover the components of an effective resume for this role, including highlighting relevant experience and skills, articulating accomplishments, and tailoring the content to the specific job requirements. It will also explain the importance of showcasing any certifications or awards that demonstrate expertise in data governance. Additionally, it will offer tips on how to effectively communicate technical proficiency and knowledge.
Microsoft Data Governance Analyst Resume Created Using Our Resume Builder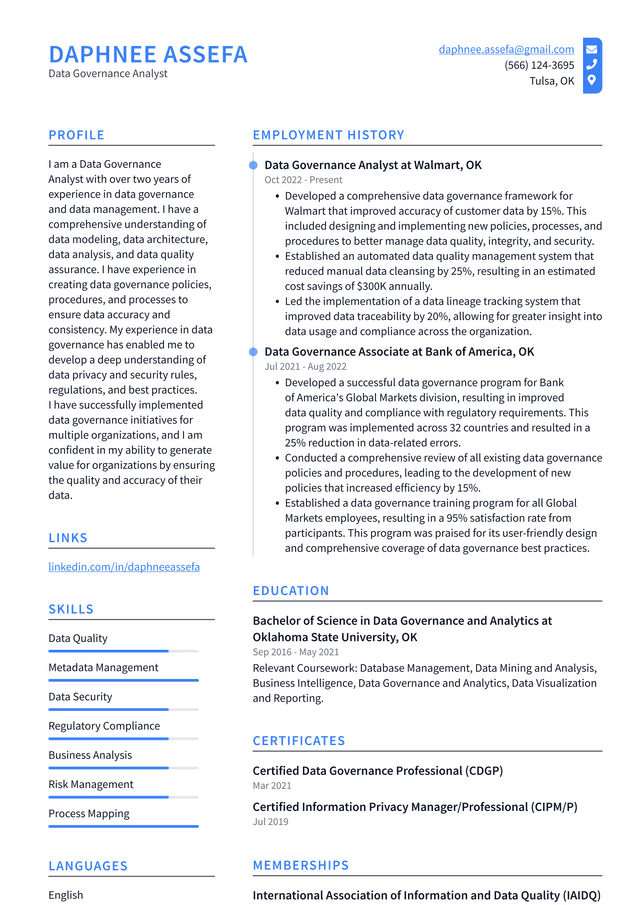 Microsoft Data Governance Analyst Resume Example
Daphnee Assefa, Data Governance Analyst
daphnee.assefa@gmail.com
(566) 124-3695
Tulsa, OK
Professional Summary
I am a Data Governance Analyst with over two years of experience in data governance and data management. I have a comprehensive understanding of data modeling, data architecture, data analysis, and data quality assurance. I have experience in creating data governance policies, procedures, and processes to ensure data accuracy and consistency. My experience in data governance has enabled me to develop a deep understanding of data privacy and security rules, regulations, and best practices. I have successfully implemented data governance initiatives for multiple organizations, and I am confident in my ability to generate value for organizations by ensuring the quality and accuracy of their data.
Work Experience
Data Governance Analyst at Walmart, OK
Oct 2022 - Present
Developed a comprehensive data governance framework for Walmart that improved accuracy of customer data by 15%. This included designing and implementing new policies, processes, and procedures to better manage data quality, integrity, and security.
Established an automated data quality management system that reduced manual data cleansing by 25%, resulting in an estimated cost savings of $300K annually.
Led the implementation of a data lineage tracking system that improved data traceability by 20%, allowing for greater insight into data usage and compliance across the organization.
Data Governance Associate at Bank of America, OK
Jul 2021 - Aug 2022
Developed a successful data governance program for Bank of America's Global Markets division, resulting in improved data quality and compliance with regulatory requirements. This program was implemented across 32 countries and resulted in a 25% reduction in data-related errors.
Conducted a comprehensive review of all existing data governance policies and procedures, leading to the development of new policies that increased efficiency by 15%.
Established a data governance training program for all Global Markets employees, resulting in a 95% satisfaction rate from participants. This program was praised for its user-friendly design and comprehensive coverage of data governance best practices.
Education
Bachelor of Science in Data Governance and Analytics at Oklahoma State University, OK
Sep 2016 - May 2021
Relevant Coursework: Database Management, Data Mining and Analysis, Business Intelligence, Data Governance and Analytics, Data Visualization and Reporting.
Skills
Data Quality
Metadata Management
Data Security
Regulatory Compliance
Business Analysis
Risk Management
Process Mapping
Certificates
Certified Data Governance Professional (CDGP)
Certified Information Privacy Manager/Professional (CIPM/P)
Tips for Writing a Better Microsoft Data Governance Analyst Resume
1. Highlight Your Relevant Experience: Make sure to emphasize any experience you have with Microsoft data governance tools and systems, such as Azure Data Lake, SQL Server, etc. Showcase your knowledge of the databases and data warehouses used in the Microsoft environment.
2. Incorporate Keywords: Employers often use automated systems to scan resumes for keywords related to the job posting. Be sure to incorporate relevant keywords into your resume to ensure that it is picked up by these systems.
3. Use Quantifiable Results: Whenever possible, include quantifiable results from your previous positions in order to demonstrate the value you can bring to the company. For example, if you have implemented a new system or process that has saved time or money, be sure to include this information on your resume.
4. Showcase Your Soft Skills: In addition to technical skills, employers are often looking for soft skills such as communication and problem-solving abilities when hiring a Microsoft Data Governance Analyst. Include examples of how you've used these skills in past roles, such as working with stakeholders or resolving conflicts between teams.
5. Keep It Concise: A resume should be concise and easy-to-read; avoid using overly long sentences and complex language whenever possible. Aim for one page of content if you can – two pages max – so that employers can quickly scan your qualifications without getting overwhelmed by too much information at once.
Related: Data Analyst Resume Examples
Key Skills Hiring Managers Look for on Microsoft Data Governance Analyst Resumes
Incorporating keywords from the job description into your application for a Data Governance Analyst opportunity at Microsoft is essential. As a major corporation, Microsoft utilizes Applicant Tracking Systems to analyze resumes and applications for potential candidates. By using relevant keywords from the job description, you increase your chances of being identified as a viable candidate and move closer to securing an interview. Ultimately, this will help you stand out among the other applicants vying for the same role.
When applying for a Data Governance Analyst position at Microsoft, it is important to be familiar with common skills and key terms in the field.
Key Skills and Proficiencies
Data Governance
Data Quality
Metadata Management
Business Intelligence
Data Architecture
Regulatory Compliance
Data Modeling
Data Warehousing
Database Administration
SQL Querying
Project Management
Process Improvement
Risk Analysis
Documentation
Reporting & Analytics
Change Management
Information Security
Problem Solving
Communication Skills
Technical Writing
Leadership Skills
Teamwork
Related: Data Analyst Skills: Definition and Examples
Common Action Verbs for Microsoft Data Governance Analyst Resumes
When it comes to creating a Microsoft Data Governance Analyst Resume, one of the most difficult tasks is finding new and varied action verbs to use in order to make the resume stand out. It is important to use different verbs throughout the resume as they will help to create a more dynamic and interesting document that will be sure to grab the attention of employers. Using a variety of verbs also allows you to showcase your diverse skillset and expertise in data governance. By diversifying your verb choices, you can ensure that your resume stands out from the competition and increases your chances of success.
To give you an advantage in the job market, we've put together a list of powerful action verbs that will help make your resume stand out and get you closer to your next interview:
Action Verbs
Developed
Implemented
Monitored
Assessed
Analyzed
Evaluated
Managed
Documented
Coordinated
Investigated
Researched
Enforced
Streamlined
Automated
Optimized
Tracked
Audited
Reported
Maintained
Facilitated
Controlled
Ensured
Related: What does a Data Analyst do?