Article
Meta Analytics Engineer Resume Examples
This article provides examples of resumes for Meta Analytics Engineers, outlining the skills and experience needed to land a job in this field.

Brenna Goyette
Certified Professional Resume Writer, Career Expert
Updated 8 min read
This article will discuss how to write an effective resume for the position of Meta Analytics Engineer. It will cover important topics such as emphasizing relevant skills and experience, tailoring your resume to the job description, highlighting accomplishments, and showcasing technical knowledge. Additionally, it will provide tips for writing a compelling summary statement and including keywords that may help you stand out from other candidates.
Meta Analytics Engineer Resume Created Using Our Resume Builder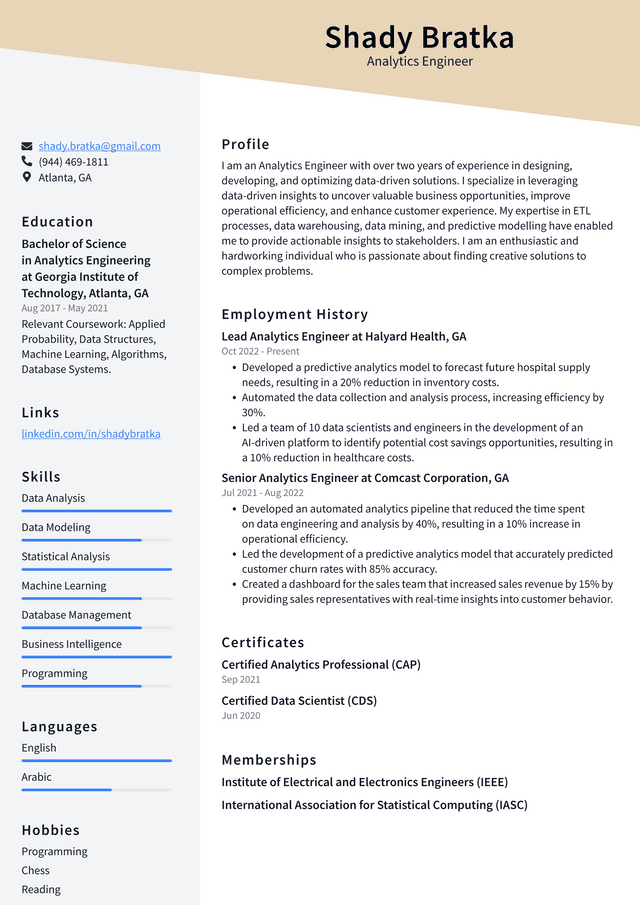 Meta Analytics Engineer Resume Example
Shady Bratka, Analytics Engineer
shady.bratka@gmail.com
(944) 469-1811
Atlanta, GA
Professional Summary
I am an Analytics Engineer with over two years of experience in designing, developing, and optimizing data-driven solutions. I specialize in leveraging data-driven insights to uncover valuable business opportunities, improve operational efficiency, and enhance customer experience. My expertise in ETL processes, data warehousing, data mining, and predictive modelling have enabled me to provide actionable insights to stakeholders. I am an enthusiastic and hardworking individual who is passionate about finding creative solutions to complex problems.
Work Experience
Lead Analytics Engineer at Halyard Health, GA
Oct 2022 - Present
Developed a predictive analytics model to forecast future hospital supply needs, resulting in a 20% reduction in inventory costs.
Automated the data collection and analysis process, increasing efficiency by 30%.
Led a team of 10 data scientists and engineers in the development of an AI-driven platform to identify potential cost savings opportunities, resulting in a 10% reduction in healthcare costs.
Senior Analytics Engineer at Comcast Corporation, GA
Jul 2021 - Aug 2022
Developed an automated analytics pipeline that reduced the time spent on data engineering and analysis by 40%, resulting in a 10% increase in operational efficiency.
Led the development of a predictive analytics model that accurately predicted customer churn rates with 85% accuracy.
Created a dashboard for the sales team that increased sales revenue by 15% by providing sales representatives with real-time insights into customer behavior.
Education
Bachelor of Science in Analytics Engineering at Georgia Institute of Technology, Atlanta, GA
Aug 2017 - May 2021
Relevant Coursework: Applied Probability, Data Structures, Machine Learning, Algorithms, Database Systems.
Skills
Data Analysis
Data Modeling
Statistical Analysis
Machine Learning
Database Management
Business Intelligence
Programming
Certificates
Certified Analytics Professional (CAP)
Certified Data Scientist (CDS)
Tips for Writing a Better Meta Analytics Engineer Resume
1. Highlight Your Technical Skills: Make sure to highlight your technical skills, such as programming languages, scripting languages, and analytics software you are familiar with. Employers want to know that you have the necessary skills to do the job.
2. Show Your Experience: Show how your experience with analytics engineering relates to the job for which you are applying. Provide examples of work you have done that relate to the position and describe any challenges you have faced and how you overcame them.
3. Demonstrate Your Problem-Solving Abilities: Employers want to know that you can solve problems quickly and accurately while working in a fast-paced environment. Demonstrate your problem-solving abilities by providing examples of how you solved complex issues or improved processes in past roles.
4. Include Accomplishments: Don't forget to include accomplishments from past roles on your resume. This will help show employers that you can handle responsibility and achieve results for their organization.
5. Quantify Your Achievements: Whenever possible, quantify your achievements using numbers and percentages so employers can easily understand the impact of your work. For example, if you implemented a new system that increased efficiency by 30%, be sure to include this result on your resume!
Related: Analytics Consultant Resume Examples
Key Skills Hiring Managers Look for on Meta Analytics Engineer Resumes
Using keywords from the job description when applying for an Analytics Engineer opportunity at Meta is essential, as the company utilizes Applicant Tracking Systems (ATS) to scan for certain words and phrases that match the job requirements. The ATS helps recruiters quickly identify the most relevant applicants and rank them accordingly. Incorporating keywords from the job description into your application will help ensure that your resume stands out and is ranked higher in the applicant pool. Additionally, it demonstrates to recruiters that you are familiar with the role and have tailored your resume to meet their specific needs.
When applying for an analytics engineer position at Meta, you may encounter the following common skills and key terms:
Key Skills and Proficiencies
Data Analysis
Data Mining
Machine Learning
Statistical Modeling
Data Visualization
Predictive Analytics
Big Data Technologies
Business Intelligence
SQL Querying
ETL Processes
Python Programming
R Programming
SAS Programming
Hadoop Ecosystems
Apache Spark
Cloud Computing
Data Warehousing
Tableau Software
NoSQL Databases
Apache Kafka
Natural Language Processing (NLP)
Artificial Intelligence (AI)
Related: Analytics Consultant Skills: Definition and Examples
Common Action Verbs for Meta Analytics Engineer Resumes
Finding varied action verbs to use on a resume can be difficult, but it is essential for creating an effective resume. Using the same words over and over again can make your resume sound repetitive and uninteresting. Instead, try to use different action verbs that accurately describe your accomplishments. For example, if you are applying for a Meta Analytics Engineer position, you could use words like "developed", "analyzed", "implemented", or "maintained" to explain your experience in the field. Doing so will not only make your resume look more professional but also demonstrate your knowledge of the position and its related responsibilities.
To give you a competitive edge, we've compiled a list of powerful action verbs you can use to strengthen your resume and land your next interview. Incorporate these words into your resume to demonstrate your accomplishments and make a lasting impression:
Action Verbs
Developed
Designed
Analyzed
Implemented
Automated
Optimized
Monitored
Investigated
Troubleshot
Maintained
Administered
Configured
Tested
Resolved
Documented
Upgraded
Programmed
Integrated
Developed Reports
Evaluated Data
Visualized Results
Interpreted Metrics