Article
Lyft Pricing Analyst Resume Examples
Discover top-notch resume examples for Lyft Pricing Analyst positions, designed to help you craft the perfect application and land your dream job.

Brenna Goyette
Certified Professional Resume Writer, Career Expert
Published 9 min read
Discover the key steps to tailor your resume for a Pricing Analyst position at Lyft, one of the leading ride-sharing companies. This article will guide you through showcasing your skills and experiences that align with Lyft's expectations, emphasizing your proficiency in data analysis, market research, and pricing strategies. Learn how to effectively demonstrate your ability to optimize pricing models and collaborate with cross-functional teams. Additionally, find tips on highlighting your knowledge of industry trends and regulatory factors that impact pricing decisions, as well as your strong communication and presentation abilities to make a lasting impression on hiring managers at Lyft.
Lyft Pricing Analyst Resume Created Using Our Resume Builder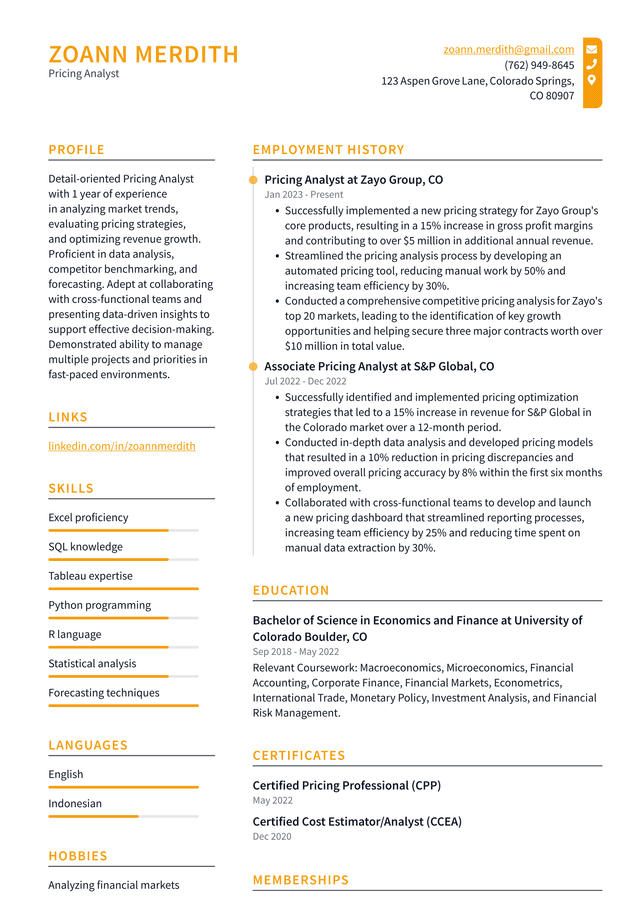 Lyft Pricing Analyst Resume Example
Zoann Merdith, Pricing Analyst
zoann.merdith@gmail.com
(762) 949-8645
123 Aspen Grove Lane, Colorado Springs, CO 80907
Professional Summary
Detail-oriented Pricing Analyst with 1 year of experience in analyzing market trends, evaluating pricing strategies, and optimizing revenue growth. Proficient in data analysis, competitor benchmarking, and forecasting. Adept at collaborating with cross-functional teams and presenting data-driven insights to support effective decision-making. Demonstrated ability to manage multiple projects and priorities in fast-paced environments.
Work Experience
Pricing Analyst at Zayo Group, CO
Jan 2023 - Present
Successfully implemented a new pricing strategy for Zayo Group's core products, resulting in a 15% increase in gross profit margins and contributing to over $5 million in additional annual revenue.
Streamlined the pricing analysis process by developing an automated pricing tool, reducing manual work by 50% and increasing team efficiency by 30%.
Conducted a comprehensive competitive pricing analysis for Zayo's top 20 markets, leading to the identification of key growth opportunities and helping secure three major contracts worth over $10 million in total value.
Associate Pricing Analyst at S&P Global, CO
Jul 2022 - Dec 2022
Successfully identified and implemented pricing optimization strategies that led to a 15% increase in revenue for S&P Global in the Colorado market over a 12-month period.
Conducted in-depth data analysis and developed pricing models that resulted in a 10% reduction in pricing discrepancies and improved overall pricing accuracy by 8% within the first six months of employment.
Collaborated with cross-functional teams to develop and launch a new pricing dashboard that streamlined reporting processes, increasing team efficiency by 25% and reducing time spent on manual data extraction by 30%.
Education
Bachelor of Science in Economics and Finance at University of Colorado Boulder, CO
Sep 2018 - May 2022
Relevant Coursework: Macroeconomics, Microeconomics, Financial Accounting, Corporate Finance, Financial Markets, Econometrics, International Trade, Monetary Policy, Investment Analysis, and Financial Risk Management.
Skills
Excel proficiency
SQL knowledge
Tableau expertise
Python programming
R language
Statistical analysis
Forecasting techniques
Certificates
Certified Pricing Professional (CPP)
Certified Cost Estimator/Analyst (CCEA)
Tips for Writing a Better Lyft Pricing Analyst Resume
1. Choose the right format: The format of your resume should be clear, concise, and easy to read. Use a reverse-chronological order, starting with your most recent experience first.
2. Write a strong objective or summary statement: Start your resume with a brief statement that highlights your career goals and clearly states why you are the best candidate for the Lyft Pricing Analyst position.
3. Tailor your resume to the job description: Make sure you carefully read the job posting and include relevant keywords from it in your resume. This will help you stand out among other candidates and show that you have done your research on the company and role.
4. Highlight relevant skills and experience: Focus on showcasing your skills in pricing analysis, data analytics, market research, forecasting, and financial modeling as these are crucial for a Pricing Analyst role at Lyft.
5. Quantify your achievements: Use numbers to demonstrate how you have made an impact in previous roles. For example, mention how much revenue was generated through pricing strategies or how much cost reduction was achieved due to improved analytical processes.
6. Showcase relevant certifications and education: Include any certifications or degrees related to pricing analysis, data analytics, or finance that can make you a more qualified candidate for the role.
7. Keep it concise: Your resume should ideally be one page long but no more than two pages if necessary. Ensure each section is well-organized and easy to skim-read.
8. Proofread thoroughly: Check your resume for spelling errors, grammatical mistakes, and formatting issues before submitting it. A polished resume demonstrates professionalism and attention to detail.
9. Include a list of technical tools proficiency: As a Pricing Analyst at Lyft, being proficient in various analytical tools such as Excel, SQL, Tableau or Python is essential; therefore make sure to highlight them in your resume.
10. Add relevant links or attachments: If you have any online portfolios or work samples related to pricing analysis, consider including links or attachments that demonstrate your expertise and experience in the field.
Related: Pricing Analyst Resume Examples
Key Skills Hiring Managers Look for on Lyft Pricing Analyst Resumes
When applying for a Pricing Analyst opportunity at Lyft, it is crucial to incorporate keywords from the job description in your application. This is because Lyft, like many other companies, uses Applicant Tracking Systems (ATS) to filter and rank candidates based on their resume content. By including relevant keywords, you increase the chances of your application being noticed by the ATS and subsequently reviewed by a recruiter or hiring manager. Therefore, carefully read the job description and tailor your resume to highlight your skills and experiences that align with the requirements of the position. This will not only demonstrate your understanding of the role but also improve your chances of moving forward in the hiring process.
When applying for pricing analyst positions at Lyft, you may encounter common skills and key terms such as data analysis, forecasting, optimization, SQL, R or Python programming, statistical modeling, A/B testing, and market research.
Key Skills and Proficiencies
Data analysis
Statistical modeling
Pricing strategy
Market research
Forecasting
Competitive analysis
Financial analysis
Excel proficiency
SQL knowledge
Data visualization tools (e.g., Tableau)
Problem-solving skills
Attention to detail
Strong communication skills
Time management and prioritization
Analytical thinking and innovation
Cost-benefit analysis
Product lifecycle management
Knowledge of industry trends
Pricing optimization techniques
Negotiation skills
Cross-functional collaboration
Project management
Related: Pricing Analyst Skills: Definition and Examples
Common Action Verbs for Lyft Pricing Analyst Resumes
Crafting a compelling resume for a Lyft Pricing Analyst position can be quite challenging, particularly when it comes to finding different action verbs to describe your skills and accomplishments. Using varied and powerful action verbs is crucial in order to make your resume stand out from the rest and effectively showcase your qualifications for the role. By employing an array of strong verbs, you can demonstrate your diverse skill set and expertise as a pricing analyst, ultimately increasing your chances of landing the job.
To provide you with a competitive advantage, we have assembled a collection of potent action verbs to enhance your resume and secure your next interview:
Action Verbs
Analyzed
Evaluated
Forecasted
Assessed
Developed
Implemented
Monitored
Reviewed
Optimized
Calculated
Recommended
Managed
Identified
Reported
Presented
Collaborated
Investigated
Coordinated
Maintained
Streamlined
Researched
Established
Related: What does a Pricing Analyst do?