Article
LinkedIn Web Developer Resume Examples

Brenna Goyette
Certified Professional Resume Writer, Career Expert
Published 9 min read
This article will guide web developers on how to create an impressive and effective LinkedIn resume that showcases their skills, experiences, and achievements. It will delve into the importance of tailoring a LinkedIn resume specifically for web development, including highlighting technical proficiencies in various programming languages and platforms, as well as showcasing past projects or accomplishments. The piece will also discuss tips on using keywords effectively to increase visibility among recruiters and potential employers. Furthermore, it will provide insights on how to make your profile more engaging by integrating multimedia elements like videos or portfolio links. This is not just about listing down your credentials; it's about strategically presenting yourself as the best candidate for web development opportunities.
LinkedIn Web Developer Resume Created Using Our Resume Builder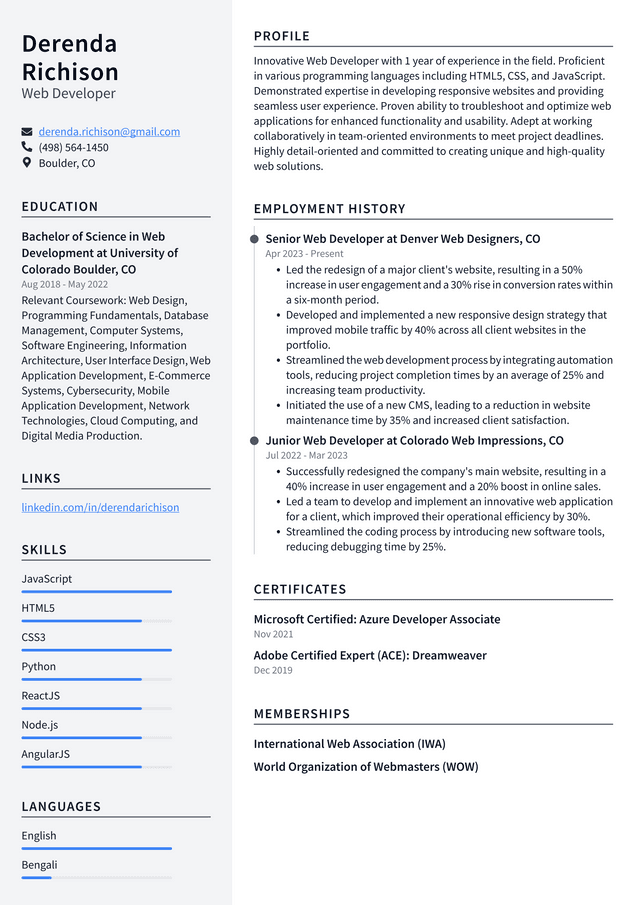 LinkedIn Web Developer Resume Example
Derenda Richison, Web Developer
derenda.richison@gmail.com
(498) 564-1450
Boulder, CO
Professional Summary
Innovative Web Developer with 1 year of experience in the field. Proficient in various programming languages including HTML5, CSS, and JavaScript. Demonstrated expertise in developing responsive websites and providing seamless user experience. Proven ability to troubleshoot and optimize web applications for enhanced functionality and usability. Adept at working collaboratively in team-oriented environments to meet project deadlines. Highly detail-oriented and committed to creating unique and high-quality web solutions.
Work Experience
Senior Web Developer at Denver Web Designers, CO
Apr 2023 - Present
Led the redesign of a major client's website, resulting in a 50% increase in user engagement and a 30% rise in conversion rates within a six-month period.
Developed and implemented a new responsive design strategy that improved mobile traffic by 40% across all client websites in the portfolio.
Streamlined the web development process by integrating automation tools, reducing project completion times by an average of 25% and increasing team productivity.
Initiated the use of a new CMS, leading to a reduction in website maintenance time by 35% and increased client satisfaction.
Junior Web Developer at Colorado Web Impressions, CO
Jul 2022 - Mar 2023
Successfully redesigned the company's main website, resulting in a 40% increase in user engagement and a 20% boost in online sales.
Led a team to develop and implement an innovative web application for a client, which improved their operational efficiency by 30%.
Streamlined the coding process by introducing new software tools, reducing debugging time by 25%.
Education
Bachelor of Science in Web Development at University of Colorado Boulder, CO
Aug 2018 - May 2022
Relevant Coursework: Web Design, Programming Fundamentals, Database Management, Computer Systems, Software Engineering, Information Architecture, User Interface Design, Web Application Development, E-Commerce Systems, Cybersecurity, Mobile Application Development, Network Technologies, Cloud Computing, and Digital Media Production.
Skills
JavaScript
HTML5
CSS3
Python
ReactJS
Node.js
AngularJS
Certificates
Microsoft Certified: Azure Developer Associate
Adobe Certified Expert (ACE): Dreamweaver
Tips for Writing a Better LinkedIn Web Developer Resume
1. Use a Professional Photo: Make sure your LinkedIn profile picture is professional and up-to-date. This is the first impression potential employers will have of you.
2. Write a Strong Headline: Your headline should be clear, concise, and reflect your professional capabilities as a web developer.
3. Highlight Key Skills: List all the technical skills you have, such as knowledge of programming languages (HTML, CSS, JavaScript), frameworks (AngularJS, ReactJS), databases (SQL, MongoDB), etc.
4. Detail Your Experience: Don't just list your past jobs; discuss what you did in those roles and how it contributed to the company's goals or projects. Be specific about the technologies you used and the type of projects you worked on.
5. Showcase Your Projects: If you've worked on any significant projects or have a portfolio site, include those links in your profile. This allows potential employers to see examples of your work firsthand.
6. Recommendations and Endorsements: Ask for recommendations from colleagues, bosses or professors who can vouch for your skills and experience. Also, aim to get endorsements for your listed skills.
7. Use Keywords: Many recruiters use keywords to find potential candidates. Make sure to include relevant industry keywords throughout your profile.
8. Join Relevant Groups: Participating in relevant LinkedIn groups shows that you are engaged in your field and helps expand your network.
9. Keep it Updated: Ensure that all information is current and update it regularly as you gain more experience or learn new skills.
10. Write a Compelling Summary: Your summary should tell a story about who you are professionally, what you can do, and what makes you unique as a web developer.
11. Include Certifications: If you have any certifications related to web development like Google's Mobile Web Specialist certification or Microsoft's Certified Solutions Developer certification, mention them on your profile.
12. Proofread Thoroughly: Mistakes make profiles look unprofessional so proofread carefully before publishing anything publically online.
Related: Web Developer Resume Examples
Key Skills Hiring Managers Look for on LinkedIn Web Developer Resumes
Applicant Tracking Systems (ATS) are used by many companies, including LinkedIn, to filter and rank job applicants. These systems scan resumes for specific keywords from the job description to identify the most qualified candidates. Therefore, when applying for a Web Developer position at LinkedIn, it's crucial to incorporate relevant keywords from the job description into your resume and cover letter. This might include skills like JavaScript, CSS, or UX design, or experience with particular software or methodologies. By doing so, you increase your chances of your application being seen by a human recruiter and progressing through the hiring process.
When applying for web developer positions at LinkedIn, you may encounter a list of common skills and key terms.
Key Skills and Proficiencies
HTML/CSS
JavaScript
JQuery
Responsive Design
CSS Preprocessing
Version Control/Git
Testing/Debugging
Browser Developer Tools
Web Performance
Command Line
AngularJS / VueJS / ReactJS
Node.js
PHP / Ruby on Rails / .NET
Database Management (SQL, MongoDB)
WordPress Development
SEO Knowledge
UX/UI Design Skills
Graphic Design
Cross-Browser Compatibility
Mobile Web Development
API Integration
Project Management
Related: Web Developer Skills: Definition and Examples
Common Action Verbs for LinkedIn Web Developer Resumes
Creating a LinkedIn Web Developer Resume requires careful consideration of language, particularly when it comes to action verbs. It can be challenging to find diverse and impactful verbs that accurately portray your skills, experience, and accomplishments. Using the same action verbs repeatedly can make your resume seem monotonous and unimpressive, failing to catch the attention of potential employers. Therefore, it's crucial to incorporate a variety of strong action verbs that can effectively communicate your abilities and achievements as a web developer. These verbs not only make your resume more engaging but also help demonstrate your proficiency in different aspects of web development.
To provide you with an advantage over other candidates, we have curated a list of potent action verbs that can enhance your resume and secure your next interview:
Action Verbs
Developed
Implemented
Designed
Optimized
Maintained
Updated
Debugged
Integrated
Programmed
Tested
Launched
Enhanced
Collaborated
Configured
Solved
Managed
Created
Constructed
Coded
Adapted
Streamlined
Customized
Related: What does a Web Developer do?