Article
IBM Network Administrator Resume Examples

Brenna Goyette
Certified Professional Resume Writer, Career Expert
Published 9 min read
This article presents a detailed guide on constructing an effective resume for the position of Network Administrator at IBM. It discusses how to showcase your relevant skills, experiences, and qualifications to make your application stand out. The article emphasizes the importance of highlighting proficiency in network configuration, troubleshooting, and security, as well as experience with cloud services and familiarity with various network hardware. It also advises on how to present specific accomplishments within previous roles and demonstrate a deep understanding of IBM's business operations and culture. This guide aims to help applicants create a compelling narrative that aligns their career trajectory with IBM's needs and expectations for this crucial tech role.
IBM Network Administrator Resume Created Using Our Resume Builder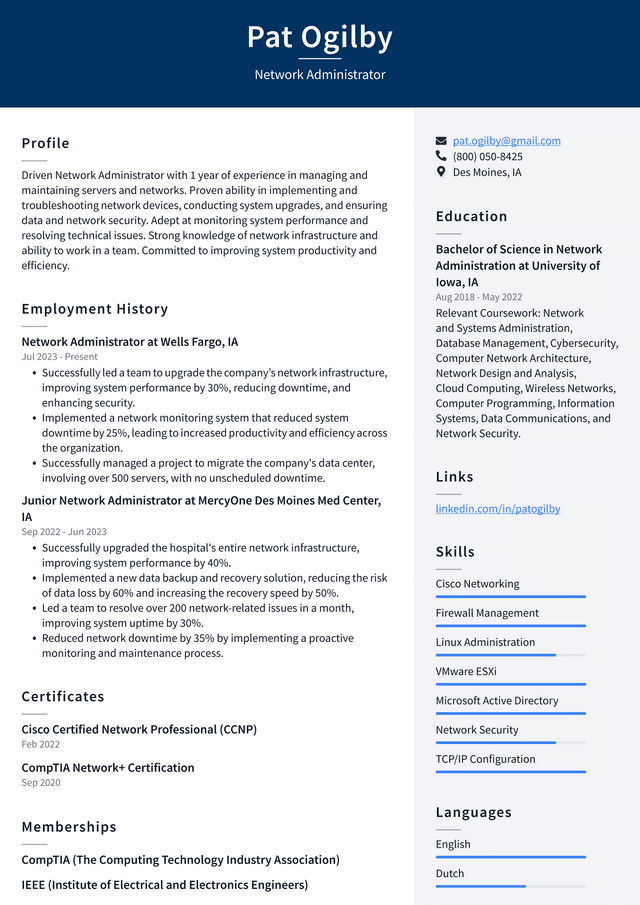 IBM Network Administrator Resume Example
Pat Ogilby, Network Administrator
pat.ogilby@gmail.com
(800) 050-8425
Des Moines, IA
Professional Summary
Driven Network Administrator with 1 year of experience in managing and maintaining servers and networks. Proven ability in implementing and troubleshooting network devices, conducting system upgrades, and ensuring data and network security. Adept at monitoring system performance and resolving technical issues. Strong knowledge of network infrastructure and ability to work in a team. Committed to improving system productivity and efficiency.
Work Experience
Network Administrator at Wells Fargo, IA
Jul 2023 - Present
Successfully led a team to upgrade the company's network infrastructure, improving system performance by 30%, reducing downtime, and enhancing security.
Implemented a network monitoring system that reduced system downtime by 25%, leading to increased productivity and efficiency across the organization.
Successfully managed a project to migrate the company's data center, involving over 500 servers, with no unscheduled downtime.
Junior Network Administrator at MercyOne Des Moines Med Center, IA
Sep 2022 - Jun 2023
Successfully upgraded the hospital's entire network infrastructure, improving system performance by 40%.
Implemented a new data backup and recovery solution, reducing the risk of data loss by 60% and increasing the recovery speed by 50%.
Led a team to resolve over 200 network-related issues in a month, improving system uptime by 30%.
Reduced network downtime by 35% by implementing a proactive monitoring and maintenance process.
Education
Bachelor of Science in Network Administration at University of Iowa, IA
Aug 2018 - May 2022
Relevant Coursework: Network and Systems Administration, Database Management, Cybersecurity, Computer Network Architecture, Network Design and Analysis, Cloud Computing, Wireless Networks, Computer Programming, Information Systems, Data Communications, and Network Security.
Skills
Cisco Networking
Firewall Management
Linux Administration
VMware ESXi
Microsoft Active Directory
Network Security
TCP/IP Configuration
Certificates
Cisco Certified Network Professional (CCNP)
CompTIA Network+ Certification
Tips for Writing a Better IBM Network Administrator Resume
1. Use a Professional Format: Your resume should look clean, organized and professional. Use a standard font, appropriate margins and clear section headings.
2. Tailor your Resume: Customize your resume to match the specific requirements of the job you are applying for. Highlight relevant skills, experiences, and achievements that make you an ideal candidate for the position.
3. Be Specific: Provide specific examples of your accomplishments as a network administrator. Use numbers or percentages to quantify these achievements when possible.
4. Highlight Relevant Skills: List any technical skills that are relevant to the job such as proficiency in IBM software and hardware, networking protocols, troubleshooting abilities etc.
5. Include Certifications: If you have any certifications related to network administration or IBM products, be sure to include them on your resume.
6. Keep it Concise: Try to keep your resume to one or two pages maximum. Only include information that is relevant to the job you're applying for.
7. Use Action Verbs: Start each bullet point with a strong action verb (e.g., "Managed", "Implemented", "Developed") to highlight your responsibilities and achievements.
8. Proofread Carefully: Make sure there are no spelling or grammar errors in your resume. These can give employers the impression that you lack attention to detail.
9. Add a Professional Summary: A brief professional summary at the beginning of your resume can provide an overview of your qualifications and why you would be a good fit for the role.
10. Update Regularly: Ensure that your resume is always up-to-date with your most recent experience and skills.
Remember that resumes often serve as first impressions for potential employers - so take time crafting yours!
Related: Network Administrator Resume Examples
Key Skills Hiring Managers Look for on IBM Network Administrator Resumes
When applying for a Network Administrator position at IBM, it is crucial to incorporate keywords from the job description in your application. This is because IBM, like many large corporations, uses Applicant Tracking Systems (ATS) to filter and manage job applications. ATS systems scan resumes and cover letters for specific keywords that match the skills, education, and experience required for the job. By using these exact keywords in your application, you increase the chances of your resume being selected by the ATS system, thereby increasing your chances of getting an interview call. Not using these keywords can result in your application being overlooked, regardless of how qualified you may be.
When applying for network administrator positions at IBM, you may encounter a list of common skills and key terms.
Key Skills and Proficiencies
Network architecture
Network configuration
Network security
Troubleshooting skills
Knowledge of LAN/WAN networks
Understanding of TCP/IP protocols
Disaster recovery planning
System installation and configuration
Hardware and software support
Technical support
Knowledge of operating systems (Windows, Linux, etc.)
Database management
Problem-solving skills
IT project management
VPNs and remote access knowledge
Firewall administration
IP routing and switching
DNS/DHCP management
Network performance tuning
Strong communication skills
Cybersecurity knowledge
Certifications (like CCNA, CCNP)
Related: Network Administrator Skills: Definition and Examples
Common Action Verbs for IBM Network Administrator Resumes
Creating an IBM Network Administrator Resume can be a challenging task, particularly when it comes to selecting appropriate action verbs. The use of repetitive or generic verbs can lead to a bland and unimpressive resume. On the other hand, incorporating varied, powerful and industry-specific action verbs can dramatically enhance the impact of your resume. These verbs not only showcase your skills and experiences in a dynamic manner, but also help you stand out from other candidates. Therefore, it is crucial to carefully choose different action verbs that accurately describe your capabilities as an IBM Network Administrator.
To provide you with a competitive advantage, we've assembled a collection of potent action verbs that you can employ to enhance your resume and secure your next interview.
Action Verbs
Installed
Configured
Maintained
Monitored
Troubleshot
Upgraded
Optimized
Secured
Managed
Implemented
Designed
Developed
Assessed
Coordinated
Administered
Supported
Integrated
Operated
Resolved
Documented
Tested
Evaluated