Article
IBM Machine Learning Engineer Resume Examples

Brenna Goyette
Certified Professional Resume Writer, Career Expert
Published 9 min read
This article provides a comprehensive guide on crafting a resume for the role of a Machine Learning Engineer at IBM. It details the essential skills and qualifications that IBM looks for in potential candidates, including proficiency in programming languages like Python or Java, familiarity with machine learning frameworks such as TensorFlow or PyTorch, and experience with cloud platforms like Azure or IBM Cloud. The article also emphasizes the importance of showcasing your ability to solve complex problems, work collaboratively in teams, and communicate technical concepts effectively. Additionally, it offers tips on how to highlight relevant projects or research, and how to articulate your passion for machine learning and its applications.
IBM Machine Learning Engineer Resume Created Using Our Resume Builder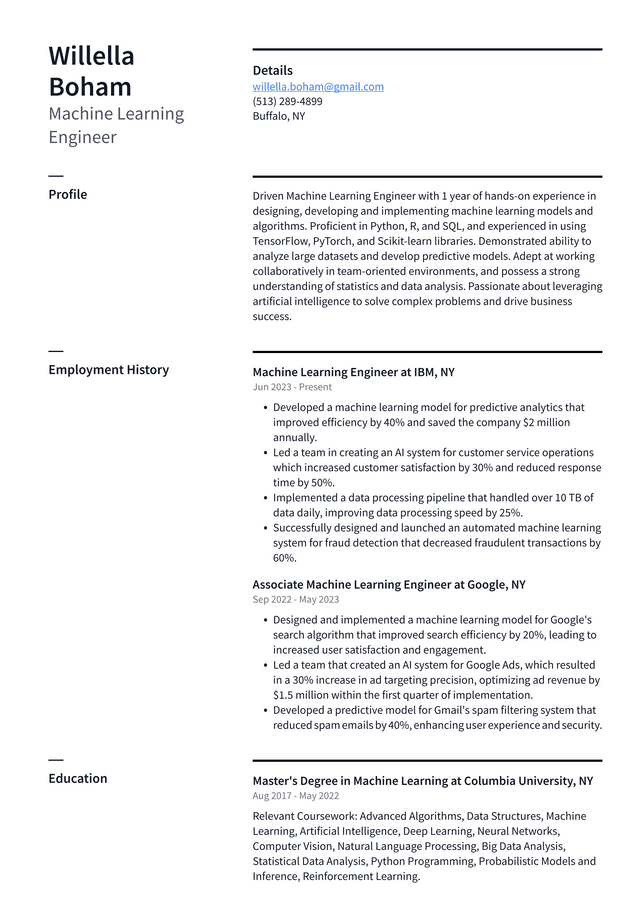 IBM Machine Learning Engineer Resume Example
Willella Boham, Machine Learning Engineer
willella.boham@gmail.com
(513) 289-4899
Buffalo, NY
Professional Summary
Driven Machine Learning Engineer with 1 year of hands-on experience in designing, developing and implementing machine learning models and algorithms. Proficient in Python, R, and SQL, and experienced in using TensorFlow, PyTorch, and Scikit-learn libraries. Demonstrated ability to analyze large datasets and develop predictive models. Adept at working collaboratively in team-oriented environments, and possess a strong understanding of statistics and data analysis. Passionate about leveraging artificial intelligence to solve complex problems and drive business success.
Work Experience
Machine Learning Engineer at IBM, NY
Jun 2023 - Present
Developed a machine learning model for predictive analytics that improved efficiency by 40% and saved the company $2 million annually.
Led a team in creating an AI system for customer service operations which increased customer satisfaction by 30% and reduced response time by 50%.
Implemented a data processing pipeline that handled over 10 TB of data daily, improving data processing speed by 25%.
Successfully designed and launched an automated machine learning system for fraud detection that decreased fraudulent transactions by 60%.
Associate Machine Learning Engineer at Google, NY
Sep 2022 - May 2023
Designed and implemented a machine learning model for Google's search algorithm that improved search efficiency by 20%, leading to increased user satisfaction and engagement.
Led a team that created an AI system for Google Ads, which resulted in a 30% increase in ad targeting precision, optimizing ad revenue by $1.5 million within the first quarter of implementation.
Developed a predictive model for Gmail's spam filtering system that reduced spam emails by 40%, enhancing user experience and security.
Education
Master's Degree in Machine Learning at Columbia University, NY
Aug 2017 - May 2022
Relevant Coursework: Advanced Algorithms, Data Structures, Machine Learning, Artificial Intelligence, Deep Learning, Neural Networks, Computer Vision, Natural Language Processing, Big Data Analysis, Statistical Data Analysis, Python Programming, Probabilistic Models and Inference, Reinforcement Learning.
Skills
Python, TensorFlow, PyTorch, Scikit-Learn, Keras, SQL, Hadoop
Certificates
Deep Learning Specialization Certificate from Coursera
Microsoft Certified: Azure AI Engineer Associate Certification
Tips for Writing a Better IBM Machine Learning Engineer Resume
1. Use a Clear and Concise Format: Begin with your name, contact information, and a brief summary of your skills and experience relevant to machine learning engineering. Keep the design clean and simple, avoiding graphics or other distractions.
2. Highlight Relevant Skills: IBM Machine Learning Engineers need a strong foundation in computer science, statistics, data analysis, algorithms, and programming languages like Python or Java. Make sure you list these skills prominently on your resume.
3. Detail Your Experience: List your work history in reverse chronological order, focusing on roles where you used machine learning techniques. For each job, include the company name, job title, dates of employment and key responsibilities.
4. Quantify Achievements: Instead of just listing duties or tasks performed at previous jobs, try to quantify your achievements with numbers or percentages to show how you made a significant impact.
5. Include Certifications: If you have any professional certifications related to machine learning or artificial intelligence from reputable organizations (like IBM's own certification programs), be sure to include them.
6. Mention Projects: If you've worked on any projects that demonstrate your machine learning skills - whether they were for work, school or personal development - be sure to include them along with a link if possible.
7. Use Industry-Specific Keywords: Employers often use software to scan resumes for keywords related to the job posting before they're even seen by human eyes. Be sure to use industry-specific keywords such as "machine learning", "data mining", "predictive modeling", "natural language processing", etc.
8. Proofread Carefully: Mistakes on a resume can give employers the impression that you lack attention to detail; proofread carefully to avoid this.
9. Tailor Your Resume for Each Job Application: Different companies might prioritize different skills or experiences so it's beneficial to tailor your resume for each application based on the job description provided by the company.
10. Keep It Updated: As you gain more experience or learn new skills relevant to machine learning engineering, make sure they're reflected in your resume.
Related: Machine Learning Engineer Resume Examples
Key Skills Hiring Managers Look for on IBM Machine Learning Engineer Resumes
IBM, like many large corporations, uses an Applicant Tracking System (ATS) to sort through the numerous resumes they receive. The ATS is designed to filter out applicants who don't meet specific criteria. One of the primary ways it does this is by scanning for keywords that match the job description. Therefore, when applying for a Machine Learning Engineer position at IBM, it's crucial to incorporate relevant keywords from the job posting into your resume and cover letter. This might include terms like "Python," "Neural Networks," or "Data Analysis." By doing this, you increase your chances of getting past the ATS and landing an interview with IBM.
Here are some common skills and key terms you might come across when applying for machine learning engineer positions at IBM:
Key Skills and Proficiencies
Python programming
R programming
Java/C++ Programming
Data Modeling and Evaluation
Machine Learning Algorithms
Advanced Signal Processing Techniques
Natural Language Processing (NLP)
Text Analysis
Neural Networks
Deep Learning
Reinforcement Learning
Statistical Analysis and Data Mining
Distributed Computing
Cloud Tools like AWS, Google Cloud, Azure
Big Data Platforms like Hadoop, Spark, Hive, Pig
SQL Databases/Coding
Probability and Statistics
AI Design and Implementation
Problem Solving Skills
Communication Skills
Project Management
Understanding of APIs and RESTful services
Related: Machine Learning Engineer Skills: Definition and Examples
Common Action Verbs for IBM Machine Learning Engineer Resumes
Crafting a resume, especially for a highly technical position like an IBM Machine Learning Engineer, can be quite challenging. One of the difficulties lies in choosing the right action verbs to describe your skills and experiences. Using the same verbs repetitively can make your resume monotonous and fail to highlight your unique strengths and capabilities. Therefore, it's important to diversify your language and choose powerful and precise verbs that accurately reflect your responsibilities and achievements. This not only enhances readability but also helps you stand out from other applicants by showcasing your abilities in an engaging manner.
To provide you with a competitive advantage, we have assembled a list of strong action verbs that you can incorporate into your resume to enhance its impact and secure your next interview:
Action Verbs
Developed
Implemented
Optimized
Trained
Validated
Analyzed
Designed
Programmed
Tested
Built
Integrated
Managed
Enhanced
Created
Utilized
Solved
Evaluated
Adapted
Collaborated
Streamlined
Automated
Innovated