Article
Top 16 CAD Engineer Resume Objective Examples
This article provides examples of effective resume objectives for a cad engineer position, along with tips on how to craft an impactful objective statement.

Brenna Goyette
Certified Professional Resume Writer, Career Expert
Updated 9 min read
A resume objective is a statement of purpose that outlines the job you are applying for and your professional goals. For a cad engineer position, your resume objective should focus on highlighting your qualifications as an engineer and the skills you have to offer in order to help the company achieve their goals. When writing your resume objective, be sure to include relevant experience, such as any previous engineering roles or projects you have worked on. Additionally, emphasize any specialties or certifications that make you stand out from other applicants. Examples of effective objectives for a cad engineer position include: "Seeking a Cad Engineer role with ABC Company to utilize my experience in 3D modeling and design software to create innovative solutions" or "Motivated individual looking for a Cad Engineer position at XYZ Company where I can apply my expertise in CAD/CAM software development."
Top 16 CAD Engineer Resume Objective Samples
To obtain a challenging position as a CAD Engineer in an organization that values hard work and dedication.
To utilize my expertise in Computer Aided Design (CAD) software to contribute to the growth of the company.
Seeking a CAD Engineer role where I can use my knowledge of drafting and design principles to create innovative solutions.
To bring my knowledge of CAD systems, 3D modeling, and technical drawing to a growing engineering team.
Looking for an opportunity to apply my experience in AutoCAD software and other computer-aided design tools.
To leverage my strong background in engineering design and development using CAD software.
Seeking a position as a CAD Engineer that will allow me to use my technical skills and creativity to develop high-quality products.
Aspiring for a role as a CAD Engineer where I can utilize my experience with various graphic design programs such as SolidWorks and Autodesk Inventor.
Aiming to join an organization in need of an experienced CAD engineer who is capable of creating complex designs with accuracy and precision.
Searching for a position as a CAD engineer which will enable me to utilize my knowledge of 3D modeling, drafting, and product design.
Seeking employment as a CAD engineer where I can use my strong organizational skills, attention to detail, and problem-solving ability.
Looking for an opportunity to combine my expertise in designing mechanical components with advanced computer-aided design tools.
To obtain an entry-level position as a CAD engineer where I can learn from more experienced engineers while contributing positively to the team's success.
To secure employment as a CAD engineer utilizing my proficiency in AutoCAD software along with other related applications such as SolidWorks or CATIA V5/V6.
Aiming for an opportunity to apply my skillset in 3D modeling, rendering, animation, and product development using various computer-aided design programs.
Hoping for the chance to join an established engineering team where I can use my knowledge of 2D/3D drafting techniques along with modern computer-aided design tools
How to Write a CAD Engineer Resume Objective
A resume objective is a statement of your career goals and objectives. It's an important part of any resume, but especially for CAD engineers who are looking to make a good first impression on potential employers. A well-crafted resume objective can help you stand out from the competition and maximize your chances of getting hired.
When writing a CAD engineer resume objective, it's important to focus on the job requirements and highlight your skills that are relevant to the role. Start by stating your professional title, such as "CAD Engineer" or "Computer Aided Design Engineer", followed by a brief description of the type of work you are seeking. This should be followed by a brief summary of your qualifications, such as experience with specific software programs or design processes. Be sure to also mention any certifications or education related to CAD engineering that you have obtained.
Once you've stated your qualifications and experience, it's time to explain how they will benefit the employer. Focus on how your skills can help them achieve their goals and provide value to their organization. For example, you might emphasize how your experience with 3D modeling can help speed up product development times or how your knowledge of drafting software can improve accuracy in drawings.
Finally, end with a call-to-action for the employer to contact you for an interview or further discussion about the position. Make sure that all these components come together in one cohesive statement that conveys what makes you an ideal candidate for the job.
By crafting an effective resume objective for a CAD engineer role, you can demonstrate why hiring managers should take notice of your application and consider bringing you on board as part of their team.
Related: What does a CAD Engineer do?
Skills to Add for CAD Engineer Resume Objectives
As a CAD Engineer, a resume objective is an important part of your profile. It should be concise, clear and include relevant skills that will help you stand out from the competition. Skills to consider adding to your resume objective when writing a CAD engineer resume include:
1. Technical Proficiency: A successful CAD engineer needs to have technical proficiency in computer-aided design software such as AutoCAD and SolidWorks. Be sure to highlight any certifications or courses you have taken related to these programs.
2. Problem Solving: As a CAD engineer, you need to be able to identify problems and develop creative solutions. Demonstrate this by describing how you used problem-solving skills in past projects or initiatives.
3. Communication Skills: Communicating effectively with colleagues and customers is essential for any job, but especially for those in the engineering field. Showcase your communication skills by highlighting any presentations or reports you've given or written.
4. Attention to Detail: Attention to detail is critical for engineers because even small mistakes can lead to big problems down the line. Showcase this skill by describing how you double-checked calculations before submitting them, or how you identified potential issues early on in the development process before they became major issues later on.
5. Time Management: Engineering projects often require tight deadlines and efficient use of resources, so time management is an important skill for any engineer seeking employment in the field. Describe how you've managed competing priorities in past roles or how you've been able to complete tasks within strict timelines while maintaining accuracy and quality standards.
By including all of these skills in your resume objective, employers will get an accurate picture of what makes you a great candidate for their position as a CAD engineer!
Related: Top CAD Engineer Skills
Common Mistakes When Writing a CAD Engineer Resume Objective
Writing a resume objective as a CAD Engineer can be a challenging task, especially if you are unfamiliar with what employers are looking for. The objective is the most important part of your resume and should be tailored to the specific job you are applying for. It should highlight your qualifications, experience, and skills that make you an ideal candidate for the position. Unfortunately, many job seekers make some common mistakes when writing their resume objectives that can hurt their chances of landing an interview.
One mistake often made by applicants is not tailoring the objective to the particular job they are applying for. Employers want to see that you understand their needs and have researched the position before submitting your application. Writing a generic objective that could apply to any job in your field will not impress them and may even give them the impression that you do not care enough about the role to customize it specifically for their company. Be sure to include specific details such as job title, desired skills, qualifications or certifications, and industry-related keywords when crafting your objective.
Another mistake commonly seen on resumes is using overly broad language or being too vague about what type of position you are seeking. For example, stating "I am looking for an engineering position" does not tell employers anything specific about what type of role you want or how your experience applies to it. Instead, focus on including details such as which engineering field you specialize in or any relevant certifications or qualifications you possess that would make you an ideal candidate for the job.
Finally, many CAD engineers fail to mention their career goals in their resume objectives. While this may seem like a minor detail at first glance, it's actually very important because it gives employers insight into whether or not they should consider investing time and resources into training someone who may eventually leave once they reach those goals. Be sure to include long-term goals such as positions within a certain field or specialized certifications in order to show employers that you are serious about committing yourself to them over time if given the opportunity.
Overall, creating an effective resume objective requires careful thought and consideration regarding what each employer is looking for in a potential candidate. With proper research and preparation beforehand, you can ensure that your resume stands out from other applicants by avoiding these common mistakes when writing your CAD engineer resume objective!
Related: CAD Engineer Resume Examples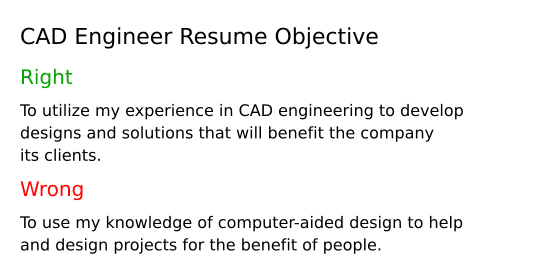 The right resume objective for a CAD Engineer should focus on the candidate's technical and engineering skills, while the wrong resume objective should not be too general and should instead emphasize specific job-related qualifications.