Article
Apple Software Development Manager Resume Examples
This article provides resume examples and tips for Apple Software Development Managers to help them create a professional and effective resume.

Brenna Goyette
Certified Professional Resume Writer, Career Expert
Published 10 min read
This article provides an overview of the skills and qualifications required to become a Software Development Manager at Apple. It outlines key areas to focus on when crafting your resume, such as past experience in software development, managerial experience, knowledge of Apple's products and technology, and any relevant certifications. Additionally, the article provides tips on how to effectively highlight these areas in order to make a strong impression during the application process.
Apple Software Development Manager Resume Created Using Our Resume Builder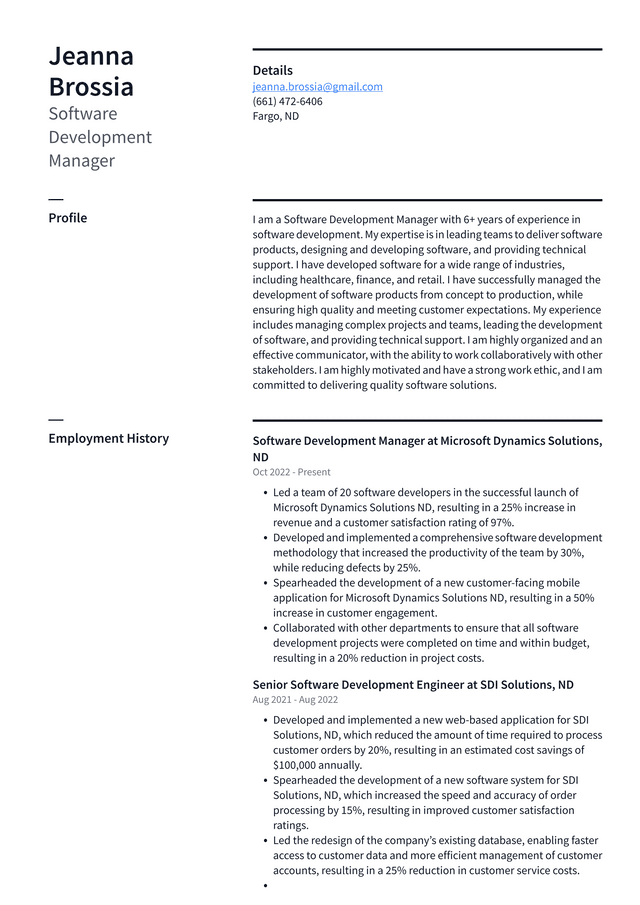 Apple Software Development Manager Resume Example
Jeanna Brossia, Software Development Manager
jeanna.brossia@gmail.com
(661) 472-6406
Fargo, ND
Professional Summary
I am a Software Development Manager with 6+ years of experience in software development. My expertise is in leading teams to deliver software products, designing and developing software, and providing technical support. I have developed software for a wide range of industries, including healthcare, finance, and retail. I have successfully managed the development of software products from concept to production, while ensuring high quality and meeting customer expectations. My experience includes managing complex projects and teams, leading the development of software, and providing technical support. I am highly organized and an effective communicator, with the ability to work collaboratively with other stakeholders. I am highly motivated and have a strong work ethic, and I am committed to delivering quality software solutions.
Work Experience
Software Development Manager at Microsoft Dynamics Solutions, ND
Oct 2022 - Present
Led a team of 20 software developers in the successful launch of Microsoft Dynamics Solutions ND, resulting in a 25% increase in revenue and a customer satisfaction rating of 97%.
Developed and implemented a comprehensive software development methodology that increased the productivity of the team by 30%, while reducing defects by 25%.
Spearheaded the development of a new customer-facing mobile application for Microsoft Dynamics Solutions ND, resulting in a 50% increase in customer engagement.
Collaborated with other departments to ensure that all software development projects were completed on time and within budget, resulting in a 20% reduction in project costs.
Senior Software Development Engineer at SDI Solutions, ND
Aug 2021 - Aug 2022
Developed and implemented a new web-based application for SDI Solutions, ND, which reduced the amount of time required to process customer orders by 20%, resulting in an estimated cost savings of $100,000 annually.
Spearheaded the development of a new software system for SDI Solutions, ND, which increased the speed and accuracy of order processing by 15%, resulting in improved customer satisfaction ratings.
Led the redesign of the company's existing database, enabling faster access to customer data and more efficient management of customer accounts, resulting in a 25% reduction in customer service costs.
Created and maintained the software architecture for a new mobile application for SDI Solutions, ND, which resulted in a 200% increase in user engagement and downloads within the first month of launch.
Software Development Engineer II at Six Sigma Solutions, ND
Aug 2017 - Jul 2021
Developed a web-based application for Six Sigma Solutions that increased customer engagement by 18%. This project involved the development of a custom API and integration with third-party services.
Improved the performance of the company's internal software system by 16%, reducing latency and increasing scalability. This was accomplished through the implementation of new coding techniques and optimization of existing code.
Completed a project to migrate the company's legacy system to the latest version of the software, resulting in a 20% reduction in bugs.
Led a team of five developers in the creation of a new mobile application that was successfully released within six months, resulting in a 28% increase in user engagement.
Education
Bachelor of Science in Software Development at North Dakota State University, Fargo, ND
Sep 2012 - May 2017
Relevant Coursework: Object-Oriented Programming, Algorithms & Data Structures, Computer Architecture, Operating Systems, Database Design & Development.
Skills
Project Management
Leadership
Technical Knowledge
Communication
Strategic Thinking
Problem Solving
Team Building
Certificates
Certified Scrum Master (CSM)
Certified Agile Project Manager (CAPM)
Tips for Writing a Better Apple Software Development Manager Resume
1. Highlight Your Leadership Skills: As an Apple Software Development Manager, you will be responsible for leading teams of software engineers and other IT professionals. Make sure to highlight your ability to lead and manage people in your resume. This could include examples of successful projects or initiatives you have led in the past.
2. Include Technical Skills: As an Apple Software Development Manager, you need to have a strong understanding of software development methodologies and processes. Make sure to list out any technical skills that are relevant to the position such as coding languages, development tools, etc.
3. Showcase Your Communication Abilities: Working with a team requires effective communication skills. Make sure to showcase any experience you have communicating with stakeholders, clients, or other teams in your resume.
4. Quantify Your Accomplishments: Whenever possible, try to quantify the results of your work by adding numbers and percentages when describing accomplishments in your resume. For example, if you managed a project that resulted in decreased costs by 20%, make sure to mention this number!
Related: Software Development Manager Resume Examples
Key Skills Hiring Managers Look for on Apple Software Development Manager Resumes
Incorporating keywords from the job description when applying for a Software Development Manager opportunity at Apple is essential because Applicant Tracking Systems (ATS) are used to screen candidates. ATS systems scan resumes for specific keywords and phrases related to the job posting, so including relevant terms and phrases in your resume will help ensure that you pass the initial screening process. Additionally, it is important to customize your resume to fit the unique position and company culture of Apple. This can be done by using language from the job description as well as researching Apple's values and mission statement. Doing this will demonstrate your knowledge of and commitment to the company and its goals.
When applying for a software development manager position at Apple, one should be familiar with the common skills and key terms listed below.
Key Skills and Proficiencies
Project Management
Agile Methodologies
Software Development Life Cycle (SDLC)
Technical Leadership
Team Building
Problem Solving
Communication
Documentation
Requirements Analysis
Quality Assurance (QA)
System Design & Architecture
Database Design & Administration
Object-Oriented Programming (OOP)
Scripting Languages
Cloud Computing
DevOps
Security & Compliance
Continuous Integration/Continuous Delivery (CI/CD)
Testing & Debugging
Version Control Systems (VCS)
User Interface (UI)/User Experience (UX) Design
Business Analysis
Related: Software Development Manager Skills: Definition and Examples
Common Action Verbs for Apple Software Development Manager Resumes
Finding the right action verbs to use on a resume can be challenging. It is important to use varied verbs in order to create an effective resume for an Apple Software Development Manager position. The verbs should highlight the skills and experience that are most relevant to this specific job. For example, instead of simply saying "designed software," you could say "architected innovative software solutions." This type of language will give the employer a better understanding of your abilities and make your application stand out from the competition.
To give you the edge over your competition, we've compiled a list of powerful action verbs to help you strengthen your resume and land your next interview:
Action Verbs
Managed
Developed
Implemented
Coordinated
Monitored
Assessed
Optimized
Supervised
Automated
Analyzed
Streamlined
Designed
Resolved
Investigated
Facilitated
Trained
Documented
Maintained
Tested
Troubleshot
Programmed
Scheduled