Article
Apple Programmer Analyst Resume Examples
This article provides examples of resumes for Apple Programmer Analysts, including qualifications, skills and experience necessary to be successful in the role.

Brenna Goyette
Certified Professional Resume Writer, Career Expert
Published 8 min read
This article will provide an in-depth guide to writing a resume for a Programmer Analyst role at Apple. It will discuss the key elements of a successful resume, such as the appropriate skills and experience to highlight, how to structure the content, and which words and phrases to use. Tips on how to tailor your resume specifically for Apple will also be discussed.
Apple Programmer Analyst Resume Created Using Our Resume Builder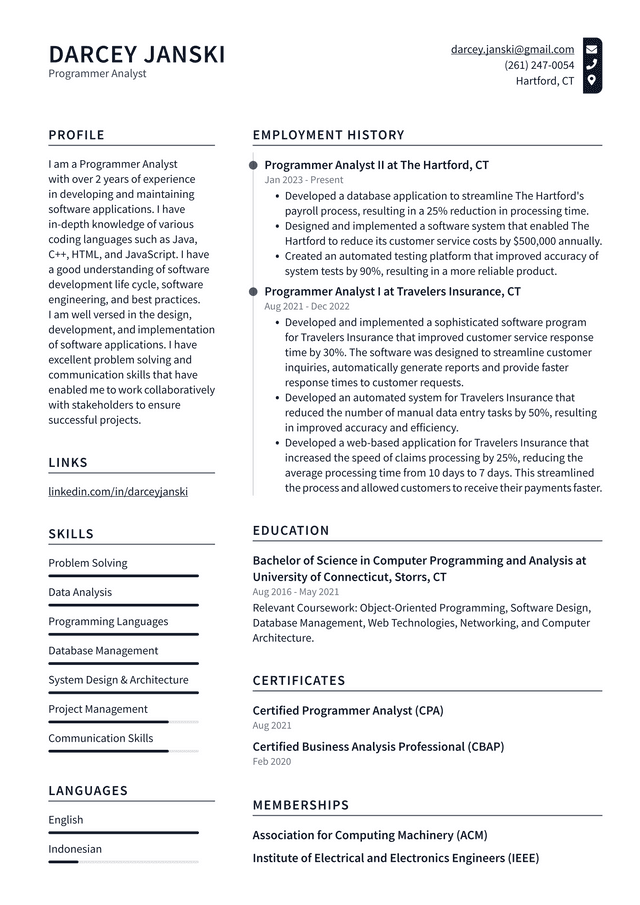 Apple Programmer Analyst Resume Example
Darcey Janski, Programmer Analyst
darcey.janski@gmail.com
(261) 247-0054
Hartford, CT
Professional Summary
I am a Programmer Analyst with over 2 years of experience in developing and maintaining software applications. I have in-depth knowledge of various coding languages such as Java, C++, HTML, and JavaScript. I have a good understanding of software development life cycle, software engineering, and best practices. I am well versed in the design, development, and implementation of software applications. I have excellent problem solving and communication skills that have enabled me to work collaboratively with stakeholders to ensure successful projects.
Work Experience
Programmer Analyst II at The Hartford, CT
Jan 2023 - Present
Developed a database application to streamline The Hartford's payroll process, resulting in a 25% reduction in processing time.
Designed and implemented a software system that enabled The Hartford to reduce its customer service costs by $500,000 annually.
Created an automated testing platform that improved accuracy of system tests by 90%, resulting in a more reliable product.
Programmer Analyst I at Travelers Insurance, CT
Aug 2021 - Dec 2022
Developed and implemented a sophisticated software program for Travelers Insurance that improved customer service response time by 30%. The software was designed to streamline customer inquiries, automatically generate reports and provide faster response times to customer requests.
Developed an automated system for Travelers Insurance that reduced the number of manual data entry tasks by 50%, resulting in improved accuracy and efficiency.
Developed a web-based application for Travelers Insurance that increased the speed of claims processing by 25%, reducing the average processing time from 10 days to 7 days. This streamlined the process and allowed customers to receive their payments faster.
Education
Bachelor of Science in Computer Programming and Analysis at University of Connecticut, Storrs, CT
Aug 2016 - May 2021
Relevant Coursework: Object-Oriented Programming, Software Design, Database Management, Web Technologies, Networking, and Computer Architecture.
Skills
Problem Solving
Data Analysis
Programming Languages
Database Management
System Design & Architecture
Project Management
Communication Skills
Certificates
Certified Programmer Analyst (CPA)
Certified Business Analysis Professional (CBAP)
Tips for Writing a Better Apple Programmer Analyst Resume
1. Highlight Your Technical Skills: Make sure to highlight your technical skills and knowledge in the areas of programming, coding, software development and systems analysis. This will help demonstrate your qualifications for the job.
2. Include Relevant Work Experience: Showcase your experience in working with Apple products and technologies. Explain the projects you completed and how they benefited the company or organization you worked for.
3. Demonstrate Your Problem-Solving Ability: Demonstrate your ability to solve complex problems by highlighting any successful projects that required creative solutions.
4. Showcase Your Leadership Qualities: If you have any experience leading teams or projects, make sure to include it on your resume as it will demonstrate your leadership qualities and show employers that you can work well with others.
5. Use Keywords: As Apple programmer analyst positions are highly competitive, it's important to use keywords throughout your resume that are relevant to the job posting. Doing so will help ensure that your application stands out from other applicants' resumes when employers are scanning through them quickly during their selection process.
Related: Programmer Analyst Resume Examples
Key Skills Hiring Managers Look for on Apple Programmer Analyst Resumes
Incorporating keywords from a job description into your application materials is especially important when applying for a Programmer Analyst position at Apple. This is because Apple uses an Applicant Tracking System (ATS) to scan resumes and cover letters for specific keywords that match the job opening. If the ATS doesn't detect any of the keywords in your application, it may not get routed to the hiring manager correctly. Therefore, it's essential to incorporate relevant keywords from the job description into your resume and cover letter to ensure that the ATS recognizes them and sends your application on to be properly reviewed.
When applying for a programmer analyst position at Apple, be aware of common skills and key terms that may appear in the job description.
Key Skills and Proficiencies
Programming
Analysis
Database
Troubleshooting
System Design
Problem Solving
Algorithms
Object-Oriented Design
Data Structures
Coding
Debugging
Software Development Life Cycle (SDLC)
Business Analysis
Agile Methodology
Project Management
Requirements Gathering
Quality Assurance Testing
Documentation
Technical Writing
User Interface Design
Networking
Cloud Computing
Related: Programmer Analyst Skills: Definition and Examples
Common Action Verbs for Apple Programmer Analyst Resumes
Writing a resume for an Apple Programmer Analyst position can be challenging. It is important to use varied action verbs in order to create a strong and effective resume. Action verbs such as "developed", "reviewed", and "updated" are common and often overused. To make your resume stand out, try to incorporate different action verbs that accurately describe your experience and accomplishments. This can include words like "managed", "initiated", "designed" or "implemented". By using varied action verbs, you will be able to create an attention-grabbing resume that demonstrates your potential as an Apple Programmer Analyst.
Gain a competitive advantage with our list of powerful action verbs to strengthen your resume and secure your next interview:
Action Verbs
Developed
Analyzed
Implemented
Designed
Programmed
Tested
Debugged
Monitored
Documented
Resolved
Upgraded
Automated
Investigated
Maintained
Optimized
Configured
Streamlined
Integrated
Troubleshot
Customized
Evaluated
Supported
Related: What does a Programmer Analyst do?