Article
Apple Augmented Reality Developer Resume Examples
This article provides examples of resumes for Apple Augmented Reality developers, highlighting the skills and experience needed to be successful in this field.

Brenna Goyette
Certified Professional Resume Writer, Career Expert
Updated 8 min read
This article will provide insight into the best strategies for crafting a resume to apply for an Augmented Reality Developer position at Apple. It will cover topics such as highlighting relevant skills, emphasizing accomplishments, and tailoring the language of your resume to the job description. Additionally, tips on how to showcase your technical proficiency in AR development and stand out from other applicants will be included.
Apple Augmented Reality Developer Resume Created Using Our Resume Builder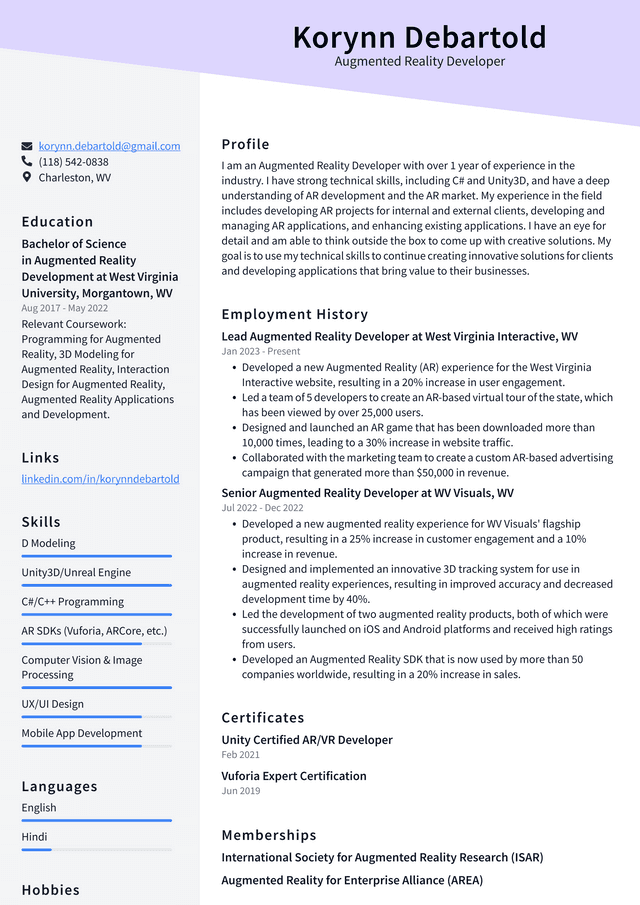 Apple Augmented Reality Developer Resume Example
Korynn Debartold, Augmented Reality Developer
korynn.debartold@gmail.com
(118) 542-0838
Charleston, WV
Professional Summary
I am an Augmented Reality Developer with over 1 year of experience in the industry. I have strong technical skills, including C# and Unity3D, and have a deep understanding of AR development and the AR market. My experience in the field includes developing AR projects for internal and external clients, developing and managing AR applications, and enhancing existing applications. I have an eye for detail and am able to think outside the box to come up with creative solutions. My goal is to use my technical skills to continue creating innovative solutions for clients and developing applications that bring value to their businesses.
Work Experience
Lead Augmented Reality Developer at West Virginia Interactive, WV
Jan 2023 - Present
Developed a new Augmented Reality (AR) experience for the West Virginia Interactive website, resulting in a 20% increase in user engagement.
Led a team of 5 developers to create an AR-based virtual tour of the state, which has been viewed by over 25,000 users.
Designed and launched an AR game that has been downloaded more than 10,000 times, leading to a 30% increase in website traffic.
Collaborated with the marketing team to create a custom AR-based advertising campaign that generated more than $50,000 in revenue.
Senior Augmented Reality Developer at WV Visuals, WV
Jul 2022 - Dec 2022
Developed a new augmented reality experience for WV Visuals' flagship product, resulting in a 25% increase in customer engagement and a 10% increase in revenue.
Designed and implemented an innovative 3D tracking system for use in augmented reality experiences, resulting in improved accuracy and decreased development time by 40%.
Led the development of two augmented reality products, both of which were successfully launched on iOS and Android platforms and received high ratings from users.
Developed an Augmented Reality SDK that is now used by more than 50 companies worldwide, resulting in a 20% increase in sales.
Education
Bachelor of Science in Augmented Reality Development at West Virginia University, Morgantown, WV
Aug 2017 - May 2022
Relevant Coursework: Programming for Augmented Reality, 3D Modeling for Augmented Reality, Interaction Design for Augmented Reality, Augmented Reality Applications and Development.
Skills
D Modeling
Unity3D/Unreal Engine
C#/C++ Programming
AR SDKs (Vuforia, ARCore, etc.)
Computer Vision & Image Processing
UX/UI Design
Mobile App Development
Certificates
Unity Certified AR/VR Developer
Vuforia Expert Certification
Tips for Writing a Better Apple Augmented Reality Developer Resume
1. Highlight Your Technical Expertise: Apple augmented reality (AR) developers need to demonstrate their technical knowledge and experience in the development of AR applications. Make sure to highlight your expertise and experience in developing for iOS, Swift, Objective-C, 3D graphics, and other relevant technologies.
2. Showcase Your Creativity: Apple AR developers need to be creative when building apps that are engaging and user-friendly. Showcase any special projects you've worked on or how you approached a problem from a creative perspective.
3. Demonstrate Your Problem-Solving Skills: Augmented reality is all about solving real-world problems with technology. Talk about how you have solved complex challenges in past projects or how you have taken initiative to improve existing applications.
4. Include Relevant Certifications: If you have earned certifications related to Apple AR development, make sure to include them on your resume. This can help demonstrate your skillset and commitment to learning new technologies.
5. List Any Awards You Have Won: If you have won awards or recognition for your work as an Apple AR developer, list them on your resume so employers can see what sets you apart from other applicants.
Related: Developer Resume Examples
Key Skills Hiring Managers Look for on Apple Augmented Reality Developer Resumes
Incorporating keywords from the job description when applying for an Augmented Reality Developer opportunity at Apple is essential due to their use of Applicant Tracking Systems (ATS). These systems are designed to scan resumes and applications for keywords that match the skills and qualifications required for the position. Therefore, including relevant keywords from the job description in your application will increase your chances of being selected for further review by potential employers. Additionally, it will also help ensure that your resume is visible to recruiters and hiring managers who use ATS software.
When applying for an Augmented Reality Developer position at Apple, you may encounter common skills and key terms such as the following:
Key Skills and Proficiencies
D Modeling
D Animation
Unity
C#
AR SDKs
Augmented Reality Frameworks
Computer Vision
Machine Learning
Image Processing
Object Recognition
Scene Understanding
Natural Language Processing
Mobile Application Development
Cross-Platform Development
UX/UI Design
Geolocation Technologies
OpenGL/OpenGL ES
Shader Programming
Physics Simulation
Network Programming
Cloud Computing
Game Development
Related: Developer Skills: Definition and Examples
Common Action Verbs for Apple Augmented Reality Developer Resumes
Finding a variety of action verbs to use on a resume can be difficult, especially when creating an Apple Augmented Reality Developer resume. It is important to use varied and specific verbs that accurately describe your experience and skills in order to create an effective and impactful resume. Using the same words over and over again can make your resume seem dull and uninspiring, so it's important to find new ways to express yourself and differentiate yourself from other applicants. Utilizing strong action verbs such as "developed", "engineered", "created", or "programmed" will help you stand out from the competition while also highlighting your capabilities in the field of augmented reality development.
Gain a competitive edge by using the following powerful action verbs in your resume to impress potential employers and secure your next interview:
Action Verbs
Developed
Implemented
Designed
Programmed
Tested
Debugged
Optimized
Monitored
Analyzed
Researched
Built
Configured
Documented
Troubleshot
Refactored
Integrated
Deployed
Customized
Upgraded
Automated
Maintained
Secured
Related: What does a Developer do?