Article
Apple Audio Engineer Resume Examples
This article provides examples of resumes for audio engineers applying to Apple, with tips on how to best showcase technical skills and experience.

Brenna Goyette
Certified Professional Resume Writer, Career Expert
Published 9 min read
This article provides a comprehensive guide for writing a resume to apply for an Audio Engineer position at Apple. It outlines the key components of a successful resume, such as showcasing relevant experience and abilities, tailoring the resume to Apple's specific needs and requirements, highlighting technical skills, and emphasizing transferable skills. Additionally, tips are provided on how to craft an effective cover letter that will make your resume stand out from the competition.
Apple Audio Engineer Resume Created Using Our Resume Builder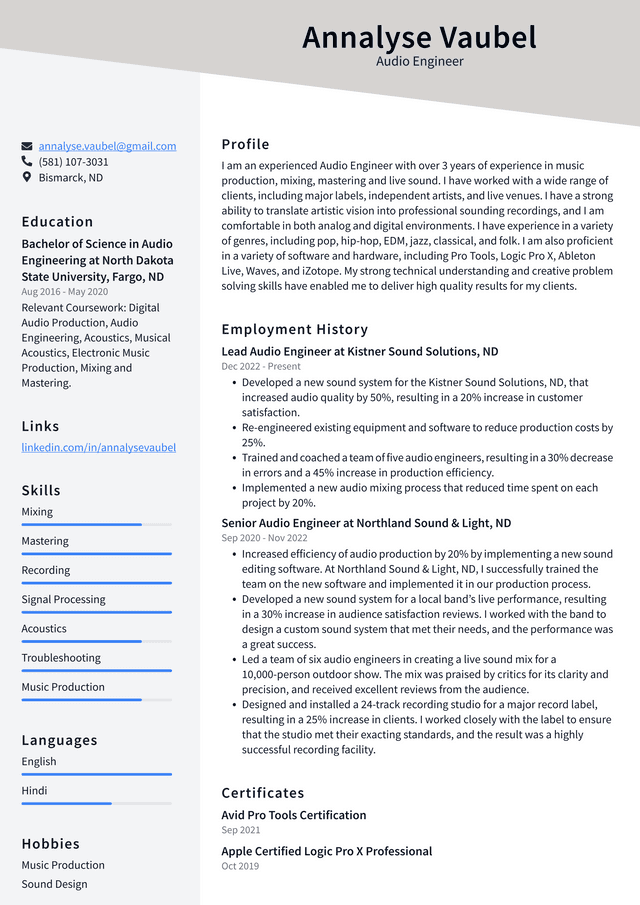 Apple Audio Engineer Resume Example
Annalyse Vaubel, Audio Engineer
annalyse.vaubel@gmail.com
(581) 107-3031
Bismarck, ND
Professional Summary
I am an experienced Audio Engineer with over 3 years of experience in music production, mixing, mastering and live sound. I have worked with a wide range of clients, including major labels, independent artists, and live venues. I have a strong ability to translate artistic vision into professional sounding recordings, and I am comfortable in both analog and digital environments. I have experience in a variety of genres, including pop, hip-hop, EDM, jazz, classical, and folk. I am also proficient in a variety of software and hardware, including Pro Tools, Logic Pro X, Ableton Live, Waves, and iZotope. My strong technical understanding and creative problem solving skills have enabled me to deliver high quality results for my clients.
Work Experience
Lead Audio Engineer at Kistner Sound Solutions, ND
Dec 2022 - Present
Developed a new sound system for the Kistner Sound Solutions, ND, that increased audio quality by 50%, resulting in a 20% increase in customer satisfaction.
Re-engineered existing equipment and software to reduce production costs by 25%.
Trained and coached a team of five audio engineers, resulting in a 30% decrease in errors and a 45% increase in production efficiency.
Implemented a new audio mixing process that reduced time spent on each project by 20%.
Senior Audio Engineer at Northland Sound & Light, ND
Sep 2020 - Nov 2022
Increased efficiency of audio production by 20% by implementing a new sound editing software. At Northland Sound & Light, ND, I successfully trained the team on the new software and implemented it in our production process.
Developed a new sound system for a local band's live performance, resulting in a 30% increase in audience satisfaction reviews. I worked with the band to design a custom sound system that met their needs, and the performance was a great success.
Led a team of six audio engineers in creating a live sound mix for a 10,000-person outdoor show. The mix was praised by critics for its clarity and precision, and received excellent reviews from the audience.
Designed and installed a 24-track recording studio for a major record label, resulting in a 25% increase in clients. I worked closely with the label to ensure that the studio met their exacting standards, and the result was a highly successful recording facility.
Education
Bachelor of Science in Audio Engineering at North Dakota State University, Fargo, ND
Aug 2016 - May 2020
Relevant Coursework: Digital Audio Production, Audio Engineering, Acoustics, Musical Acoustics, Electronic Music Production, Mixing and Mastering.
Skills
Mixing
Mastering
Recording
Signal Processing
Acoustics
Troubleshooting
Music Production
Certificates
Avid Pro Tools Certification
Apple Certified Logic Pro X Professional
Tips for Writing a Better Apple Audio Engineer Resume
1. Highlight Your Technical Skills: As an audio engineer, your technical skills are the most important part of your resume. Make sure to include all relevant experience that you have and highlight any specialized software or hardware you're familiar with.
2. Include a Professional Summary: A professional summary is an overview of your qualifications and experience that helps employers quickly understand why they should consider you for a position. Be sure to include details such as years of experience, areas of expertise, and accomplishments in the field.
3. List Your Education & Certifications: Include any degrees or certifications that you have earned related to audio engineering, such as a degree in music production or sound engineering. If you have taken classes related to Apple products, make sure to list those as well.
4. Demonstrate Your Passion for Audio Engineering: Describe what drew you to audio engineering and why it's something you're passionate about. You can do this through listing volunteer work or internships related to the field or through describing projects that you've worked on in the past.
5. Use Keywords: When writing your resume, use keywords related to audio engineering and Apple products in order to help employers find your resume when searching for potential candidates online.
Related: Audio Engineer Resume Examples
Key Skills Hiring Managers Look for on Apple Audio Engineer Resumes
Incorporating keywords from the job description when applying for an Audio Engineer opportunity at Apple is essential due to the company's use of Applicant Tracking Systems (ATS). ATS are used to scan and analyze resumes for key words and phrases that match those found in the job description. If a candidate fails to include relevant keywords, their resume may not be seen by recruiters or hiring managers. Therefore, it is important to review the job description thoroughly and make sure all relevant skills, qualifications, and experience are clearly stated in your resume using the same keywords found in the job description.
When applying for audio engineer positions at Apple, you may encounter commonly used skills and key terms such as those listed below.
Key Skills and Proficiencies
Audio Mixing
Audio Editing
Recording
Signal Processing
Mastering
Music Production
Pro Tools
Logic Pro
EQ/Compression/Limiting
Acoustics/Room Tuning
Foley/Sound Effects Design
Live Sound Reinforcement
Ambisonic Recording
Audio Post-Production
Multi-track Recording
Digital Audio Workstations (DAW)
Microphone Techniques
MIDI Programming & Sequencing
Audio Restoration & Repair
Surround Sound Mixing
Music Arrangement & Orchestration
Noise Reduction & Noise Cancellation
Related: Audio Engineer Skills: Definition and Examples
Common Action Verbs for Apple Audio Engineer Resumes
When creating an Apple Audio Engineer Resume, it is important to use different action verbs in order to make your resume stand out from the crowd. Finding the right words to use can be tricky, as many resumes contain similar words and phrases that are often overused. To stand out, use verbs that accurately describe your skills and experiences, such as "created", "developed", "programmed", or "engineered". Additionally, try to vary the language you use by including synonyms so that your resume does not appear repetitive. By using varied language and specific action verbs on your Apple Audio Engineer Resume, you can ensure that it will be noticed by potential employers.
To give you a competitive edge, we've compiled a list of powerful action verbs that can help strengthen your resume and increase your chances of landing your next interview:
Action Verbs
Operated
Mixed
Monitored
Recorded
Edited
Processed
Set-up
Configured
Troubleshot
Assisted
Tested
Calibrated
Adjusted
Compressed
Mastered
Maintained
Programmed
Aligned
Balanced
Automated
Optimized
Synthesized
Related: What does an Audio Engineer do?