Article
Amazon Network Security Administrator Resume Examples
This article provides examples of resumes for Amazon Network Security Administrators, highlighting key skills and experience needed to succeed in the role.

Brenna Goyette
Certified Professional Resume Writer, Career Expert
Published 9 min read
This article will provide guidance for writing a resume for the position of Network Security Administrator at Amazon. It will cover key points such as what to emphasize in your experience, how to demonstrate technical knowledge and expertise, and tips on creating an effective summary that will grab the attention of recruiters. Additionally, it will provide advice on highlighting credentials and certifications that are relevant to the position.
Amazon Network Security Administrator Resume Created Using Our Resume Builder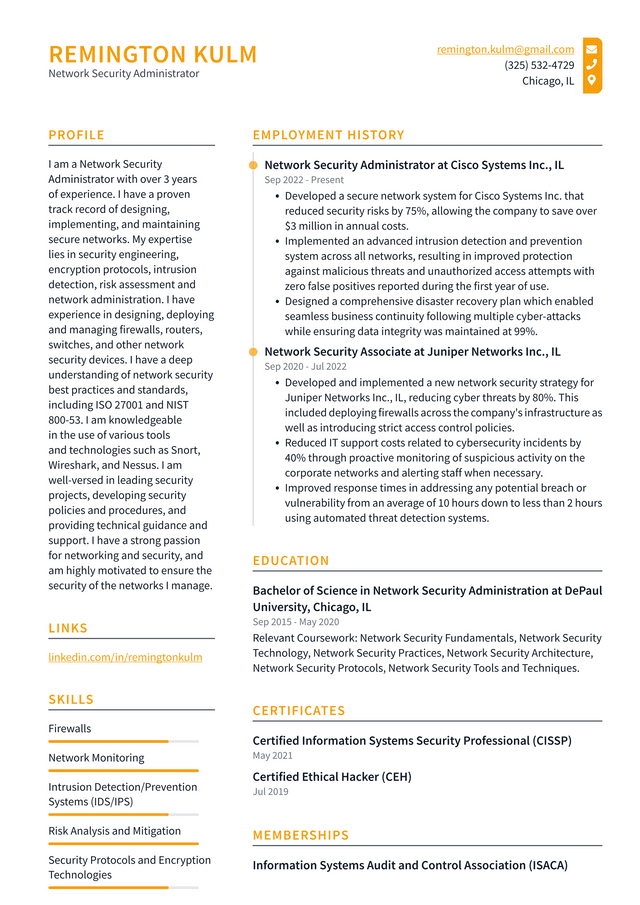 Amazon Network Security Administrator Resume Example
Remington Kulm, Network Security Administrator
remington.kulm@gmail.com
(325) 532-4729
Chicago, IL
Professional Summary
I am a Network Security Administrator with over 3 years of experience. I have a proven track record of designing, implementing, and maintaining secure networks. My expertise lies in security engineering, encryption protocols, intrusion detection, risk assessment and network administration. I have experience in designing, deploying and managing firewalls, routers, switches, and other network security devices. I have a deep understanding of network security best practices and standards, including ISO 27001 and NIST 800-53. I am knowledgeable in the use of various tools and technologies such as Snort, Wireshark, and Nessus. I am well-versed in leading security projects, developing security policies and procedures, and providing technical guidance and support. I have a strong passion for networking and security, and am highly motivated to ensure the security of the networks I manage.
Work Experience
Network Security Administrator at Cisco Systems Inc., IL
Sep 2022 - Present
Developed a secure network system for Cisco Systems Inc. that reduced security risks by 75%, allowing the company to save over $3 million in annual costs.
Implemented an advanced intrusion detection and prevention system across all networks, resulting in improved protection against malicious threats and unauthorized access attempts with zero false positives reported during the first year of use.
Designed a comprehensive disaster recovery plan which enabled seamless business continuity following multiple cyber-attacks while ensuring data integrity was maintained at 99%.
Network Security Associate at Juniper Networks Inc., IL
Sep 2020 - Jul 2022
Developed and implemented a new network security strategy for Juniper Networks Inc., IL, reducing cyber threats by 80%. This included deploying firewalls across the company's infrastructure as well as introducing strict access control policies.
Reduced IT support costs related to cybersecurity incidents by 40% through proactive monitoring of suspicious activity on the corporate networks and alerting staff when necessary.
Improved response times in addressing any potential breach or vulnerability from an average of 10 hours down to less than 2 hours using automated threat detection systems.
Education
Bachelor of Science in Network Security Administration at DePaul University, Chicago, IL
Sep 2015 - May 2020
Relevant Coursework: Network Security Fundamentals, Network Security Technology, Network Security Practices, Network Security Architecture, Network Security Protocols, Network Security Tools and Techniques.
Skills
Firewalls
Network Monitoring
Intrusion Detection/Prevention Systems (IDS/IPS)
Risk Analysis and Mitigation
Security Protocols and Encryption Technologies
Vulnerability Assessments
System Hardening
Certificates
Certified Information Systems Security Professional (CISSP)
Certified Ethical Hacker (CEH)
Tips for Writing a Better Amazon Network Security Administrator Resume
1. Highlight Your Network Security Experience: Make sure to emphasize your experience with network security systems, such as firewalls, intrusion detection/prevention systems, and other security technologies. Include specific examples of how you have implemented or maintained these systems.
2. Showcase Your Soft Skills: Network security administrators need to be able to communicate effectively with colleagues and customers, as well as troubleshoot technical issues quickly and efficiently. Highlight any soft skills that demonstrate your ability to work in a team environment and manage customer expectations.
3. Be Specific About Your Technical Knowledge: Mention any certifications or courses you've taken in the field of network security, such as CompTIA Security+ or CISSP. Also include any relevant programming languages or operating systems you are familiar with, such as Linux or Python.
4. Quantify Your Achievements: Whenever possible, quantify your accomplishments on the job using numbers or percentages to give employers a better understanding of the impact you had at your previous positions. For example, if you improved the performance of a network security system by 50%, make sure to include this information on your resume.
5. Use Keywords: When employers search for resumes on job boards like Amazon's recruiting site, they use keywords related to network security administrator roles to find potential candidates for positions they are looking for. Make sure that your resume includes these keywords so that it can be found more easily by recruiters and hiring managers who are searching for qualified applicants like yourself!
Related: Network Security Administrator Resume Examples
Key Skills Hiring Managers Look for on Amazon Network Security Administrator Resumes
Incorporating keywords from the job description into your application is essential when applying for a Network Security Administrator role at Amazon. This is because Amazon uses an Applicant Tracking System (ATS) to scan resumes and applications for certain keywords that relate to the job posting. If these keywords are not present in your application, your resume may not be seen by recruiters. Therefore, it is important to use words or phrases from the job description that best describe your skills, experience, and qualifications so that recruiters can find your application in the ATS.
When applying for network security administrator positions at Amazon, you may encounter common skills and key terms such as those listed below.
Key Skills and Proficiencies
Firewalls
Network Security
Intrusion Detection/Prevention
Vulnerability Assessment
Risk Analysis
Data Encryption
Network Monitoring
System Administration
Troubleshooting
Cyber Security
Access Control
Identity Management
Endpoint Protection
Antivirus/Anti-malware Solutions
Network Protocols
Network Architecture Design
Disaster Recovery Planning
Log Management and Analysis
Authentication & Authorization
Penetration Testing
Virtual Private Networks (VPN)
Wireless Network Security
Related: Network Security Administrator Skills: Definition and Examples
Common Action Verbs for Amazon Network Security Administrator Resumes
Finding appropriate action verbs to use on a resume can be challenging, especially for Amazon Network Security Administrator positions. It is important to use varied verbs that accurately reflect the job duties and responsibilities in order to create an effective resume. Using the same verb repeatedly can make the resume seem repetitive and dull; it is best to use words that reflect the specific tasks of the job. Additionally, choosing verbs that are easily understood by potential employers can be helpful as well.
To give you an advantage in your job search, we've compiled a list of powerful action verbs that can help strengthen your resume and increase your chances of landing an interview:
Action Verbs
Monitored
Configured
Implemented
Investigated
Analyzed
Resolved
Maintained
Deployed
Secured
Tested
Troubleshot
Documented
Upgraded
Administered
Assessed
Evaluated
Automated
Managed
Optimized
Encrypted
Restricted
Patched