Article
Amazon Computer Vision Engineer Resume Examples
This article provides examples of resumes from experienced Amazon Computer Vision Engineers, highlighting the skills and qualifications necessary for success in this position.

Brenna Goyette
Certified Professional Resume Writer, Career Expert
Updated 9 min read
This article will guide readers through the process of crafting a resume tailored to Amazon's job posting for a Computer Vision Engineer. It will cover topics such as how to highlight relevant skills and experience, what keywords to use in order to stand out from other applicants, and how to showcase your knowledge of computer vision technologies. The article will also include tips on how to emphasize the value you can bring to Amazon's team.
Amazon Computer Vision Engineer Resume Created Using Our Resume Builder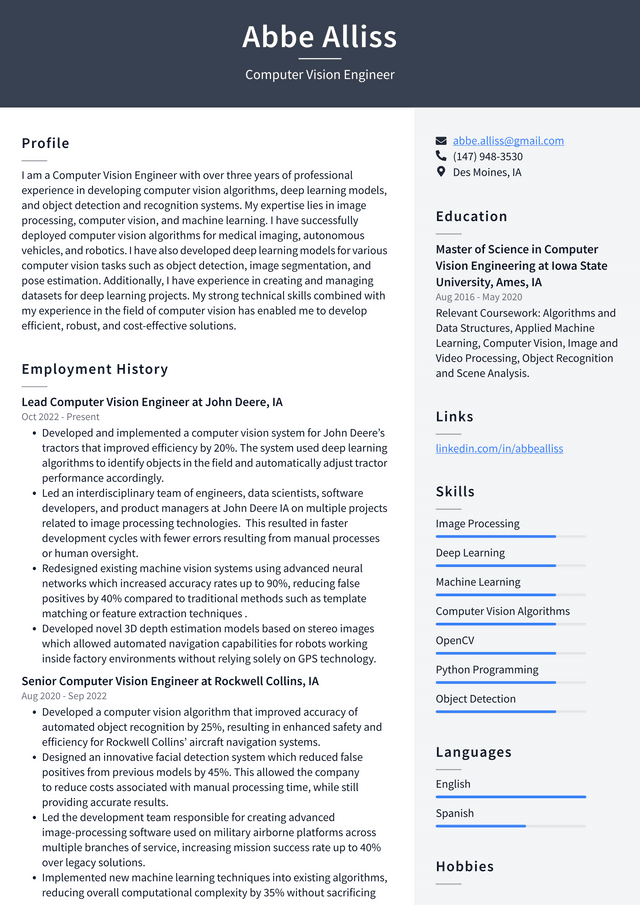 Amazon Computer Vision Engineer Resume Example
Abbe Alliss, Computer Vision Engineer
abbe.alliss@gmail.com
(147) 948-3530
Des Moines, IA
Professional Summary
I am a Computer Vision Engineer with over three years of professional experience in developing computer vision algorithms, deep learning models, and object detection and recognition systems. My expertise lies in image processing, computer vision, and machine learning. I have successfully deployed computer vision algorithms for medical imaging, autonomous vehicles, and robotics. I have also developed deep learning models for various computer vision tasks such as object detection, image segmentation, and pose estimation. Additionally, I have experience in creating and managing datasets for deep learning projects. My strong technical skills combined with my experience in the field of computer vision has enabled me to develop efficient, robust, and cost-effective solutions.
Work Experience
Lead Computer Vision Engineer at John Deere, IA
Oct 2022 - Present
Developed and implemented a computer vision system for John Deere's tractors that improved efficiency by 20%. The system used deep learning algorithms to identify objects in the field and automatically adjust tractor performance accordingly.
Led an interdisciplinary team of engineers, data scientists, software developers, and product managers at John Deere IA on multiple projects related to image processing technologies. This resulted in faster development cycles with fewer errors resulting from manual processes or human oversight.
Redesigned existing machine vision systems using advanced neural networks which increased accuracy rates up to 90%, reducing false positives by 40% compared to traditional methods such as template matching or feature extraction techniques .
Developed novel 3D depth estimation models based on stereo images which allowed automated navigation capabilities for robots working inside factory environments without relying solely on GPS technology.
Senior Computer Vision Engineer at Rockwell Collins, IA
Aug 2020 - Sep 2022
Developed a computer vision algorithm that improved accuracy of automated object recognition by 25%, resulting in enhanced safety and efficiency for Rockwell Collins' aircraft navigation systems.
Designed an innovative facial detection system which reduced false positives from previous models by 45%. This allowed the company to reduce costs associated with manual processing time, while still providing accurate results.
Led the development team responsible for creating advanced image-processing software used on military airborne platforms across multiple branches of service, increasing mission success rate up to 40% over legacy solutions.
Implemented new machine learning techniques into existing algorithms, reducing overall computational complexity by 35% without sacrificing performance or reliability levels – this resulted in significant cost savings due to fewer hardware requirements needed per platform deployed.
Education
Master of Science in Computer Vision Engineering at Iowa State University, Ames, IA
Aug 2016 - May 2020
Relevant Coursework: Algorithms and Data Structures, Applied Machine Learning, Computer Vision, Image and Video Processing, Object Recognition and Scene Analysis.
Skills
Image Processing
Deep Learning
Machine Learning
Computer Vision Algorithms
OpenCV
Python Programming
Object Detection
Certificates
OpenCV Certified Computer Vision Engineer
AWS Certified Machine Learning – Specialty
Tips for Writing a Better Amazon Computer Vision Engineer Resume
1. Highlight your technical skills: Make sure to include any relevant programming languages, frameworks, and libraries that you know in your resume. This will help employers identify what type of engineer you are and the types of projects you can work on.
2. Use industry-specific keywords: Amazon Computer Vision Engineers should use terms like "machine learning", "image recognition", "computer vision algorithms", "neural networks", and other related terms in their resumes to make sure they stand out from the competition.
3. Showcase your accomplishments: Talk about projects you have worked on or challenges you have overcome in your previous roles. Employers want to see how you applied your knowledge and expertise when working on difficult tasks.
4. Include a portfolio: If possible, include a link to an online portfolio that showcases some of the projects you have worked on or technologies you are familiar with. This will give employers a better idea of who you are as an engineer and what type of work they can expect from you if they hire you.
Related: Computer Engineer Resume Examples
Key Skills Hiring Managers Look for on Amazon Computer Vision Engineer Resumes
Incorporating keywords from the job description when applying for a Computer Vision Engineer opportunity at Amazon is essential. This is because Amazon uses Applicant Tracking Systems (ATS) to review resumes and rank them based on how closely they match the job description. If your resume does not include enough of the keywords that are used in the job description, it may be overlooked by the ATS and not reach a human recruiter. By including relevant keywords from the job description, you can ensure that your application will get noticed and increase your chances of being considered for an interview.
The following list outlines the common skills and key terms you may need to know when applying for a computer vision engineering position at Amazon:
Key Skills and Proficiencies
Machine Learning
Image Processing
Deep Learning
Computer Vision Algorithms
OpenCV
Neural Networks
Object Detection
Pattern Recognition
Image Segmentation
Feature Extraction
Image Classification
Image Analysis
D Reconstruction
Visualization Techniques
Natural Language Processing (NLP)
Robotics
Python Programming
C++ Programming
MATLAB Programming
CUDA Programming
TensorFlow
PyTorch
Related: Computer Engineer Skills: Definition and Examples
Common Action Verbs for Amazon Computer Vision Engineer Resumes
Finding different action verbs to use on a resume can be difficult, especially when creating an Amazon Computer Vision Engineer Resume. It's important to use varied verbs that describe your skills and experiences in order to make your resume stand out. Action verbs such as "engineered", "developed", "implemented", and "analyzed" are great for demonstrating the technical skills needed for this role. Additionally, words like "collaborated" and "communicated" will help show that you have the interpersonal skills required for a successful career in computer vision engineering. By using a variety of action verbs throughout your resume, you can effectively showcase both your technical and interpersonal abilities.
To give you an advantage over the competition, we've put together a list of powerful action verbs to help you strengthen your resume and secure your next interview:
Action Verbs
Developed
Implemented
Designed
Analyzed
Optimized
Tested
Debugged
Trained
Monitored
Investigated
Researched
Automated
Documented
Programmed
Integrated
Configured
Evaluated
Visualized
Interpreted
Enhanced
Refined
Deployed
Related: What does a Computer Engineer do?