Article
Amazon Cloud Migration Engineer Resume Examples
This article provides examples of resumes for Amazon Cloud Migration Engineers, including key skills and experience needed to be successful in the role.

Brenna Goyette
Certified Professional Resume Writer, Career Expert
Updated 9 min read
This article will provide an overview of how to create an effective resume when applying for a position as a Cloud Migration Engineer at Amazon. It will cover the important elements such as what information to include, how to make it stand out, and tips on how to demonstrate your knowledge and experience in the field. Additionally, it will discuss what employers are looking for and the best ways to showcase your qualifications for the job.
Amazon Cloud Migration Engineer Resume Created Using Our Resume Builder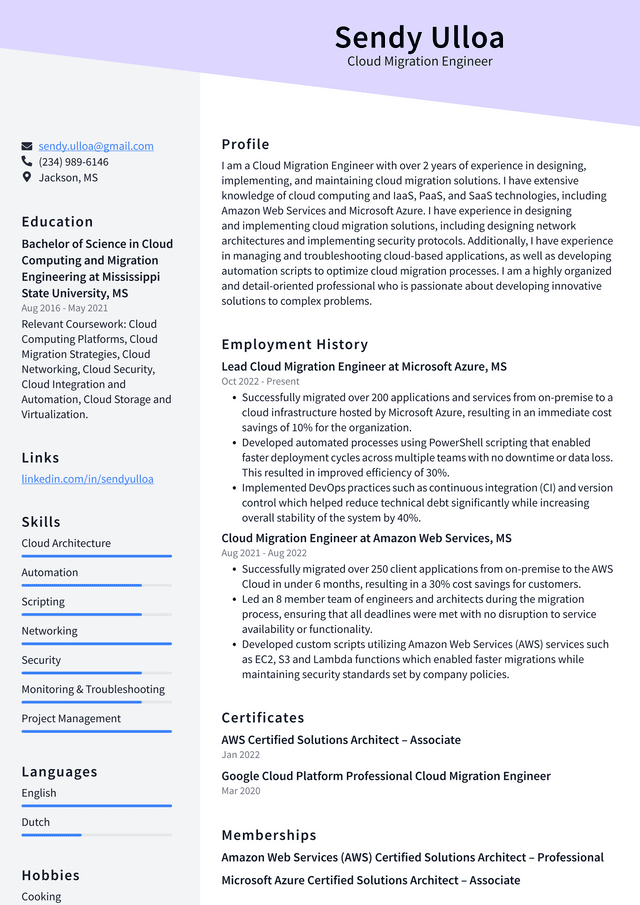 Amazon Cloud Migration Engineer Resume Example
Sendy Ulloa, Cloud Migration Engineer
sendy.ulloa@gmail.com
(234) 989-6146
Jackson, MS
Professional Summary
I am a Cloud Migration Engineer with over 2 years of experience in designing, implementing, and maintaining cloud migration solutions. I have extensive knowledge of cloud computing and IaaS, PaaS, and SaaS technologies, including Amazon Web Services and Microsoft Azure. I have experience in designing and implementing cloud migration solutions, including designing network architectures and implementing security protocols. Additionally, I have experience in managing and troubleshooting cloud-based applications, as well as developing automation scripts to optimize cloud migration processes. I am a highly organized and detail-oriented professional who is passionate about developing innovative solutions to complex problems.
Work Experience
Lead Cloud Migration Engineer at Microsoft Azure, MS
Oct 2022 - Present
Successfully migrated over 200 applications and services from on-premise to a cloud infrastructure hosted by Microsoft Azure, resulting in an immediate cost savings of 10% for the organization.
Developed automated processes using PowerShell scripting that enabled faster deployment cycles across multiple teams with no downtime or data loss. This resulted in improved efficiency of 30%.
Implemented DevOps practices such as continuous integration (CI) and version control which helped reduce technical debt significantly while increasing overall stability of the system by 40%.
Cloud Migration Engineer at Amazon Web Services, MS
Aug 2021 - Aug 2022
Successfully migrated over 250 client applications from on-premise to the AWS Cloud in under 6 months, resulting in a 30% cost savings for customers.
Led an 8 member team of engineers and architects during the migration process, ensuring that all deadlines were met with no disruption to service availability or functionality.
Developed custom scripts utilizing Amazon Web Services (AWS) services such as EC2, S3 and Lambda functions which enabled faster migrations while maintaining security standards set by company policies.
Education
Bachelor of Science in Cloud Computing and Migration Engineering at Mississippi State University, MS
Aug 2016 - May 2021
Relevant Coursework: Cloud Computing Platforms, Cloud Migration Strategies, Cloud Networking, Cloud Security, Cloud Integration and Automation, Cloud Storage and Virtualization.
Skills
Cloud Architecture
Automation
Scripting
Networking
Security
Monitoring & Troubleshooting
Project Management
Certificates
AWS Certified Solutions Architect – Associate
Google Cloud Platform Professional Cloud Migration Engineer
Tips for Writing a Better Amazon Cloud Migration Engineer Resume
1. Highlight Your Technical Skills: Make sure to highlight your technical skills and expertise in cloud migration engineering. This includes experience with AWS, Azure, Google Cloud Platform, or other cloud solutions. Include specific technologies you've used and accomplishments that demonstrate your skill level in this area.
2. Showcase Your Problem-Solving Skills: Amazon Cloud Migration Engineers need to be able to quickly identify and solve problems related to migrating applications and data from one environment to another. Showcase any experience you have with troubleshooting and problem-solving in a resume as this will help employers see the value you bring to the table.
3. Demonstrate Your Understanding of Security: As an Amazon Cloud Migration Engineer, security is a critical component of the job. Make sure your resume reflects your understanding of security principles and best practices when it comes to cloud migrations.
4. Share Relevant Certifications: If you have any relevant certifications related to cloud migration engineering, make sure they are included on your resume as this can give employers added confidence in your abilities.
5. Provide Examples of Successful Projects: Don't forget to include examples of successful projects you've worked on that demonstrate your ability as an Amazon Cloud Migration Engineer. This could include details about how you successfully completed a project within budget or timeline constraints or how you improved performance for a particular application after migrating it to the cloud.
Related: Cloud Engineer Resume Examples
Key Skills Hiring Managers Look for on Amazon Cloud Migration Engineer Resumes
Incorporating keywords from the job description when applying for a Cloud Migration Engineer opportunity at Amazon is essential. This is because Amazon uses an Applicant Tracking System (ATS) to scan applications and resumes for relevant keywords that match the job description. If your application contains the right keywords, it will be ranked higher in the ATS system and you'll have a better chance of getting noticed by hiring managers. Therefore, it's important to read through the job description carefully and incorporate any relevant words or phrases into your application.
When applying for a Cloud Migration Engineer position at Amazon, you may encounter common skills, such as cloud computing, networking, and scripting, as well as key terms such as Infrastructure-as-Code (IaC) and DevOps.
Key Skills and Proficiencies
Cloud Migration
Cloud Computing
AWS/Azure/GCP
Infrastructure Design
Automation
Scripting (Python, PowerShell)
Networking
Security
Data Migration
Database Migration
Application Migration
Cost Optimization
Performance Tuning
Troubleshooting
Monitoring and Alerting
Disaster Recovery Planning
Capacity Planning
Server Virtualization
Cloud Storage Management
Cloud Orchestration
DevOps Practices
CI/CD Pipelines
Related: Cloud Engineer Skills: Definition and Examples
Common Action Verbs for Amazon Cloud Migration Engineer Resumes
Finding the right action verbs to use on a resume can be difficult. It's important to use varied and specific verbs in order to create an Amazon Cloud Migration Engineer Resume that stands out from the competition. Examples of strong action verbs for this position include: configured, migrated, engineered, optimized, monitored, secured, automated, implemented, tested, and deployed. These words will help your resume stand out and show employers that you have the skills they are looking for in an Amazon Cloud Migration Engineer.
Boost your resume and stand out from the competition with this list of powerful action verbs that you can use to make a lasting impression during your next job interview:
Action Verbs
Migrated
Optimized
Automated
Configured
Deployed
Monitored
Secured
Tested
Assessed
Upgraded
Implemented
Managed
Troubleshot
Resolved
Documented
Analyzed
Streamlined
Consolidated
Virtualized
Integrated
Backed up
Restored
Related: What does a Cloud Engineer do?