Article
Adobe Motion Graphics Designer Resume Examples

Brenna Goyette
Certified Professional Resume Writer, Career Expert
Published 10 min read
This article provides comprehensive guidance on crafting an effective resume for a Motion Graphics Designer position at Adobe. It focuses on how to articulate and present your skills, experience, and accomplishments in motion graphics design, underlining the specifics that Adobe looks for in potential candidates. It includes tips on how to demonstrate proficiency in Adobe's suite of software, showcase your creativity and innovation through past projects, highlight collaboration and communication abilities, and effectively convey your understanding of visual storytelling. The piece also emphasizes the importance of aligning your career objectives with Adobe's mission and values. This guide is an invaluable tool for anyone aspiring to join Adobe as a Motion Graphics Designer.
Adobe Motion Graphics Designer Resume Created Using Our Resume Builder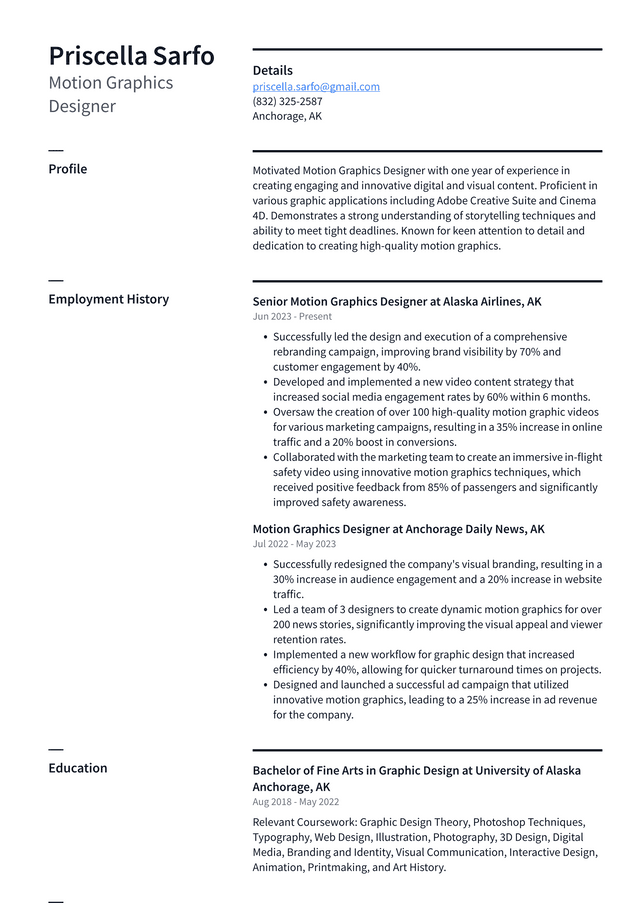 Adobe Motion Graphics Designer Resume Example
Priscella Sarfo, Motion Graphics Designer
priscella.sarfo@gmail.com
(832) 325-2587
Anchorage, AK
Professional Summary
Motivated Motion Graphics Designer with one year of experience in creating engaging and innovative digital and visual content. Proficient in various graphic applications including Adobe Creative Suite and Cinema 4D. Demonstrates a strong understanding of storytelling techniques and ability to meet tight deadlines. Known for keen attention to detail and dedication to creating high-quality motion graphics.
Work Experience
Senior Motion Graphics Designer at Alaska Airlines, AK
Jun 2023 - Present
Successfully led the design and execution of a comprehensive rebranding campaign, improving brand visibility by 70% and customer engagement by 40%.
Developed and implemented a new video content strategy that increased social media engagement rates by 60% within 6 months.
Oversaw the creation of over 100 high-quality motion graphic videos for various marketing campaigns, resulting in a 35% increase in online traffic and a 20% boost in conversions.
Collaborated with the marketing team to create an immersive in-flight safety video using innovative motion graphics techniques, which received positive feedback from 85% of passengers and significantly improved safety awareness.
Motion Graphics Designer at Anchorage Daily News, AK
Jul 2022 - May 2023
Successfully redesigned the company's visual branding, resulting in a 30% increase in audience engagement and a 20% increase in website traffic.
Led a team of 3 designers to create dynamic motion graphics for over 200 news stories, significantly improving the visual appeal and viewer retention rates.
Implemented a new workflow for graphic design that increased efficiency by 40%, allowing for quicker turnaround times on projects.
Designed and launched a successful ad campaign that utilized innovative motion graphics, leading to a 25% increase in ad revenue for the company.
Education
Bachelor of Fine Arts in Graphic Design at University of Alaska Anchorage, AK
Aug 2018 - May 2022
Relevant Coursework: Graphic Design Theory, Photoshop Techniques, Typography, Web Design, Illustration, Photography, 3D Design, Digital Media, Branding and Identity, Visual Communication, Interactive Design, Animation, Printmaking, and Art History.
Skills
After Effects
Cinema 4D
Illustrator
Photoshop
Premiere Pro
InDesign
Maya
Certificates
Adobe Certified Expert (ACE) in After Effects
Cinema 4D Certification from MAXON
Tips for Writing a Better Adobe Motion Graphics Designer Resume
1. Highlight Relevant Skills: As a motion graphics designer, you need to possess certain skills such as creativity, technical abilities, knowledge of software like Adobe Premiere Pro, After Effects and Cinema 4D. Make sure to include these in the skills section of your resume.
2. Showcase Your Portfolio: A portfolio is critical for a motion graphic designer. It showcases your work and demonstrates what you can do. Include a link to your online portfolio or website on your resume.
3. Use Action Verbs: Using action verbs can make your responsibilities and achievements sound more impressive. Words like designed, created, developed, initiated or implemented can make a big difference.
4. Include Relevant Work Experience: List all relevant work experience in reverse chronological order. Include the company name, time period you worked there and what your role and responsibilities were.
5. Mention Relevant Certifications: If you have any certifications related to motion graphics design or Adobe software suite, make sure to include them.
6. Quantify Achievements: Where possible, try to quantify your achievements in terms of numbers or percentages which provide concrete evidence of your skills and expertise.
7. Tailor Your Resume: Tailor your resume for each job application according to the specific requirements mentioned in the job description.
8. Keep it Concise: Hiring managers typically spend only a few seconds scanning each resume so keep yours concise and easy-to-read with clear headings.
9. Use Professional Language: Always use professional language and avoid using jargon or slang words on your resume.
10. Proofread & Edit: Check for spelling mistakes or grammatical errors as they may leave a negative impression on potential employers.
11. Update Regularly: Always keep updating your resume with new projects completed or new skills acquired.
12.Use Appropriate Keywords: Many companies use applicant tracking systems (ATS) that scan resumes for keywords related to the job posting - be sure to include relevant ones in your resume.
Related: Motion Graphics Designer Resume Examples
Key Skills Hiring Managers Look for on Adobe Motion Graphics Designer Resumes
When applying for a Motion Graphics Designer position at Adobe, it is essential to incorporate keywords from the job description into your resume and cover letter. This is because Adobe, like many other companies, uses an Applicant Tracking System (ATS) to streamline their hiring process. An ATS scans and sorts applications based on specific criteria set by the employer, often including relevant keywords found in the job description. If your application doesn't include these keywords, it may not be flagged as a strong match for the role, and you may miss out on an interview opportunity. Therefore, tailoring your application materials to reflect the language used in the job posting can significantly increase your chances of getting noticed by hiring managers at Adobe.
When applying for motion graphics designer positions at Adobe, you may encounter a list of common skills and key terms.
Key Skills and Proficiencies
Adobe Creative Suite proficiency
D Animation
Graphic Design
Video Editing
Storyboarding
Typography
Color Theory
Visual Effects (VFX)
Digital Illustration
Motion Design Software (e.g., After Effects, Cinema 4D)
Project Management
Creativity and Innovation
Attention to Detail
Time Management
Communication Skills
Problem-Solving Abilities
Understanding of Branding Principles
UX/UI Design Knowledge
HTML/CSS Coding Basics
Collaboration and Teamwork
Adaptability to New Technologies
Critical Thinking
Related: Motion Graphics Designer Skills: Definition and Examples
Common Action Verbs for Adobe Motion Graphics Designer Resumes
Creating an Adobe Motion Graphics Designer Resume can be a challenging task, especially when it comes to finding diverse action verbs to describe your skills and experiences. Using the same verbs repetitively can make your resume appear monotonous and may fail to fully capture the extent of your abilities. Varied action verbs not only add interest to your resume but also help to convey a clear and vivid picture of your capabilities in motion graphics design. They can effectively demonstrate the breadth and depth of your technical expertise, creativity, and problem-solving skills in Adobe software suite. Therefore, it is essential to carefully select powerful and specific action verbs that accurately reflect your contributions and achievements in this field.
To provide you with a competitive advantage, we have put together a list of potent action verbs that can enhance your resume and secure your next interview:
Action Verbs
Designed
Animated
Created
Edited
Collaborated
Developed
Implemented
Produced
Directed
Illustrated
Conceptualized
Crafted
Visualized
Rendered
Composed
Innovated
Optimized
Coordinated
Executed
Synthesized
Managed
Transformed