Article
Adobe Art Director Resume Examples

Brenna Goyette
Certified Professional Resume Writer, Career Expert
Published 10 min read
This insightful article provides a comprehensive guide on crafting an effective resume for the coveted position of Art Director at Adobe. It details essential tips and strategies, such as highlighting relevant experiences, emphasizing key skills like creative vision, leadership capabilities, software proficiency, and project management. It also guides you on how to showcase your unique accomplishments and professional growth. This article does not just focus on what to include but also how to articulate these elements in a compelling way that will catch Adobe's attention. The piece serves as a valuable resource for anyone aspiring to direct artistry at one of the world's leading software companies.
Adobe Art Director Resume Created Using Our Resume Builder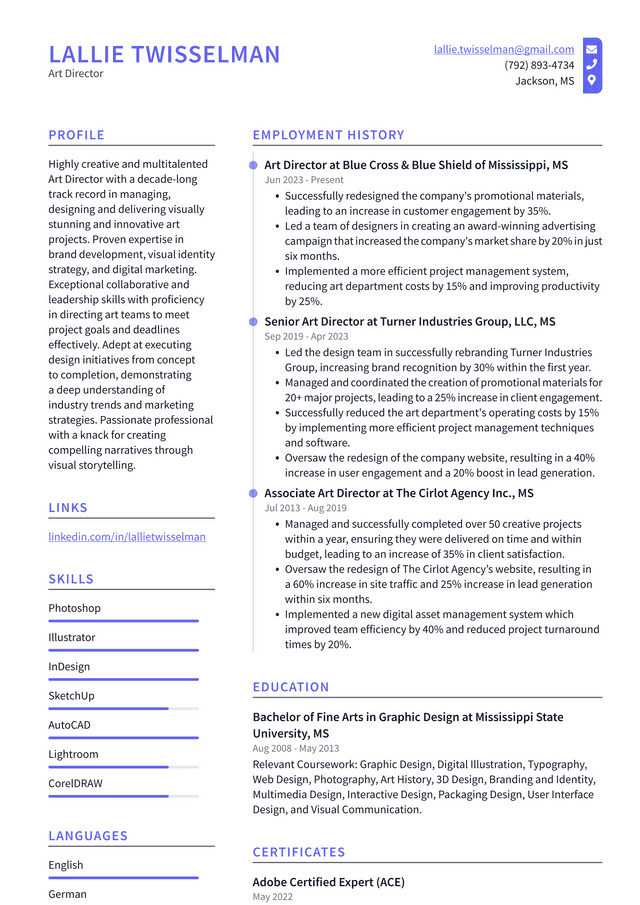 Adobe Art Director Resume Example
Lallie Twisselman, Art Director
lallie.twisselman@gmail.com
(792) 893-4734
Jackson, MS
Professional Summary
Highly creative and multitalented Art Director with a decade-long track record in managing, designing and delivering visually stunning and innovative art projects. Proven expertise in brand development, visual identity strategy, and digital marketing. Exceptional collaborative and leadership skills with proficiency in directing art teams to meet project goals and deadlines effectively. Adept at executing design initiatives from concept to completion, demonstrating a deep understanding of industry trends and marketing strategies. Passionate professional with a knack for creating compelling narratives through visual storytelling.
Work Experience
Art Director at Blue Cross & Blue Shield of Mississippi, MS
Jun 2023 - Present
Successfully redesigned the company's promotional materials, leading to an increase in customer engagement by 35%.
Led a team of designers in creating an award-winning advertising campaign that increased the company's market share by 20% in just six months.
Implemented a more efficient project management system, reducing art department costs by 15% and improving productivity by 25%.
Senior Art Director at Turner Industries Group, LLC, MS
Sep 2019 - Apr 2023
Led the design team in successfully rebranding Turner Industries Group, increasing brand recognition by 30% within the first year.
Managed and coordinated the creation of promotional materials for 20+ major projects, leading to a 25% increase in client engagement.
Successfully reduced the art department's operating costs by 15% by implementing more efficient project management techniques and software.
Oversaw the redesign of the company website, resulting in a 40% increase in user engagement and a 20% boost in lead generation.
Associate Art Director at The Cirlot Agency Inc., MS
Jul 2013 - Aug 2019
Managed and successfully completed over 50 creative projects within a year, ensuring they were delivered on time and within budget, leading to an increase of 35% in client satisfaction.
Oversaw the redesign of The Cirlot Agency's website, resulting in a 60% increase in site traffic and 25% increase in lead generation within six months.
Implemented a new digital asset management system which improved team efficiency by 40% and reduced project turnaround times by 20%.
Education
Bachelor of Fine Arts in Graphic Design at Mississippi State University, MS
Aug 2008 - May 2013
Relevant Coursework: Graphic Design, Digital Illustration, Typography, Web Design, Photography, Art History, 3D Design, Branding and Identity, Multimedia Design, Interactive Design, Packaging Design, User Interface Design, and Visual Communication.
Skills
Photoshop
Illustrator
InDesign
SketchUp
AutoCAD
Lightroom
CorelDRAW
Certificates
Adobe Certified Expert (ACE)
Professional Certified Marketer (PCM) - Digital Marketing
Tips for Writing a Better Adobe Art Director Resume
1. Highlight your experience: Start with a clear and concise summary of your professional experience as an art director. Be sure to include any specific projects or campaigns you have worked on, particularly those that utilized Adobe software.
2. Specify the Adobe software skills: As an Adobe Art Director, it's crucial to list down all the Adobe software tools you are proficient in such as Photoshop, Illustrator, InDesign, Premiere Pro, After Effects etc.
3. Showcase your creativity: Art directors need to be highly creative individuals. Include links or attachments of your work portfolio that showcases your creativity and design skills.
4. Mention relevant qualifications: Include any degrees or certifications related to art direction, graphic design or visual arts. If you have taken any courses on Adobe software tools, be sure to mention them.
5. Detail your leadership abilities: An art director often leads a team of designers and creatives. It's important to highlight any experience leading teams or managing projects.
6. Use action verbs and quantify achievements: Instead of using passive language like 'was responsible for', use action verbs like 'led', 'managed', 'designed' etc. Also try to quantify your achievements such as 'increased web traffic by 40%'.
7. Tailor for the job description: Make sure to tailor your resume for each job application according to the specific requirements mentioned in the job description.
8. Proofread and format properly: Ensure there are no typos or grammatical errors in your resume as they can make you seem unprofessional. Also make sure the formatting is clean and easy-to-read.
9. Keep it concise: Try not to exceed more than two pages in length; keep information relevant and concise.
10.Include references if possible: If you have previous employers who can vouch for your skills and professionalism, consider including them as references.
11.Use industry jargon carefully: While it is important to demonstrate familiarity with industry terminology, avoid overusing jargon or buzzwords that may confuse non-specialist readers or come off as pretentious.
12.Include a cover letter: A well-crafted cover letter can help set you apart from other candidates by allowing you space to tell a story about why you're uniquely qualified for the position.
Related: Art Director Resume Examples
Key Skills Hiring Managers Look for on Adobe Art Director Resumes
Applicant Tracking Systems (ATS) are used by many companies, including Adobe, to filter through numerous job applications. It's a software that scans and sorts resumes, highlighting the ones most relevant for the position. ATS is particularly sensitive to keywords - specific terms or phrases that are relevant to the job role. For an Art Director position at Adobe, it is crucial to incorporate keywords from the job description into your application. This could include terms such as "visual design," "team leadership," or "creative strategy." Including these keywords increases the likelihood of your resume passing through the ATS and reaching a human reviewer, significantly improving your chances of being considered for the role.
When applying for art director positions at Adobe, you may encounter key terms and common skills such as...
Key Skills and Proficiencies
Creative Direction
Graphic Design
Artistic Vision
Project Management
Leadership Skills
Adobe Creative Suite Proficiency
Branding and Identity
Communication Skills
Concept Development
Photography Direction
Typography Knowledge
Layout Design
Budget Management
Time Management
Attention to Detail
Decision Making Ability
Marketing Strategy Understanding
Teamwork and Collaboration Skills
Problem-Solving Skills
Digital and Print Production Knowledge
Presentation Skills
Understanding of Color Theory
Related: Art Director Skills: Definition and Examples
Common Action Verbs for Adobe Art Director Resumes
Creating an Adobe Art Director Resume can be a challenging task, especially when it comes to finding different action verbs to use. It's often difficult to step out of the box and find unique words that truly capture your skills and experiences. However, using varied verbs is crucial as it not only makes your resume more engaging, but also helps in painting a clearer picture of your abilities to potential employers. Overusing certain verbs can make your resume repetitive and monotonous, which may lead the hiring manager to lose interest. Thus, ensuring diversity in action verbs used in your Adobe Art Director Resume is key for standing out from the competition and grabbing the attention of recruiters.
To enhance your competitive advantage, we have curated a list of impactful action verbs that you can incorporate into your resume to fortify it and secure your subsequent interview:
Action Verbs
Conceptualized
Designed
Directed
Illustrated
Managed
Supervised
Coordinated
Collaborated
Developed
Executed
Produced
Innovated
Implemented
Oversaw
Initiated
Optimized
Visualized
Strategized
Streamlined
Enhanced
Evaluated
Negotiated
Related: What does an Art Director do?