Article
Netflix Software Test Engineer Resume Examples

Brenna Goyette
Certified Professional Resume Writer, Career Expert
Published 8 min read
This article will provide guidance on how to craft a resume for a Software Test Engineer position at Netflix. It will cover topics such as the types of skills and experience needed to be successful in this role, best practices for highlighting relevant qualifications, and tips for making your resume stand out. It will also provide examples of resumes from successful applicants to help guide readers through the process.
Netflix Software Test Engineer Resume Created Using Our Resume Builder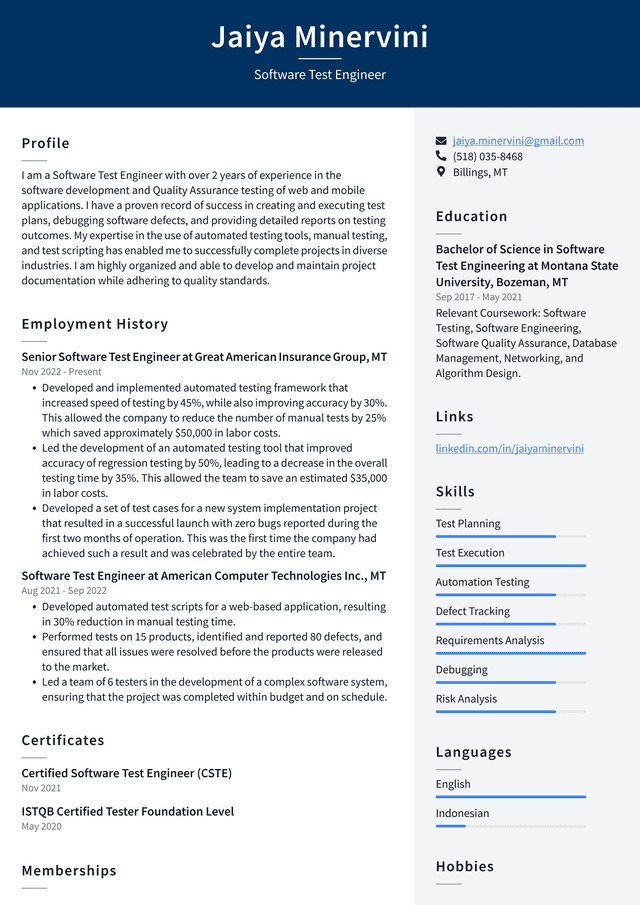 Netflix Software Test Engineer Resume Example
Jaiya Minervini, Software Test Engineer
jaiya.minervini@gmail.com
(518) 035-8468
Billings, MT
Professional Summary
I am a Software Test Engineer with over 2 years of experience in the software development and Quality Assurance testing of web and mobile applications. I have a proven record of success in creating and executing test plans, debugging software defects, and providing detailed reports on testing outcomes. My expertise in the use of automated testing tools, manual testing, and test scripting has enabled me to successfully complete projects in diverse industries. I am highly organized and able to develop and maintain project documentation while adhering to quality standards.
Work Experience
Senior Software Test Engineer at Great American Insurance Group, MT
Nov 2022 - Present
Developed and implemented automated testing framework that increased speed of testing by 45%, while also improving accuracy by 30%. This allowed the company to reduce the number of manual tests by 25% which saved approximately $50,000 in labor costs.
Led the development of an automated testing tool that improved accuracy of regression testing by 50%, leading to a decrease in the overall testing time by 35%. This allowed the team to save an estimated $35,000 in labor costs.
Developed a set of test cases for a new system implementation project that resulted in a successful launch with zero bugs reported during the first two months of operation. This was the first time the company had achieved such a result and was celebrated by the entire team.
Software Test Engineer at American Computer Technologies Inc., MT
Aug 2021 - Sep 2022
Developed automated test scripts for a web-based application, resulting in 30% reduction in manual testing time.
Performed tests on 15 products, identified and reported 80 defects, and ensured that all issues were resolved before the products were released to the market.
Led a team of 6 testers in the development of a complex software system, ensuring that the project was completed within budget and on schedule.
Education
Bachelor of Science in Software Test Engineering at Montana State University, Bozeman, MT
Sep 2017 - May 2021
Relevant Coursework: Software Testing, Software Engineering, Software Quality Assurance, Database Management, Networking, and Algorithm Design.
Skills
Test Planning
Test Execution
Automation Testing
Defect Tracking
Requirements Analysis
Debugging
Risk Analysis
Certificates
Certified Software Test Engineer (CSTE)
ISTQB Certified Tester Foundation Level
Tips for Writing a Better Netflix Software Test Engineer Resume
1. Highlight Your Testing Expertise: As a software test engineer, you should demonstrate your knowledge of testing techniques and processes in your resume. Show off your expertise by providing specific examples of the tests you have conducted and how they were successful.
2. Include Relevant Technical Skills: Demonstrate that you possess the technical skills required to be a successful software test engineer. Include any programming languages, software development tools, or automation frameworks that you are familiar with.
3. Focus on Quality Assurance: As a Netflix software test engineer, quality assurance is key to success. Make sure to highlight any experience you have in creating test plans and reviewing code for errors or bugs in order to ensure the highest quality product possible.
4. Detail Your Collaboration Experience: Netflix is known for its collaborative approach to problem solving, so make sure to detail any experience that you have working with other engineers or departments in order to solve problems quickly and efficiently.
5. Showcase Your Communication Skills: Finally, as a software test engineer at Netflix, it is important that you can effectively communicate complex ideas and solutions with stakeholders from all areas of the business in an easy-to-understand way. Make sure to include any instances where you have done this successfully in your resume!
Related: Software Test Engineer Resume Examples
Key Skills Hiring Managers Look for on Netflix Software Test Engineer Resumes
The importance of incorporating keywords from the job description when applying for a Software Test Engineer opportunity at Netflix cannot be overlooked. This is because Netflix uses Applicant Tracking Systems (ATS) to filter out candidates based on keyword matches. Therefore, for your application to stand out, you must ensure that your resume contains all the relevant keywords from the job description. This will help to increase your chances of being selected for further review and ultimately landing the job.
When applying for a Software Test Engineer position at Netflix, you may come across common skills and key terms such as those listed below.
Key Skills and Proficiencies
Test Planning
Test Design
Test Execution
Test Automation
Defect Tracking
Requirements Analysis
Regression Testing
System Testing
Performance Testing
Security Testing
User Acceptance Testing
Integration Testing
Exploratory Testing
Database Testing
API/Web Services Testing
Mobile Application Testing
Usability/Accessibility testing
Risk-based testing
Agile Methodologies
Reporting and Documentation
Debugging and Troubleshooting
Cross-browser compatibility testing
Related: Software Test Engineer Skills: Definition and Examples
Common Action Verbs for Netflix Software Test Engineer Resumes
Writing a resume for a software test engineer position can be difficult because it is important to use varied and specific action verbs. For example, instead of writing "tested software", you could write "validated accuracy of software code". This shows that you have a deeper understanding of the job and makes your resume stand out from other candidates. Additionally, using different action verbs throughout your resume will help demonstrate your range of skills and abilities in the field. It is important to show potential employers that you are knowledgeable and experienced in the specific tasks associated with the engineering role.
To give you a competitive edge, we've compiled a list of powerful action verbs to help you strengthen your resume and land your next interview:
Action Verbs
Executed
Developed
Tested
Verified
Analyzed
Monitored
Debugged
Investigated
Automated
Documented
Implemented
Optimized
Evaluated
Troubleshot
Resolved
Designed
Managed
Maintained
Configured
Validated
Reported
Assessed