Article
Netflix Mobile App Developer Resume Examples
This article provides resume examples and tips for mobile app developers looking to apply for a job at Netflix.

Brenna Goyette
Certified Professional Resume Writer, Career Expert
Updated 8 min read
This article will provide an overview of what to include when writing a resume for a Mobile App Developer role at Netflix. It will discuss the key skills, experiences and qualifications that should be included, as well as tips on how to make your resume stand out from other applicants. Additionally, it will provide advice on the best ways to showcase the unique value you can bring to Netflix in this role.
Netflix Mobile App Developer Resume Created Using Our Resume Builder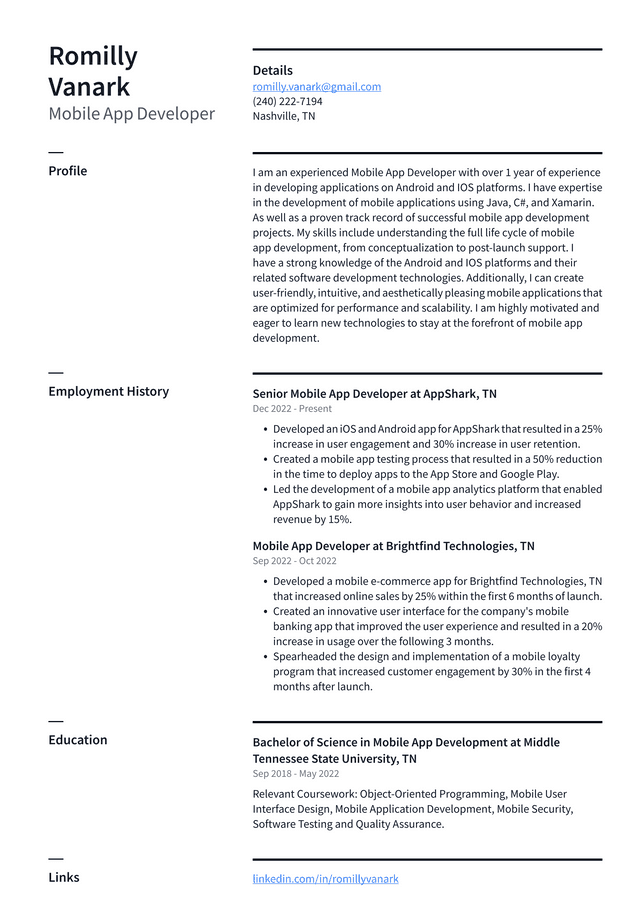 Netflix Mobile App Developer Resume Example
Romilly Vanark, Mobile App Developer
romilly.vanark@gmail.com
(240) 222-7194
Nashville, TN
Professional Summary
I am an experienced Mobile App Developer with over 1 year of experience in developing applications on Android and IOS platforms. I have expertise in the development of mobile applications using Java, C#, and Xamarin. As well as a proven track record of successful mobile app development projects. My skills include understanding the full life cycle of mobile app development, from conceptualization to post-launch support. I have a strong knowledge of the Android and IOS platforms and their related software development technologies. Additionally, I can create user-friendly, intuitive, and aesthetically pleasing mobile applications that are optimized for performance and scalability. I am highly motivated and eager to learn new technologies to stay at the forefront of mobile app development.
Work Experience
Senior Mobile App Developer at AppShark, TN
Dec 2022 - Present
Developed an iOS and Android app for AppShark that resulted in a 25% increase in user engagement and 30% increase in user retention.
Created a mobile app testing process that resulted in a 50% reduction in the time to deploy apps to the App Store and Google Play.
Led the development of a mobile app analytics platform that enabled AppShark to gain more insights into user behavior and increased revenue by 15%.
Mobile App Developer at Brightfind Technologies, TN
Sep 2022 - Oct 2022
Developed a mobile e-commerce app for Brightfind Technologies, TN that increased online sales by 25% within the first 6 months of launch.
Created an innovative user interface for the company's mobile banking app that improved the user experience and resulted in a 20% increase in usage over the following 3 months.
Spearheaded the design and implementation of a mobile loyalty program that increased customer engagement by 30% in the first 4 months after launch.
Education
Bachelor of Science in Mobile App Development at Middle Tennessee State University, TN
Sep 2018 - May 2022
Relevant Coursework: Object-Oriented Programming, Mobile User Interface Design, Mobile Application Development, Mobile Security, Software Testing and Quality Assurance.
Skills
Objective-C/Swift
UI/UX Design
Android Development
IOS Development
Database Management
API Integration
Testing & Debugging
Certificates
Apple Developer Certification
Google Mobile Sites Certificate
Tips for Writing a Better Netflix Mobile App Developer Resume
1. Focus on relevant experience: When writing your resume, focus on the experiences that are most relevant to the Netflix Mobile App Developer position you're applying for. Highlight any experiences you have working with mobile app design and development, as well as any experience you have developing apps for Android or iOS.
2. Include your tech stack: Make sure to list out the technologies and tools you're familiar with in your resume. This information will help demonstrate to hiring managers that you possess the necessary skillset for the job.
3. Showcase your portfolio: If you have a portfolio of apps or projects that you've developed, make sure to include it in your resume. Doing so will help showcase your technical capabilities and give potential employers a better idea of what type of work they can expect from you.
4. Demonstrate leadership skills: The ability to lead a team is an important skill for any developer, so make sure to highlight any examples of leadership experience in your resume if possible. Showing off your ability to take initiative and provide guidance can be beneficial when trying to land a job as a Netflix Mobile App Developer.
5. Use keywords: With so many resumes being submitted for each position, it's important to stand out by using keywords related to mobile app development in your resume. Employers often use keyword search tools when looking through resumes, so including relevant terms could help make yours stand out from the pack!
Related: Mobile Application Developer Resume Examples
Key Skills Hiring Managers Look for on Netflix Mobile App Developer Resumes
When applying for a Mobile App Developer opportunity at Netflix, it is important to incorporate keywords from the job description into your application. This is because when submitting applications, Netflix uses Applicant Tracking Systems (ATS) to scan resumes and cover letters for desired skills and qualifications. By including relevant keywords from the job description in your application, you are more likely to be flagged as a potential candidate by the ATS. Furthermore, if you have the necessary qualifications but don't use the right words in your application, you may not even be considered for the position.
The following list highlights key skills and terms related to mobile app development that are commonly sought after by Netflix when recruiting for mobile app developer positions:
Key Skills and Proficiencies
IOS
Android
Objective-C
Swift
Java
Kotlin
RESTful APIs
JSON/XML
UI/UX Design
User Interface Design
User Experience Design
Agile Methodology
Testing & Debugging
Database Management
Version Control (Git)
Cloud Computing (AWS, Azure)
SDKs and Frameworks
Push Notifications
Security & Authentication
Mobile Payment Integration
App Store Optimization (ASO)
Augmented Reality (AR)/ Virtual Reality (VR)
Related: Mobile Application Developer Skills: Definition and Examples
Common Action Verbs for Netflix Mobile App Developer Resumes
Finding the right action verbs to use on a resume can be tricky. It is important to use varied verbs when creating a Netflix Mobile App Developer Resume in order to stand out and demonstrate your skills and experience. Using the same verb over and over again can make your resume look repetitive and dull. Instead, try to use words that are specific to the job you are applying for, such as "developed", "programmed", "tested", "created" or "designed". These words will help you demonstrate your expertise in mobile app development and show recruiters what you are capable of.
To give you an advantage over the competition, we've put together a list of strong action verbs that will help strengthen your resume and increase your chances of getting an interview:
Action Verbs
Developed
Implemented
Designed
Tested
Debugged
Optimized
Analyzed
Resolved
Monitored
Integrated
Customized
Configured
Updated
Refactored
Documented
Troubleshot
Maintained
Supported
Evaluated
Created
Built
Deployed