Article
Netflix Analytics Manager Resume Examples
This article provides examples of resumes for Netflix Analytics Managers, highlighting key skills and experience to help you craft an effective job application.

Brenna Goyette
Certified Professional Resume Writer, Career Expert
Published 8 min read
This article will provide guidance on how to write a resume for the position of Analytics Manager at Netflix. It will discuss how to showcase your knowledge and experience in analytics, as well as the skills needed to succeed in this role. Additionally, it will cover the importance of highlighting relevant certifications and data-driven accomplishments that demonstrate your ability to drive insights from data. Finally, it will provide tips on how to tailor your resume specific to the job description for Netflix's Analytics Manager position.
Netflix Analytics Manager Resume Created Using Our Resume Builder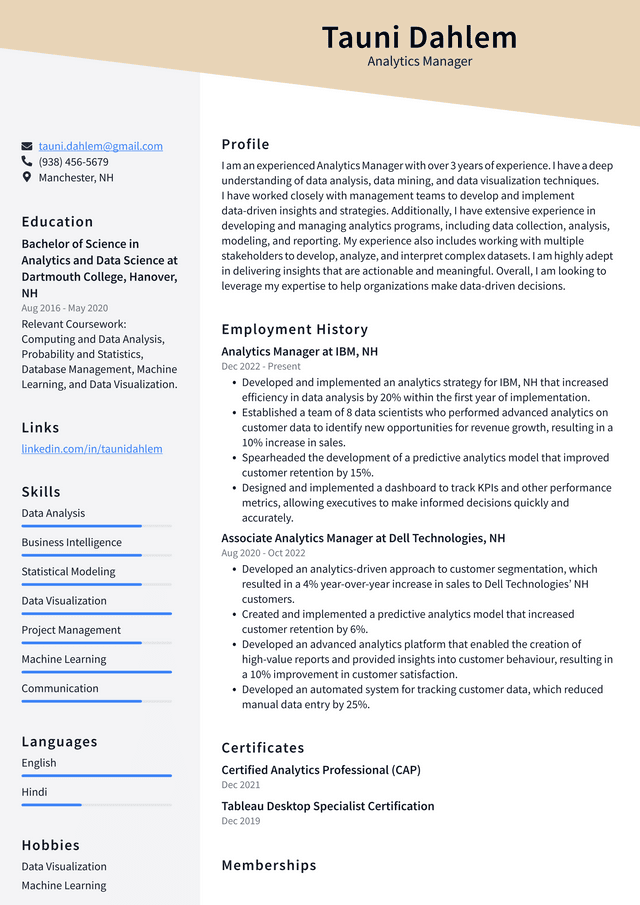 Netflix Analytics Manager Resume Example
Tauni Dahlem, Analytics Manager
tauni.dahlem@gmail.com
(938) 456-5679
Manchester, NH
Professional Summary
I am an experienced Analytics Manager with over 3 years of experience. I have a deep understanding of data analysis, data mining, and data visualization techniques. I have worked closely with management teams to develop and implement data-driven insights and strategies. Additionally, I have extensive experience in developing and managing analytics programs, including data collection, analysis, modeling, and reporting. My experience also includes working with multiple stakeholders to develop, analyze, and interpret complex datasets. I am highly adept in delivering insights that are actionable and meaningful. Overall, I am looking to leverage my expertise to help organizations make data-driven decisions.
Work Experience
Analytics Manager at IBM, NH
Dec 2022 - Present
Developed and implemented an analytics strategy for IBM, NH that increased efficiency in data analysis by 20% within the first year of implementation.
Established a team of 8 data scientists who performed advanced analytics on customer data to identify new opportunities for revenue growth, resulting in a 10% increase in sales.
Spearheaded the development of a predictive analytics model that improved customer retention by 15%.
Designed and implemented a dashboard to track KPIs and other performance metrics, allowing executives to make informed decisions quickly and accurately.
Associate Analytics Manager at Dell Technologies, NH
Aug 2020 - Oct 2022
Developed an analytics-driven approach to customer segmentation, which resulted in a 4% year-over-year increase in sales to Dell Technologies' NH customers.
Created and implemented a predictive analytics model that increased customer retention by 6%.
Developed an advanced analytics platform that enabled the creation of high-value reports and provided insights into customer behaviour, resulting in a 10% improvement in customer satisfaction.
Developed an automated system for tracking customer data, which reduced manual data entry by 25%.
Education
Bachelor of Science in Analytics and Data Science at Dartmouth College, Hanover, NH
Aug 2016 - May 2020
Relevant Coursework: Computing and Data Analysis, Probability and Statistics, Database Management, Machine Learning, and Data Visualization.
Skills
Data Analysis
Business Intelligence
Statistical Modeling
Data Visualization
Project Management
Machine Learning
Communication
Certificates
Certified Analytics Professional (CAP)
Tableau Desktop Specialist Certification
Tips for Writing a Better Netflix Analytics Manager Resume
1. Highlight your experience: Make sure to include any relevant experience you have related to Netflix analytics and data management. This could include working with Big Data, managing databases, or analyzing trends in customer behavior.
2. Showcase your technical skills: As a Netflix analytics manager, you need to have a strong understanding of the tools used to manage data and interpret results. Include any certifications or courses you've taken that demonstrate your knowledge of these technologies.
3. Demonstrate your leadership abilities: Describe any successes you've had leading teams and using analytics to inform decisions. This can be especially important for those interested in managerial roles within an organization's analytics team.
4. Tailor your resume: Be sure to customize your resume for each job application so that it highlights the skills and experiences most relevant to the position. This will help make sure you stand out as a top candidate!
Related: Analytics Manager Resume Examples
Key Skills Hiring Managers Look for on Netflix Analytics Manager Resumes
When applying for an Analytics Manager opportunity at Netflix, it is important to incorporate keywords from the job description into your resume and cover letter. This is because Netflix uses Applicant Tracking Systems (ATS) to evaluate resumes and applications. ATS are programmed to scan resumes for specific words or phrases related to the position, so including keywords from the job description will increase your chances of being selected for an interview. Additionally, emphasizing relevant skills and experience in your application materials will make it easier for recruiters to assess whether you are a good fit for the role.
When applying for an Analytics Manager position at Netflix, you may come across skills and key terms such as those listed below.
Key Skills and Proficiencies
Data Analysis
Data Visualization
Business Intelligence
Statistical Modeling
Machine Learning
Predictive Analytics
Database Management
Reporting and Dashboarding
Project Management
Leadership
Strategic Thinking
Problem Solving
Communication
Presentation Skills
Data Mining
SQL Querying
R Programming
Python Programming
SAS Programming
Excel Proficiency
Tableau Proficiency
Big Data Technologies
Related: Analytics Manager Skills: Definition and Examples
Common Action Verbs for Netflix Analytics Manager Resumes
Finding the right action verbs to use on a resume can be difficult. Using varied verb choices is important when creating a Netflix Analytics Manager Resume, as it allows you to showcase your skills and abilities in more detail. Action verbs such as "analyzed", "managed", "developed", and "coordinated" are great for demonstrating the work that you have done in the past. Additionally, words like "created", "implemented", and "monitored" can help to give the reader an idea of how you will approach future projects. By taking the time to choose unique and powerful action verbs, you can ensure that your Netflix Analytics Manager Resume stands out from the competition.
Gain an edge over the competition with our list of powerful action verbs you can use to strengthen your resume and increase your chances of securing an interview:
Action Verbs
Developed
Implemented
Managed
Analyzed
Optimized
Coordinated
Monitored
Assessed
Investigated
Forecasted
Generated
Streamlined
Automated
Modeled
Interpreted
Visualized
Reported
Collaborated
Presented
Facilitated
Enforced
Executed
Related: What does an Analytics Manager do?