Article
Google Systems Engineer Resume Examples
This article provides examples of resumes for Google Systems Engineers, highlighting key skills and experience required for the role.

Brenna Goyette
Certified Professional Resume Writer, Career Expert
Published 8 min read
This article will provide an overview of how to write a resume for a Systems Engineer role at Google. It will discuss the key elements that should be included in the resume, such as professional summary, technical skills, relevant experience and education, and any additional qualifications that are pertinent to the position. It will also provide advice on how to tailor the resume for Google's specific requirements. Finally, it will offer tips on how to make the resume stand out from other applicants.
Google Systems Engineer Resume Created Using Our Resume Builder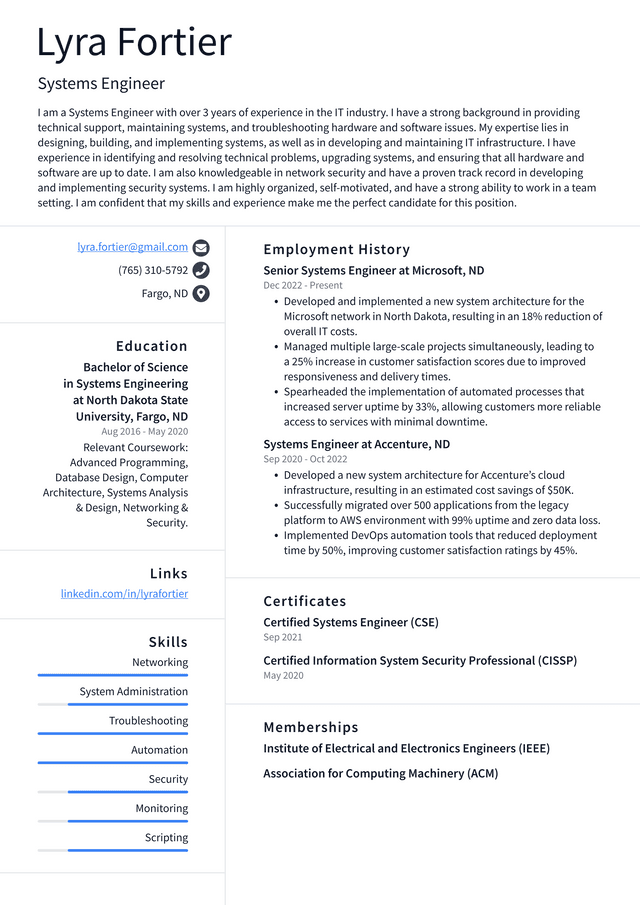 Google Systems Engineer Resume Example
Lyra Fortier, Systems Engineer
lyra.fortier@gmail.com
(765) 310-5792
Fargo, ND
Professional Summary
I am a Systems Engineer with over 3 years of experience in the IT industry. I have a strong background in providing technical support, maintaining systems, and troubleshooting hardware and software issues. My expertise lies in designing, building, and implementing systems, as well as in developing and maintaining IT infrastructure. I have experience in identifying and resolving technical problems, upgrading systems, and ensuring that all hardware and software are up to date. I am also knowledgeable in network security and have a proven track record in developing and implementing security systems. I am highly organized, self-motivated, and have a strong ability to work in a team setting. I am confident that my skills and experience make me the perfect candidate for this position.
Work Experience
Senior Systems Engineer at Microsoft, ND
Dec 2022 - Present
Developed and implemented a new system architecture for the Microsoft network in North Dakota, resulting in an 18% reduction of overall IT costs.
Managed multiple large-scale projects simultaneously, leading to a 25% increase in customer satisfaction scores due to improved responsiveness and delivery times.
Spearheaded the implementation of automated processes that increased server uptime by 33%, allowing customers more reliable access to services with minimal downtime.
Systems Engineer at Accenture, ND
Sep 2020 - Oct 2022
Developed a new system architecture for Accenture's cloud infrastructure, resulting in an estimated cost savings of $50K.
Successfully migrated over 500 applications from the legacy platform to AWS environment with 99% uptime and zero data loss.
Implemented DevOps automation tools that reduced deployment time by 50%, improving customer satisfaction ratings by 45%.
Education
Bachelor of Science in Systems Engineering at North Dakota State University, Fargo, ND
Aug 2016 - May 2020
Relevant Coursework: Advanced Programming, Database Design, Computer Architecture, Systems Analysis & Design, Networking & Security.
Skills
Networking
System Administration
Troubleshooting
Automation
Security
Monitoring
Scripting
Certificates
Certified Systems Engineer (CSE)
Certified Information System Security Professional (CISSP)
Tips for Writing a Better Google Systems Engineer Resume
1. Highlight Your Technical Expertise: As a Google Systems Engineer, employers are looking for someone with specific technical skills and knowledge. Make sure to highlight your experience and expertise in the relevant areas such as systems administration, cloud computing, scripting languages, etc.
2. Include Accomplishments: Employers want to know what you've done before and how you can benefit their business. Make sure to include industry-specific accomplishments that demonstrate your value as a Google Systems Engineer.
3. Quantify Your Results: Don't just list your duties; quantify the results of your work whenever possible. This will show employers the tangible benefits of hiring you as a Google Systems Engineer.
4. Tailor Your Resume for Each Job: Don't send out generic resumes for each job; tailor it specifically for each position by highlighting the most relevant skills and experiences from your background that match the job description.
5. Use Keywords: Many companies use automated software to scan resumes for keywords related to the job posting, so make sure to include these in your resume wherever possible.
Related: Systems Engineer Resume Examples
Key Skills Hiring Managers Look for on Google Systems Engineer Resumes
The use of Applicant Tracking Systems (ATS) at Google has made it important for job seekers to incorporate keywords from the job description when applying for a position as a Systems Engineer. ATS systems are designed to scan applications for specific keywords, and if those words are not included in the application, then the applicant may not be considered. Therefore, it is crucial that applicants include relevant keywords from the job description when applying for any opportunity at Google.
When applying for systems engineer positions at Google, you may encounter common skills, such as problem solving, communication, and technical expertise, and key terms like system architecture and cloud computing.
Key Skills and Proficiencies
Networking
System Architecture
Troubleshooting
Security
Automation
Cloud Computing
Virtualization
Scripting (Python, Bash, etc.)
Linux/Unix Administration
Windows Server Administration
Storage Management
Monitoring and Performance Tuning
Disaster Recovery Planning
Backup and Recovery
ITIL Processes
Network Design and Implementation
Database Administration
System Integration
Capacity Planning
Technical Documentation
Vendor Management
Project Management
Related: Systems Engineer Skills: Definition and Examples
Common Action Verbs for Google Systems Engineer Resumes
Finding the right action verbs to use on a resume can be difficult. However, it is important to use varied and powerful verbs in order to create an effective Google Systems Engineer Resume. Action verbs help to communicate your experience and skills in a concise and memorable way. Examples of action verbs that can be used for a Google Systems Engineer Resume include: designed, developed, implemented, managed, tested, maintained, optimized, monitored, and automated. By using these strong words on your resume you are sure to make an impactful impression on potential employers.
To give you a competitive edge, we've compiled a list of powerful action verbs to strengthen your resume and help you land your next interview: Accelerate, Optimize, Lead, Manage, Strategize, Facilitate, Innovate, Execute, Develop, Analyze.
Action Verbs
Developed
Implemented
Configured
Administered
Monitored
Troubleshot
Resolved
Optimized
Automated
Upgraded
Maintained
Documented
Tested
Analyzed
Assessed
Managed
Deployed
Installed
Investigated
Streamlined
Supported
Integrated
Related: What does a Systems Engineer do?