Article
Apple Enterprise Architect Resume Examples
This article provides examples of resumes for Apple Enterprise Architects, highlighting their skills, experience and accomplishments to help them stand out in the job market.

Brenna Goyette
Certified Professional Resume Writer, Career Expert
Published 9 min read
This article will provide a comprehensive guide on how to write a resume for Apple as an Enterprise Architect. It will focus on outlining the key skills and experience that Apple looks for in an Enterprise Architect, as well as tips on how to craft an effective and targeted resume that stands out from the competition. It will also provide advice on where to focus your efforts when writing a resume in order to make the most impactful impression possible.
Apple Enterprise Architect Resume Created Using Our Resume Builder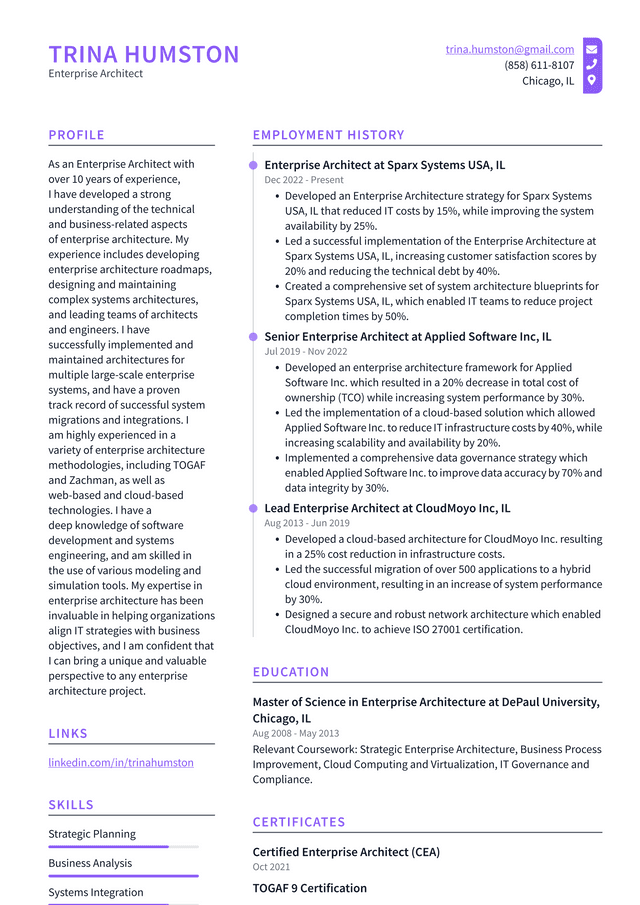 Apple Enterprise Architect Resume Example
Trina Humston, Enterprise Architect
trina.humston@gmail.com
(858) 611-8107
Chicago, IL
Professional Summary
As an Enterprise Architect with over 10 years of experience, I have developed a strong understanding of the technical and business-related aspects of enterprise architecture. My experience includes developing enterprise architecture roadmaps, designing and maintaining complex systems architectures, and leading teams of architects and engineers. I have successfully implemented and maintained architectures for multiple large-scale enterprise systems, and have a proven track record of successful system migrations and integrations. I am highly experienced in a variety of enterprise architecture methodologies, including TOGAF and Zachman, as well as web-based and cloud-based technologies. I have a deep knowledge of software development and systems engineering, and am skilled in the use of various modeling and simulation tools. My expertise in enterprise architecture has been invaluable in helping organizations align IT strategies with business objectives, and I am confident that I can bring a unique and valuable perspective to any enterprise architecture project.
Work Experience
Enterprise Architect at Sparx Systems USA, IL
Dec 2022 - Present
Developed an Enterprise Architecture strategy for Sparx Systems USA, IL that reduced IT costs by 15%, while improving the system availability by 25%.
Led a successful implementation of the Enterprise Architecture at Sparx Systems USA, IL, increasing customer satisfaction scores by 20% and reducing the technical debt by 40%.
Created a comprehensive set of system architecture blueprints for Sparx Systems USA, IL, which enabled IT teams to reduce project completion times by 50%.
Senior Enterprise Architect at Applied Software Inc, IL
Jul 2019 - Nov 2022
Developed an enterprise architecture framework for Applied Software Inc. which resulted in a 20% decrease in total cost of ownership (TCO) while increasing system performance by 30%.
Led the implementation of a cloud-based solution which allowed Applied Software Inc. to reduce IT infrastructure costs by 40%, while increasing scalability and availability by 20%.
Implemented a comprehensive data governance strategy which enabled Applied Software Inc. to improve data accuracy by 70% and data integrity by 30%.
Lead Enterprise Architect at CloudMoyo Inc, IL
Aug 2013 - Jun 2019
Developed a cloud-based architecture for CloudMoyo Inc. resulting in a 25% cost reduction in infrastructure costs.
Led the successful migration of over 500 applications to a hybrid cloud environment, resulting in an increase of system performance by 30%.
Designed a secure and robust network architecture which enabled CloudMoyo Inc. to achieve ISO 27001 certification.
Education
Master of Science in Enterprise Architecture at DePaul University, Chicago, IL
Aug 2008 - May 2013
Relevant Coursework: Strategic Enterprise Architecture, Business Process Improvement, Cloud Computing and Virtualization, IT Governance and Compliance.
Skills
Strategic Planning
Business Analysis
Systems Integration
Change Management
Project Management
Technical Architecture
Communication Skills
Certificates
Certified Enterprise Architect (CEA)
TOGAF 9 Certification
Tips for Writing a Better Apple Enterprise Architect Resume
1. Highlight Your Technical Skills: As an Apple Enterprise Architect, you need to have a strong background in programming and coding languages. Showcase your knowledge of the latest technologies and tools such as Swift, Objective-C, Xcode, and Cocoa Touch.
2. Include Accomplishments: Focus on the successes you achieved while working in this position. Include accomplishments such as developing new applications, managing large-scale projects, or improving existing systems.
3. Use Industry Jargon: Tailor your resume to the specific job description by using industry jargon and terminology that's relevant to the role. This will demonstrate that you understand the complexities of the position and are up-to-date with the latest technology trends.
4. Showcase Your Soft Skills: As an Apple Enterprise Architect, you need to be able to work well with clients, colleagues, and stakeholders alike. Highlight your interpersonal skills such as communication abilities, problem-solving capabilities, and organizational skills which will set you apart from other candidates.
5. Demonstrate Leadership: As an enterprise architect, you need to be able to lead teams effectively so employers want to see examples of how you have managed teams in the past or any leadership roles you've held within previous organizations.
Related: Enterprise Architect Resume Examples
Key Skills Hiring Managers Look for on Apple Enterprise Architect Resumes
Incorporating keywords from the job description when applying for an Enterprise Architect opportunity at Apple is an important step. This is because the company uses Applicant Tracking Systems (ATS) to review job applications. ATSs are designed to scan resumes and cover letters for specific keywords that match those in the job description, so including relevant keywords will help ensure that your application is seen and considered by recruiters. This can significantly increase your chances of being invited for an interview.
The following is a list of essential skills and terms to be familiar with when applying for an Enterprise Architect role at Apple:
Key Skills and Proficiencies
Strategic Planning
Business Analysis
Requirements Gathering
Solution Architecture
Systems Integration
IT Governance
Risk Management
Change Management
Process Improvement
Enterprise Architecture Frameworks (TOGAF, Zachman, etc.)
Project Management
Business Process Modeling
Data Modeling
Technology Selection & Evaluation
Software Development Lifecycle (SDLC)
Cloud Computing & Virtualization
Security & Compliance
Network Design & Administration
Infrastructure Design & Implementation
Database Design & Administration
Application Development & Maintenance
Vendor Management
Related: Enterprise Architect Skills: Definition and Examples
Common Action Verbs for Apple Enterprise Architect Resumes
When writing a resume, it can be difficult to come up with different action verbs to use. This is especially true for an Apple Enterprise Architect Resume, as the job requires specific technical and managerial skills. To communicate your qualifications effectively, you should use varied action verbs throughout your resume. This will help to highlight your strengths and show that you possess the necessary skills for the position. Additionally, using varied verbs will make your resume more engaging and easier to read.
To give you the upper hand in your job search, we've gathered a list of powerful action verbs to help bolster your resume and secure your next interview:
Action Verbs
Developed
Designed
Implemented
Architected
Analyzed
Evaluated
Translated
Facilitated
Streamlined
Coordinated
Managed
Monitored
Assessed
Investigated
Researched
Optimized
Consolidated
Automated
Modernized
Secured
Upgraded
Documented